Did you know that Australia is the third least-densely populated countries in the world after Namibia and Mongolia? With about 1.1 million square miles of interior land (or the Outback) mostly unchanged and uninhabited, the country offers an almost endless array of wildlife and wilderness adventures you can include during your visit.
To help you along, we've listed 9 luxury retreats that put you smack, bang in the middle of the Australian wilderness. Here, you'll discover the pleasures of getting out of the city and onto the road less travelled.
The Berkeley River Lodge
Nestled along a 65-metre sand dune in one of the last true wilderness areas on Earth, is the luxurious Berkeley River Lodge. Accessible only by air or by boat, this completely secluded retreat offers an indulgent outback experience with breathtaking views of the Kimberley Coast. With just 20 luxury villas, this private retreat is the ultimate couples hideaway. Boasting 180-degree views of the rugged outback and the sparkling sea, open-air ensuite bathrooms with tubs, delectable cuisine at the restaurant, a swimming pool, and helicopter tours – this is barefoot luxury at its best.
Truly isolated, there is no road access to the Lodge. Guests need to fly from either Kununurra or Darwin Airport, or take a 4-hour boat ride from Wyndham.
Sal Salis Ningaloo Reef
This luxury beachside safari camp in the picturesque and remote location of Western Australia's Cape Range National Park boasts 16 wilderness tents amid a stunning coastal bush setting. Sal Salis Ningaloo Reef is a secluded escape fringed by the inviting warm waters of the Indian Ocean. It is designed to expose you to the great outdoors via its array of activities, including swimming with whale sharks and humpback whales. Unique and luxurious in every way, this retreat offers chef-prepared meals, access to the beach, snorkelling equipment, and well-appointed accommodation. This is one of Australia's best-kept secrets and makes for a perfect holiday spot for a romantic couples escape or a memorable honeymoon.
The best way to get here is to take an hour and 45-minute flight from Perth to Learmonth Airport in Exmouth. From here, Sal Salis can pick you up and drive you about an hour and a half to the camp. You can also take a scenic flight over gorges and mountains from Exmouth Airport if you prefer.
Longitude 131°
One of the most iconic luxury lodges in Australia, Longitude 131° is a dream holiday destination you shouldn't miss. Located at the World Heritage-listed site of Uluru-Kata Tjuta National Park, this remarkable boutique resort provides you with a memorable experience that won't be easily forgotten. The lodge only has 15 individual Luxury Tents and one Dune Pavilion, all well-appointed and surrounded by the rugged beauty of the desert and wilderness. Absorb this peaceful and magical destination from the moment you arrive, and discover the spirited land of Uluru-Kata Tjuta National Park. Or relax with a spa treatment and dinner under the stars, if that's more your pace.
Longitude 131° offers complimentary transfers connecting with all Ayers Rock Airport flights. Helicopter transfers are available from Ayers Rock Airport to Longitude 131° helipad. From Ayers Rock Airport it's a 15-minute drive to the resort.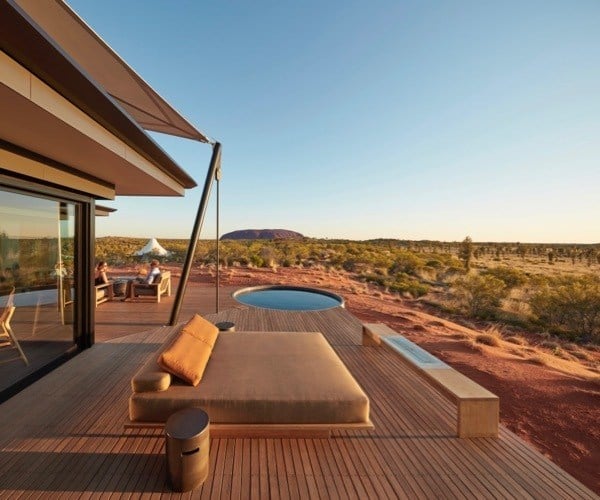 Arkaba
The rugged beauty of the Australian Outback is best enjoyed at a place that puts you within reach of its treasures. And at Arkaba, a luxurious 5-bedroom homestead set on 60,000 acres of private conservancy in the heart of the Flinders Ranges, you'll certainly have it. Explore the area via bushwalking, scenic flight, or on an open-top safari drive. Or enjoy a gourmet dinner with fellow guests or a refreshing dip in the pool. At night, retire to your luxurious suite, savour the fresh breeze from your verandah, then stretch out on your comfy bed as you gaze out at the starry skies.
To get to Arkaba, you can drive about 5 hours north of Adelaide. A quicker option is to take an hour's flight from Adelaide to Port Augusta then drive from there. You could also charter a private plane from Adelaide to Hawker airstrip and be picked up by your Arkaba hosts for the 20-minute drive to the homestead.
Bamurru Plains
Nestled inside a 70,000-hectare buffalo farm in Australia's Top End, Bamurru Plains is a luxury safari lodge adored by nature-lovers. It's as close to a safari experience as you can get in Australia. Featuring nine luxurious safari bungalows and one spacious suite, the lodge allows you to immerse in nature while sipping a bubbly in your cabin, relaxing by the pool, or enjoying a host of outdoor activities. Each tent is set on a timber platform that overlooks the floodplain. Walls made of a mesh fabric allows fresh air to circulate and provides you with unobstructed views of the wildlife that inhabits the area.
Bamurru Plains, on the outskirts of Kakadu National Park, is a three-hour drive east of Darwin. From the lodge gates, a guide will take you to the entrance in a four-wheel drive. Charter air transfers from Darwin are also available.
El Questro Homestead
El Questro Homestead in The Kimberleys not only offers luxury and comfort at every turn, but it also places you in one of Australia's most dramatic locations. With nine elegant suites built on the edge of the Chamberlain River, some with outdoor bathtubs, you're afforded privacy and a most impressive view of the landscape. El Questro also provides access to 700,000 acres of wilderness, an impressive array of indoor and outdoor amenities, and tailored itineraries, making it the perfect adventure destination for couples, families and friends.
To get here, take an hour flight from Darwin to Kununurra Airport with Qantas. From Kununurra Airport, rent a 4WD to drive to the Homestead, which will take about two hours. Part of the road is unsealed and unsuitable for regular vehicles, so a 4WD vehicle is a must.
Wildman Wilderness Lodge
If you want to take a breather from your hectic lifestyle without sacrificing comfort and convenience, then Wildman Wilderness Lodge in the remote Mary River National Park Wetlands of the Northern Territory is perfect. It has the formula for the ultimate escape: luxurious African-style safari tents, outdoor lounge areas, swimming pool with superb views, an array of tours, and fantastic food. And because Wildman provides access to both the harsh Northern Territory outback and the lush wetlands, you'll also spot a variety of wildlife that lives in the area. And if for a moment you forget, yes, you're still in Australia.
Wildman can be reached via a three-hour drive from Darwin, along the Arnhem Highway. Follow the signs to Kakadu National Park to reach the lodge.
Cicada Lodge
Situated above the Katherine River, within the Nitmiluk National Park, Cicada Lodge is an 18 room luxury eco-resort that provides guests with unparalleled service and world-class accommodation in the most breathtaking of locations. Each room features modern amenities interspersed with indigenous furnishings and artworks, air-conditioning, private balconies, and ensuite bathrooms. While here, you can take a private tour to explore the hidden gems of this incredible region. Fly to remote locations via a helicopter, take a refreshing dip in your very own clear waterfall, and discover historic rock art sites.
From the city of Darwin, drive south along the Stuart Highway for about 4 hours (roughly 300km). Cicada Lodge is about 30 minutes by car from Katherine Town Centre.
Mt Mulligan Lodge
We're sure you'll be impressed with Mount Mulligan Lodge. With a vast 28,000 hectares of land and only eight rooms, you'll have access to as much of the outback as you can take. The lodge features an infinity pool with a sunset bar and a pavilion for dining and relaxation. Enjoy gourmet dining, kayaking, fishing, and helicopter tours. For the history buffs, there's an old deserted mining town that you can explore. What makes staying here even more enticing is that each room — aside from containing every convenience and comfort you'd want — comes with its own ATV if you want to tour on your own.
Access to Mt Mulligan Lodge is via a 35-minute scenic helicopter ride from Cairns, passing over the Daintree Rainforest, Atherton Tablelands, and the majestic Mount Mulligan itself.
From the remote and rugged beauty of the Kimberleys and the Red Centre to the vast blue ocean of the Great Barrier Reef and lush environs of the Daintree Rainforest, these wilderness retreats provide you with the means to experience Australia's diverse flora and fauna and extraordinary landscapes. If there's a good time to get off your haunches and sling on that backpack, it's definitely now.
Mat Lewis is Co-Founder & CEO of View Retreats. View Retreats is a boutique travel agency featuring handpicked, luxury accommodation across Australia & New Zealand.
If you would like to be a guest blogger on A Luxury Travel Blog in order to raise your profile, please contact us.