Dubai is the Disneyland of cities with a seemingly endless amount of things to do. To give you some inspiration for your next holiday to Dubai we've managed to narrow it down (and we use the term loosely), so here are the top 35 things to do in Dubai (in no particular order). If you can't wait, scroll to the end for something truly incredible…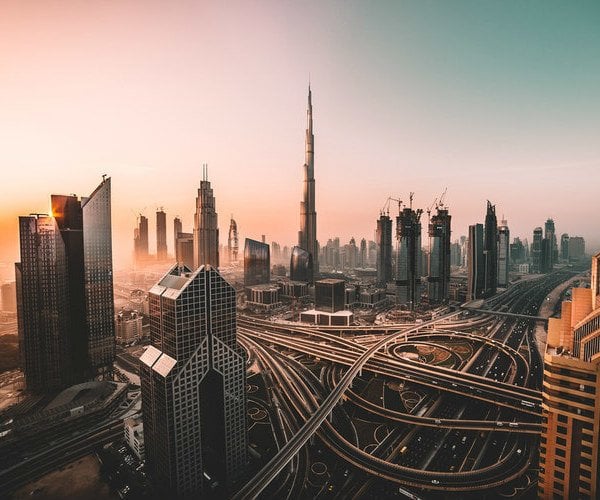 1. Go to the top of the Burj Khalifa
Standing at 829 meters, it is the world's tallest building and the view from the top of 160 floors is simply breathtaking.
2. Aquaventure Water Park
Located at the tip of Palm Island, the Aquaventure is heralded as one of the best water parks in the Middle East and Europe! There are 17 hectares of amusements which includes the Lost Chambers aquarium, Dubai's largest aquarium, where you can even go snorkelling with the sharks, rays and fish!
3. Arabian Ranches Golf Course
This stunning course is sure to challenge any golfer from beginner to Tiger Woods, with immaculate grassy fairways alongside rugged natural terrain.
4. Al Ain Zoo
Perfect for families, at this incredible zoo you can see animals including hippos, lemurs, gorillas and jaguars. Explore by foot or opt for one of their experiences. Perhaps you'll search for wild Scimitar Oryx and Addax on a desert safari, feed giraffes by hand or walk through the lemur enclosure.
5. Go skydiving
Looking for something really exhilarating? Why not get a birds-eye view of the city as you launch yourself out of a plane and freefall 13,000 feet at up to 21 kilometres an hour? A truly unforgettable experience.
6. Ski Dubai
The first of its kind in the Middle East, indulge in all things snow at this indoor ski slope. From tobogganing to snowboarding and skiing, everyone is welcome to try their hand at this mountain-themed hotspot.
7. Camel trek
Clamber atop a camel's back and experience how people have been travelling in the United Arab Emirates for hundreds of years. Give it a go for a short trip or opt for something a little longer trip where you can also dine on a traditional Bedouin meal under the stars or sample a shisha.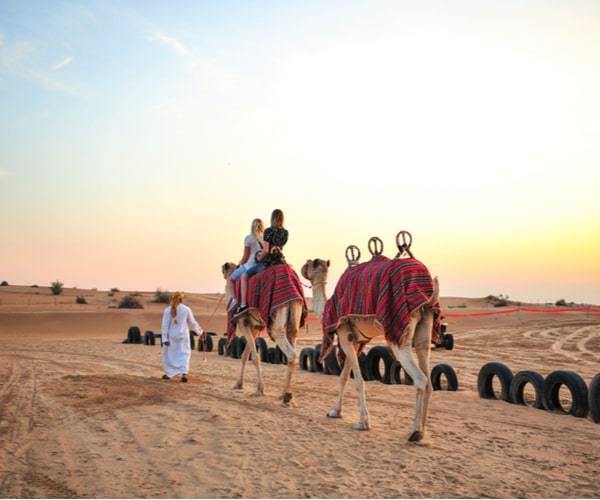 8. Gold souk
This traditional market located in Old Dubai near the Dubai Creek is famous for its many stalls that sell gold jewellery. Haggle for a unique piece to take home or marvel at the beauty of windows filled with glittering gold.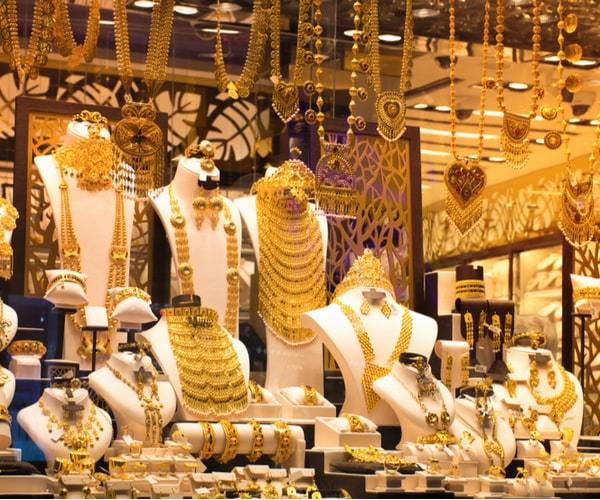 9. Chillout Ice Bar
Dinner is best served cold at the Middle East's first sub-zero dining venue. Inside this lounge built entirely out of ice and chilled to -6C you can dine on hot drinks, delicious deserts and mock-tails while wrapped up in cosy coats and gloves.
10. Dubai Creek
Snaking through the middle of Dubai, this saltwater creek is a must-see for history lovers, sight-seers and photographers alike. As you drift down aboard a traditional boat, you'll see the charming architecture of the old Dubai and perhaps even discover the traditional souks that are dotted along the banks.
11. Al Bastakiya
The oldest residential area in the city of Dubai gives you an authentic taste of the history
here, with narrow winding lanes and stone towers, as well as the Al Fahidi Fort which is
thought to be the oldest building in the city.
12. Palm Island
You'll probably already have heard that this man-made island, shaped as a palm tree, can be seen from space, but did you know that it also has 520 kilometres of beach and is the home to some of Dubai's most luxurious hotels, as well as boutique shopping, fine-dining venues and waterparks aplenty.
13. Have a private dinner on a terrace at the Burj Al Arab
For the ultimate romantic dinner, treat yourself to a six-course dinner backdropped by spectacular views of the Arabian Gulf at one of the world's most luxurious hotels and Dubai's only 7-star hotel.
14. Meena Bazaar
Though the sleek modern malls are also worth a trip, to get the most out of your trip to Dubai make sure you head to Meenaa Bazaar. Home to a staggering array of market stalls selling everything from food to fabric and jewellery, you can find yourself some unique souvenirs or simply wander around the narrow paths and take it all in.
15. Emirates Towers
These iconic towers have 15 restaurants and bars to choose from as well as an open-top swimming pool and some of the best views of the city.
16. Dubai Fountains
Every half an hour throughout the evening and twice during the day at the Burj Khalifa Lake, you can witness the world's largest choreographed fountain display where water is shot up to 150 metres into the air.
17. Go snorkelling
The waters that surround the Middle East are well-known for being some of the best waters to snorkel thanks to good visibility, warm temperature and for being home to a myriad of sea life. The best snorkelling close to Dubai is found in the Gulf of Oman, to the east of the United Arab Emirates either at Fujairah or Oman's Musandam Peninsula. Many hotels in Dubai offer snorkelling day trips which includes travel to and from the boat, equipment and often, lunch.
18. Go on a self-drive tour of the city in a supercar
Exploring the city by car is a must, but why stick to a standard hire car? Dubai is one of the best places in the world to hire a luxury sports car so why not travel in style and get behind the wheel of a Rolls Royce, a Bugati, a Porsche or a Bentley?
19. Children's City
This one-of-a-kind 'city within a city' scientific learning centre is a great day out for ages 2 – 15. You and your family can investigate the human body exhibition, discover the solar system at the planetarium, play in the soft play area and have fun exploring!
20. Wonderland UAE
The largest amusement park in the UAE with 30 attractions sprawled across 22 acres of land including a theme park, indoor centre and an outdoor waterpark, that's fun for the whole family.
21. Motor City
Home to the Dubai Autodrome, a 5.39km motor circuit as well as the F1-X Dubai Formula One theme park, this motor-themed residential area is a must for motor fans of any age.
22. Hot air balloon ride over the city
How better to see this majestic city than by air? See the mountains, desert and city from your very own hot air balloon, perhaps even with a glass of Champagne in hand.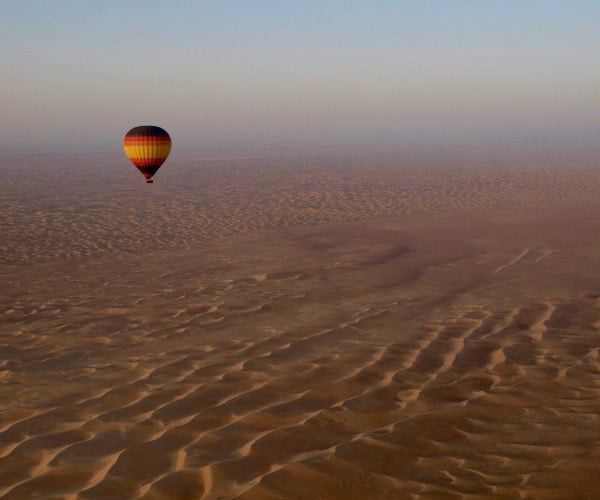 23. XVA Gallery
One of the Middles East's best contemporary galleries displaying the finest Arabic modern art, historical artefacts and ornaments.
24. Dubai Aquarium
The largest suspended aquarium in the world, this 10 million litre tank is home to over 33,000 animals across 140 species. Look out for the Sand Tiger Sharks, the largest collection of them in the world. If you're looking for a thrill, daredevils can even try their hand at diving with them!
25. Join a running club
Running is one of the best ways to see a city. With miles of palm-lined promenades, parks and harbours, as well as running clubs for all abilities, Dubai is a great place to explore by foot. Dubai Road Runners even offers prizes for the runners that get closest to predicting their final time.
26. Rock pools of Hatta
This lesser known region is one of the most picturesque places in the UAE. Just an hour's journey away from Dubai, it's perfect for a day visit to escape the city and discover the country's natural highlights. Here you can enjoy the landscape by hiking or kayaking the dam or exploring the 3,000-year-old heritage village. One of the biggest highlights of a trip to Hatta is swimming in the azure waters of the spring-fed rock pools of the Hajar Mountains.
27. Tax free shopping
Tax free shopping means that you can really go and get lost in the mall, with everything from designer shops to outlet stores at your disposal. The best malls include Ibn Buttuta Mall, an ornate Moroccan-inspired theme mall and BurJuman which boasts a mix of famous luxury clothing brands.
28. Bastakia Quarter
The city's most charming heritage site, built in the 19 th century, that is home to art galleries, the Dubai Museum and Dubai's oldest building, the Al Fahidi Fort. Wander the winding streets and admire the culture, history and architecture.
29. Wild Wadi Water Park
This waterpark located at the broad tip of The Palm Jumeirah offers 30 different attractions that's fun for the whole family, and perfect to enjoy on hot days. This theme park is particularly famous for having the tallest free fall slide outside of the USA; thrill seekers will love hurtling toward ground at 80km per hour!
30. Angsana Spa
Relax and re-align at this delightful spa, offering a range of massages, facials and beauty treatments to melt the stresses of life away, leaving you rejuvenated and ready for adventuring Dubai!
31. Jumeirah mosque
This iconic mosque is an absolute must-see for anyone visiting the city particularly because it is one of the few mosques in the city that is open to non-Muslim guests. Not only is it the tallest in the city, but it is also one of the largest, with space for up to 1200 people. Six days of each week, guests can join tours to learn about the building's history and cultural significance.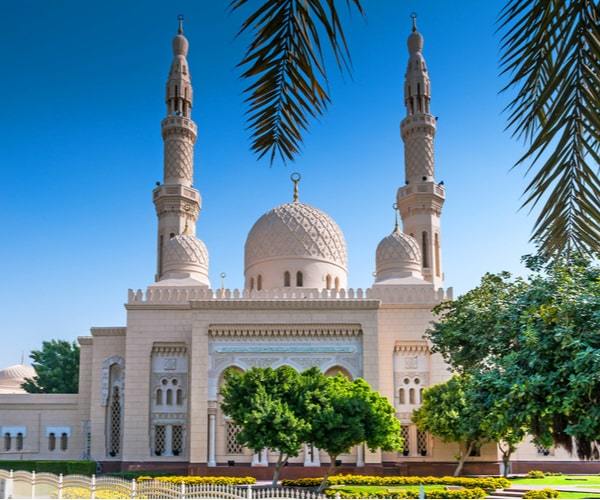 32. Big Red
This 300ft sand dune gets its name from its red colour caused by high iron oxide content, just outside of Dubai it is both jaw-dropping to look at and hair-rising to race down!
33. Dinner on a Donut
At the Dubai Creek Golf and Yacht Club you can experience a unique meal aboard a BBQ Donut – a ringed vessel floating on the Dubai Creek. Stocked with a selection of meat, seafood, vegetables and sauces, a central charcoal grill, and seats for up to eight guests, you and your family can enjoy an incredible meal backdropped on all sides by the creek.
34. Ras Al Khor Wildlife Sanctuary
Located just a short journey away from the centre of Dubai, this urban wildlife reserve offers an important habitat for over 67 different species of bird and is a great choice for a day out of the city. Across the lagoons, mangroves and mudflats you can see birds such as cormorants, herons, egrets and huge flocks of flamingos. What's more, admission is completely free.
35. Hire a private luxury yacht
Get out onto the water aboard a private yacht where you can travel in style, glass of Champagne in hand, as you get a different view of the city and soak in some rays.
Bonus!
36. Use a gold vending machine
Want something crazy to tell everyone about when you return home from a spectacular luxury holiday in Dubai? Head to the Emirates Palace hotel to use one of the few vending machines in the world that delivers your cash withdrawal in solid gold.
Sarah Roberts is Director of Inspiring Travel Company. The Inspiring Travel Company, established in 1974, offers exceptional tailor-made luxury holidays and experiences to some of the most elegant and desirable destination across the globe.
If you would like to be a guest blogger on A Luxury Travel Blogin order to raise your profile, please contact us.