By
Dave Warne
on Aug 18, 2019 in
Accommodation
,
Arctic
,
Denmark
,
Europe
,
Finland
,
Hotels
,
Iceland
,
Norway
,
Polar Regions
,
Regions
,
Sweden
,
Western Europe
Scandinavia has had something of an awakening over recent years, with adventure-seeking travellers being opened up to its innovative hotels, gourmet food and spectacular landscapes. Whether it's a log cabin or luxury glass igloo, this region offers some of the world's best and most memorable hotels and experiences. Take a look below for our top picks.
Ion Adventure Hotel, Iceland
From the base of a (dormant) volcano protrudes Ion, an eco-conscious gem that provides the perfect base for exploring Iceland's Golden Circle. From exposed concrete walls and a wholly Scandinavian-chic vibe, guests look out into the harsh landscape from floor-to-ceiling windows – the skies often decorated with those illustrious Northern Lights.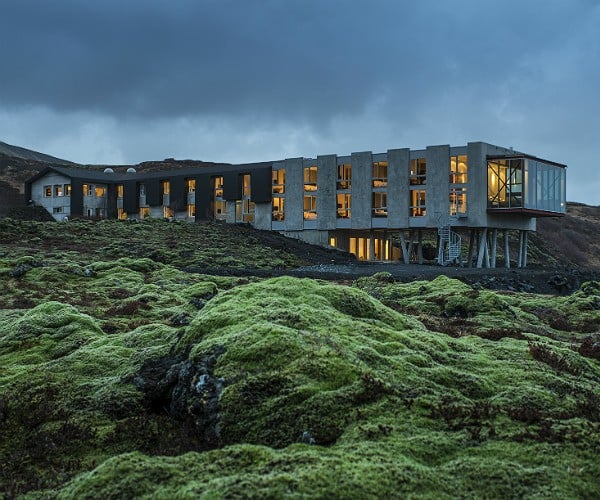 And, rightfully, it's the outdoors that steals the show, with Thingvellir National Park just steps away for discovering Icelandic icons like Gullfoss waterfall and the Strokkur geyser, alongside ice climbing, glacier hiking and horse riding; it's truly deserving of its 'adventure' moniker. You'll return to four-course menus accompanied by a curated wine list as well as the onsite thermal hot springs, spa, sauna and outdoor heated pool.
ICEHOTEL, Swedish Lapland
Perhaps the most revered Arctic experience, the ICEHOTEL in Swedish Lapland has long been a rite of passage for winter travellers. And, whilst recent technological innovations in the ICEHOTEL 365 mean it's a year-round destination, there's something about the snow-silent surrounds that make it most magical during winter. In -5°C ice rooms, carved in all manner of intricacies from giant King Kongs to eerie 'Queen of the North' faces, guests snuggle down under thermal sleeping bags and reindeer skins, woken in the morning with a steaming glass of hot lingonberry. Sprawling Art Suites go one up still, with private saunas to warm up after snowy evenings.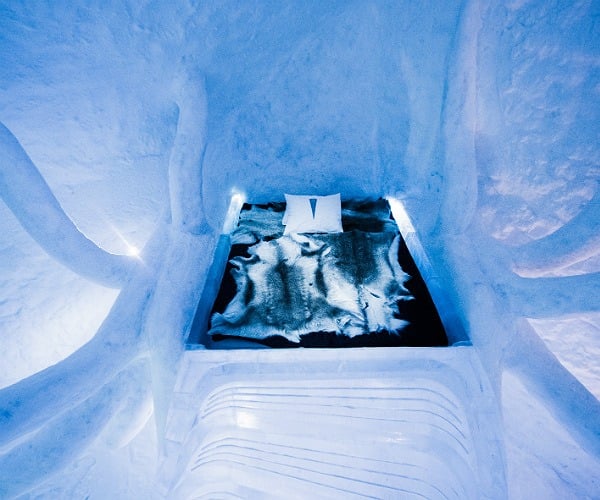 Expect gourmet dining – alongside a schnapps or two at the ice bar, naturally – or indulge with the 12-course Chef's Table menu for the likes of ice menus and wine-paired delights. It's all done alongside, of course, the activities that make the Arctic so appealing, from snowmobiling under the auroras to gliding reindeer rides.
Funken Lodge, Svalbard
One of the world's last wildernesses, a visit to Svalbard is spectacular enough – a place where polar bears outnumber people. Add Funken Lodge in to the mix and the experience goes one up, with cutting-edge design paired with Svalbard's iconic history and tradition. Looking out over Spitsbergen's Lars Glacier, stylish rooms are the base for exploring Svalbard's ice-covered reaches, from snowmobiling under the polar night – when, for three months, the sun never rises above the horizon in an eerie blue haze – to spotting polar bears and walruses come summer.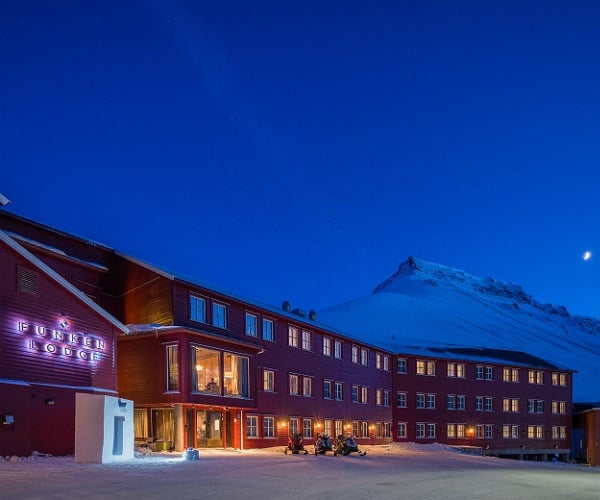 There's some surprising additions, too, among them an acclaimed champagne cellar and Longyearbyen's best restaurant. The latter offers freshly-baked afternoon waffles and, come evening, alongside mountain views, French-inspired tasting menus and excellent wines.
Treehotel, Swedish Lapland
Since its inception, the Treehotel has set the bar when it comes to innovative accommodation. Perched high in the treetops of Harads in Sweden's Arctic Circle, guests hark back to childhood days in all-grown-up treehouses in creations like a reflecting Mirrorcube, giant Bird's Nest and futuristic UFO.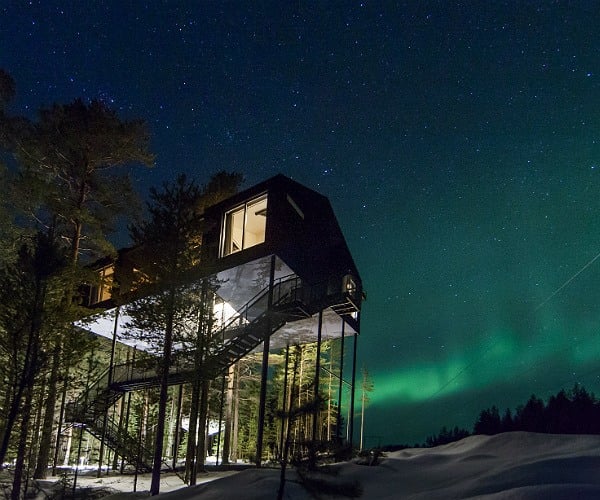 Inside is all wood-clad cosiness, though you'll want to make time for adventures like snowshoeing under the Northern Lights and, come summer, spotting bears under the midnight sun. After a Swedish massage, a 'tree sauna' session or open-air hot tub soak, indulge in myriad dining experiences, from three-course dinners at a tree-top table to picnics in the snow in a lakeside tipi.
Levin Iglut Glass Igloo, Finnish Lapland
In Finnish Lapland comes one of the country's most famed innovations – the iconic glass igloo. Here at Levin Iglut they perch on a hilltop for stunning views of the snow-dusted forests, with electrically-heated roofs meaning prime Northern Lights viewing from motorised beds.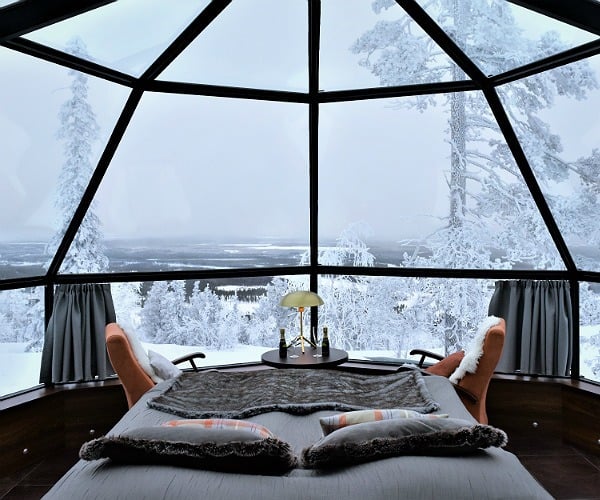 Of course, there's the likes of reindeer sleigh rides and cross-country skiing too, as well as six-course tasting menus in the fantastic Aurora Restaurant. Then, alongside all that adventure, a nightcap at the main lodge's wrap-around terrace is the perfect prelude to that oh-so-Finnish pastime of a sauna and hot tub soak.
Deplar Farm, Iceland
Another Iceland gem, this turf-topped farm offers luxurious experiences in a truly remote setting. In the far north of Iceland in the fairytale-esque Troll Peninsula, experiences here are just as magical as their setting would suggest. There's everything from classic Arctic adventures, like snowmobiling and snowshoeing, to salmon fishing, whale watching and, naturally, hot-spring soaks. Alongside a spa with all the expected delights, from a Jacuzzi to geothermally-heated infinity pool, there's even total-sensory immersion salt water floatation tanks.
Then, from wood-burning fires and enormous glass panels looking onto the surrounding mountains, dining is expectedly fabulous, with farm-to-table delights paired with sommelier-chosen wines from the cellar. It's all finished off wonderfully with a dip in the outdoor Jacuzzi under the star-spangled sky and – hopefully – the dancing auroras.
Fjellborg Arctic Lodge, Swedish Lapland
For a truly exclusive experience, it doesn't get much better than Sweden's Fjellborg Arctic Lodge. High above the Arctic Circle on the shores of a lake, guests have private use of the lodge's Master Cabin where log-burning stoves, wood-clad walls and strewn furs create a truly authentic Scandi-chic ambience. Soaking in your private hot tub on the frozen lake's edge, glass of bubbly in hand and – with luck – the aurora above, it all makes for truly memorable experience.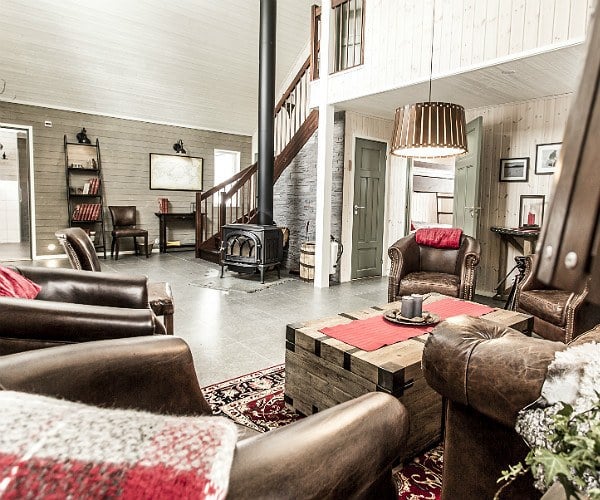 It's all fuelled by ultra-fresh local fish and game and, if you've opted for ice fishing, you can even enjoy your own catch of the day. And, if you can tear yourself away from your log cabin cosiness, there's a whole host of included Arctic activities on offer, from dog sledding to snowshoeing in remote forests.
Arctic TreeHouse Hotel, Finnish Lapland
Can't choose between a log cabin and a glass igloo? This gem provides the best of both worlds in the frozen wilderness that is Finnish Lapland. Right on the Arctic Circle, this is Scandi luxe at its best, with blonde timber-clad walls, fur-trimmed furnishings and enormous panoramic windows for epic Northern Lights views – and come morning, those silent, snow-dusted pine forests.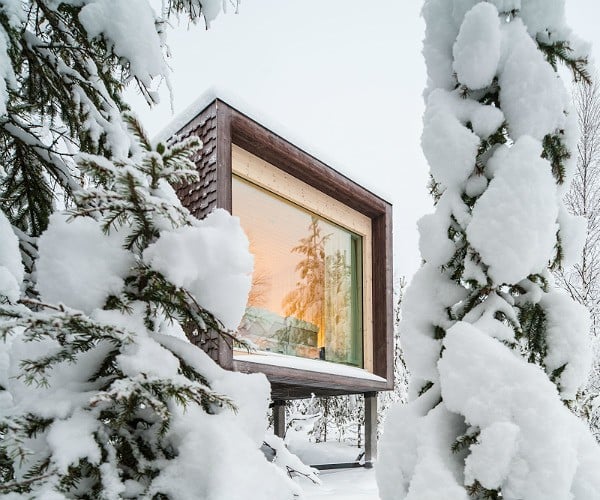 Then, the ultra-stylish Rakas restaurant, all fur-covered chairs and candlelight, offers classic Lappish fare like king crab, reindeer and foraged berries and mushrooms. There's even the chance to enjoy al fresco dinners by a roaring campfire. Come daytime, relax at the lakeside forest spa and traditional Finnish sauna alongside meeting Sami reindeer herders and zoom on a snowmobile across the Arctic tundra, or perhaps visit the nearby Santa Park for the ultimate festive break.
Storfjord, Norway
Norway's fjords are, rightfully so, the draw for many of the country's visitors – and this fjord-side hotel is one of Norway's best offerings. Burrowed away in the Sunnmore Alps with sprawling views – the hotel name literally means 'big fjord' – guests are perfectly placed to explore. And, interiors are just as impressive, with a certain storybook charm in their unique antiques and four-poster beds.
Expect everything from spotting seals and puffins on cruises to panoramic helicopter flights, with the must-visit Geirangerfjord just moments away for kayaking, swimming and even thrilling RIB boat rides. Finish it all off with summertime drinks on the gallery or by the open fire, the perfect prelude to gourmet dinners in the wood-clad candlelit hall.
Javri Lodge, Finnish Lapland
A stay in a log cabin is perhaps the quintessential Scandi experience. And, for the ultimate winter getaway, it's hard to beat Javri Lodge. Tucked away in one of Finland's most stunning national parks, this adults-only offering is the perfect chance to switch off, with daily adventures like reindeer rides, cross-country skiing and husky sledding all included. Back at base, log cabin-esque rooms are all timber-clad walls and scattered reindeer furs, with picture windows looking out onto snow-dusted, winter-wonderland scenes. Tear yourself away, though, to indulge in the sauna and two heated swimming pools.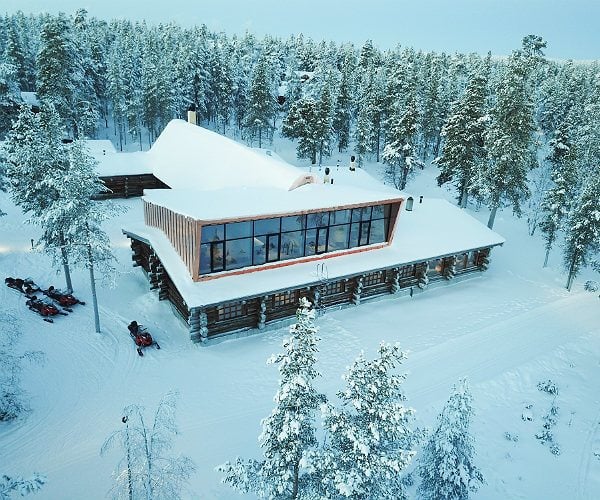 Dining is a further highlight, with five-course dinners that include reindeer and Arctic char, sommelier-matched from a world-class wine and champagne list, with gourmet lunches enjoyed in the frozen-forest wilds by an open fire.
Dave Warne is Product Director at The Luxury Holiday Company. The Luxury Holiday Company offers completely bespoke holidays designed to deliver unrivalled luxury, arranged by specialists who have more than 200 years of collective travel experience.
If you would like to be a guest blogger on A Luxury Travel Blog in order to raise your profile, please contact us.