Drone photography is ever increasing in popularity and it's not hard to see why. Capturing places from a bird's eye view provides you with the opportunity to see it from another perspective and makes for engaging and exciting content. Collaborating with Bad Wolf Horizon gave us the opportunity to get some amazing shots of the many gorgeous areas in South West England. We've put together our top five locations for drone images in the area along with five tips on taking the perfect drone shot.
Dartmouth, South Devon
Dartmouth in South Devon provides the perfect location for shots of the picturesque River Dart and the comings and goings of boats and canoes. This image perfectly captured the gorgeous colours of the water and the activity on the river. Dartmouth has plenty to see and do, including historic houses, gardens and Dartmoor National Park for walking and explore the Devonshire countryside.
Port Navas, Cornwall
With glittering turquoise waters and gorgeous surrounding countryside, this shot taken of the small village of Port Navas in Cornwall makes you wish you were there. Port Navas provides a great base for exploring the Helford River and the nearby Falmouth.
Helford, Cornwall
With its secluded creeks, the Helford in Cornwall is full of scenic beauty and gorgeous countryside and this shot does a great job of showing off the local area. Exploring the Helford is best seen by boat, and a great way to discover everything the area has to offer, including the Helford Passage, Durgan and Frenchman's Creek.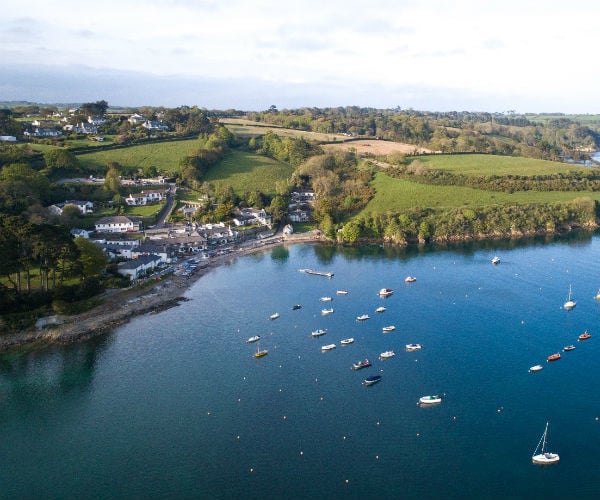 Beer, East Devon
Head to Beer in East Devon for its stunning location on the Jurassic Coast, with miles of gorgeous walks on the coast path and the perfect place to spend an afternoon relaxing on a deckchair on the beach. This shot of the jellyfish surrounding the boat was certainly unexpected but makes for an incredible photo.
Appledore, North Devon
The pretty fishing village of Appledore in North Devon makes for a picture-perfect location, and this image perfectly captures the countryside and the many moored fishing boats. Appledore is a great place to spend a day crabbing, relaxing on the beach and enjoying a cream tea in the sunshine.
So, do you like the idea of trying out some drone photography? Tom from Bad Wolf Horizon has put together five tips for taking the perfect drone shot:
Plan your flight in advance
There is so much information on the internet, allowing you to research a scenic spot from the comfort of your own home, in advance. Most of our pre-flight planning uses Google Maps, allowing us to identify a safe take-off location and flight area before we even leave the office.
Think about directional light
Think about what time you are going to reach your location. Will the light be on the front of the object you want to film? There is no right or wrong answer. At certain times of day, we love to shoot directly into the sun (especially sunrise/ sunset) and we try to avoid the midday bright lighting, as the lighting is top-down and can be is quite harsh.
Tide times
When flying near the sea, think about what time you are going to reach your location. Is the tide going to be in or out? Sometimes you might want to capture your location at low tide, for nice sand bars and beautiful white beaches, while other times, you want to capture the scene when the tide is in as it will be less muddy. Again, plan in advance!
For video – smooth movement
Smooth movement of your panning, yawing and moving, helps to make drone footage much more cinematic and professional.
Drone safety
This is the most important aspect of drone flying. Of course, take off and capture some awesome photos and videos, but make sure to be safe. Planning your flight in advance will help you with this, by identifying a safe take-off area, away from people and property, while analysing potential risks if something goes wrong.
Simon Tregoning is the Chairman at Classic Cottages. Classic Cottages have an exclusive portfolio of places to stay, handpicked in the best locations from the tip of far west Cornwall across the south of England and over on the Isle of Wight.
If you would like to be a guest blogger on A Luxury Travel Blog in order to raise your profile, please contact us.