Zambia is a spectacular wildlife destination for safari enthusiasts looking for something a little different from the usual schedule of morning and evening game drives offered across much of Southern Africa.
Whilst camps and lodges elsewhere may offer guided walks as part of their safari experience, the lodges and Camps of the South Luangwa and North Luangwa national parks take this to a whole different level with a range of walking safari options.
The South Luangwa National Park is the premier National Park of Zambia, and has plenty to recommend it. From frequent leopard sightings, brightly colored Carmine Bee-Eaters on the shores of the Luangwa River, this wild and beautiful Park has plenty to offer.   Safaris here will consist of game drives, river safaris when the water level is high enough, and a range of walking options.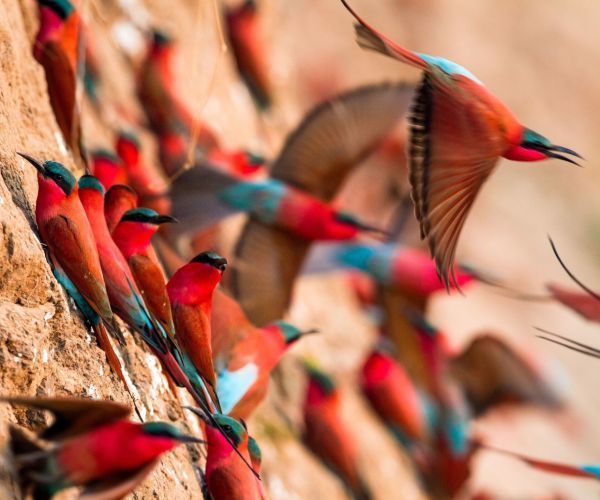 Whilst South Luangwa is hardly overcrowded with visitors, the remote North Luangwa offers an even wilder walking safari experience. There are no permanent lodges situated in the Park, and guests wanting to experience this unique safari destination are accommodated in small, remote bush camps.  There are only a few roads in the Park and therefore the camps offer predominantly walking safaris.
There are a variety of walking options available in both parks, and each option may appeal to a different type of visitor: morning and afternoon game walks are a great introduction to the joys of a walking safari, whereas a walking safari followed by a sleepout under the stars offers a more exciting experience for the more adventurous walker.  For keen walkers, walking between safari camps allows for longer walks with overnight stops at two or more different camps for an unforgettable experience.
Morning or afternoon walking safaris
Most walking safaris will take place when the game is most active, so either in the morning after sunrise, or later in the afternoon when the heat of the day has passed. You will always be accompanied by an experienced safari guide along with an armed Park Ranger to provide security.
A morning walking safari begins with a nice breakfast before heading off on a game viewer to an open clearing so as to offer the best game viewing. With the added benefit of it being much cooler, a morning walking can be preferable in the hotter months.
After returning to your lodge or camp and having a bit of lunch, a siesta, followed by some afternoon tea, you will feel revitalised and ready for another walk.  One the great things about an afternoon walk is that it gives you another chance to see game you may not have seen in the morning, and there is the added benefit of an evening game shortly after.
Wildlife that can be seen on a walk varies from predator to prey, in all shapes and sizes. Encounters with elephant and buffalo are always thrilling, and it will be an experience you'll never forget.  Emphasis is placed on seeing smaller species that guests would not see on a game vehicle, and learning more about the diverse habitats and ecosystems of the Luangwa.
Walking safaris with a sleepout under the stars
Some safari camps such as Time + Tide's Nsolo Camp offer an exciting sleep out option (usually from May to October), which is truly an experience that is hard to beat.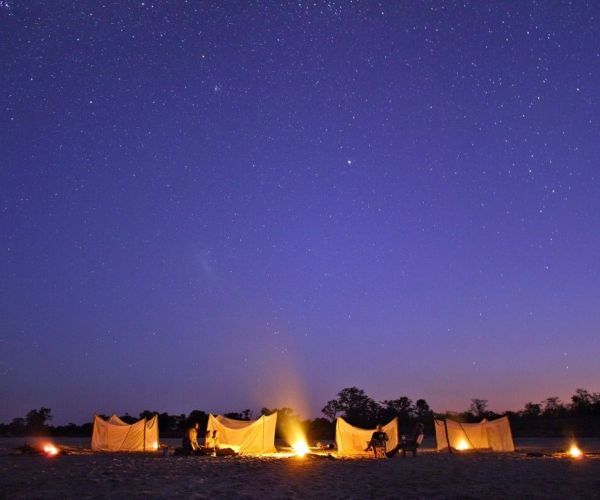 After enjoying an afternoon out in the bush, you will come across a dry river bed where a delightful fly camp will be waiting. As the sun sets, enjoy some well deserved sundowners and a hearty meal around a roaring campfire, before retiring to bed under a beautiful African night sky.
Walking between safari camps
If you wish to keep to the creature comforts of your camp, but still wish to enjoy walking for extended periods, then walking between 2 different camps can easily be arranged. You will depart after breakfast with your guide, ranger, and an assistant carrying some bites to eat along the way.
This not only means more time out in the bush, but provides a true explorer feeling to the whole experience. As your senses adjust to their surroundings, and new locations reveal themselves that you would have otherwise missed on a vehicle, it is not just a walk but an expedition of discovery. As your camp slowly takes shape, you are greeted by hospitable camp staff as they welcome you to your new home in the bush, with a delicious lunch waiting for your imminent arrival.
No matter what you see, or how you choose to do it, a walking safari will be sure to leave you with a bit more knowledge, and a much greater appreciation for all the flora and fauna that can be found here in the beautiful and unique Luangwa Valley.
Paul Campbell is a Co-founder and Managing Director at Travel Butlers. Travel Butlers are specialists in tailor-made safari and beach holidays to Africa and the Indian Ocean.
If you would like to be a guest blogger on A Luxury Travel Blog in order to raise your profile, please contact us.