By
Michael Edwards
on Aug 19, 2019 in
Accommodation
,
Europe
,
Featured
,
Food and Drink
,
Going Out
,
Hotels
,
Leisure Travel
,
Regions
,
Resorts
,
Restaurants
,
Spas & Pampering
,
Speciality Travel
,
Travel Miscellany
,
United Kingdom
,
Western Europe
St Andrews is the spiritual home of golf pulling in players from afar. Hosting a final qualifier for the British Open, the Sam Torrance and Kittocks Course provide a challenging course for serious golfers.
Scottish hospitality blends with top notch American-style service at Fairmont St Andrews to provide far more than just golf.
The welcome
There's a warm welcome from Davey in his Stewart clan tartan trousers and Tam o' Shanter hat. His team will valet park your car, look after luggage and store your golf-clubs.
Quickly settled in your room there's a unique welcome gift, a miniature bottle of St. Andrews whisky as well as a miniature chocolate golf club and ball.
The rooms
Spacious Sea View rooms look out across emerald acres over the Kittocks course towards St Andrews Bay. Subtle decor gets the Scottish theme just about right. There's a discrete grey tartan pattern to the carpet and tasteful Tam o' Shanter themed photos on the caramel walls.
Technology galore: ample UK and US charging points, wide screen TV and reliable Wi-fi plus coffee-maker, kettle and an exceptionally well-stocked mini-bar.
Beds are huge, armchairs comfortable and there's a large desk if you really have to work.
The bathroom
Recently refurbished with a light grey slate-look, bathrooms offer a deep bath and a high quality rainfall shower. It's a perfect rejuvenating feature for golfers who have had a long day on the courses.
Rose 31 body lotion, conditioner and shampoo are personalised with your name on the bottles. The rare Centifolia rose, a fragrance with spicy and woody notes, ambiguously plays to both feminine and masculine users.
The facilities
At the gym, pool and spa you could run your own transformative boot camp – if that's what really you want. But if you seek the tranquility of a serene candle-scented spa you've got that too.
The gym is very well-equipped and tends to double-up or even treble up on options to minimise waiting.
There's a crescent of exercise bikes for spin classes as there's a daily programme of exercise classes: from aqua sessions through to yoga.
For golfers who've flown many hours and played several rounds restorative massages and recuperative physiotherapy are available.
Lunch or dinner at the Fairmont St Andrew Grill, with stunning views of finishing holes of the Kittocks course and St Andrews Bay, is undoubtedly a must. The closed Josper Grill, with precise temperature control, preserves the natural texture of Scottish steaks and lobster. Though it is hard to resist the Seafood Platter: oysters, lobster, chunks of salmon and smoked salmon, crayfish and prawns. Back at the hotel the Cucina has a Mediterranean themed menu while the Zephyr Sports Bar goes vegan.
The location
Fairmont St Andrew is set in 520 acres of prime St Andrews headland just a couple of miles from Scotland's historic university town where Wills meet Kate. Alongside the ruins of St Andrews Cathedral, there is a chic town of fashionable boutiques, classy cafes and great restaurants.
Astoundingly St Andrews Old Course shuts down for the Sabbath. On Sundays people walk their Westies and picnic on what is public-owned land. Stand on the Swilcan Bridge, on the 18th, dreaming that it's the last hole of the Open and that you're three strokes clear of the field.
Other nice touches
There's a baronial splendour to the architecture of the lobby. A touch of Lady Macbeth aspirational design to the primeval twisted wood sculptures and the towering sombre portraits. Breakfast on hearty porridge and haggis in the atrium – or lighter more contemporary offerings if you choose.
After breakfast pause in the library for a moment to drink in the views through a towering picture window. Also Fairmont St Andrews recently took the AA's award for Eco Hotel of the year.
Cost
Nightly rates at Fairmont St Andrews start at £179 per night, based on two people sharing on a bed and breakfast basis.
Although 18 holes may cost £95 there are plenty of offers available including twilight tee-off reductions.
The best bit
The two golf courses channel the spirit of St Andrews's historic Old Course: babbling burns, deep pot and revetted bunkers, breath-taking coastal views, firm-running fairways, impenetrable rough of white wispy grasses and thistles …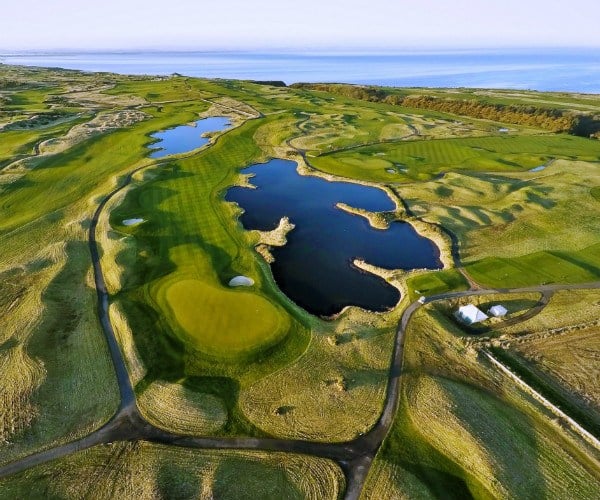 Not only are you playing against your opponents you are battling the elements and topography too. There's a strategic decision to be made before playing almost every stroke.
The final verdict
This is far too good a destination to rush, more than just a short stay. Far too many golfers race in and out on whistle-stop tours. Linger for a few days to relax in the spa, savour the Grill's menu, take a walk over the Old Course and drink-in St Andrew's rich history.
Disclosure: Our stay was sponsored by Fairmont St Andrews.