Malawi is a country that is visited for the remarkable variety of attractions it offers – beautiful beaches on Lake Malawi, genuine and friendly cultural interactions, stunning scenery and thrilling safaris. But, whilst travellers are now visiting and exploring Africa as a whole for more than just its animals, it is still true that safaris are the primary draw card for the continent. Thankfully for Malawi, it is the country's wildlife and safari experiences that have seen the greatest advancements in recent years as it emerges as a rival to its better known neighbours as a safari gem. In this blog we aim to give an overview of taking a safari in Malawi.
Game viewing has long been a little different in Malawi from many other African countries. While the number of animal sightings has, for many years, been fewer than in the top parks on the continent, that situation is starting to change, and, in any event, visiting Malawi's national parks and wildlife reserves is much more about the experience they offer than how full your tick list end up!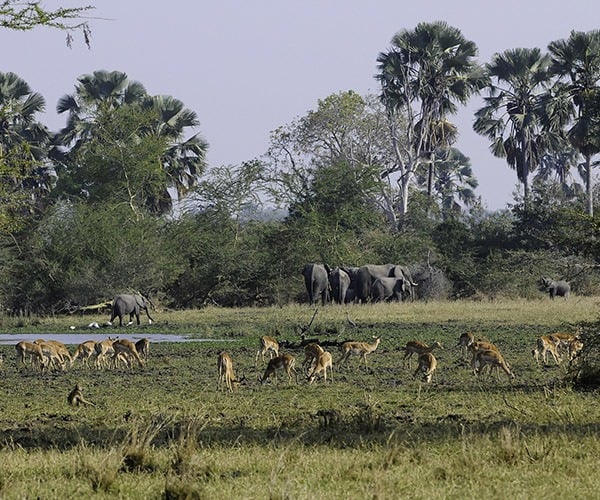 Landscape and wilderness are attractions alongside the animals, offering viewing and exploration at a more fundamental level and without the crowds of other visitors. No great convoys of minibuses queue to see the animals in contrived conditions in Malawi. Instead, small groups travel through the bush unsure of what lies behind the next patch of vegetation. And with a variety of ways to explore the parks (see below), no two safaris are alike.
The variety and beauty of Malawi's diverse landscapes provide a perfect backdrop to game viewing. Laws protect the animals and also the environment, which remains as close to its natural state as possible. There are relatively few artificial waterholes and the parks are nothing like as 'developed' as some of their more illustrious neighbours. This means there are large areas of near wilderness unexplored by all but a few.
There is also the unique attraction of the Lake Malawi National Park – a protected area of Malawi's beautiful inland sea where thousands of brightly coloured fish can be hand fed just below the surface of the crystal-clear waters. This was the world's first freshwater national park and is a UNESCO World Heritage Site. Viewing fish may not be a standard 'African safari', but it's a fascinating one and certainly something different to try.
The 1920s saw the first gazetting of protected areas in Malawi, which has culminated in the nine national parks and wildlife reserves of today. The first true national park was Nyika, proclaimed as recently as 1965. The current statuses of all nine areas were settled by the beginning of the 1980s. Locations were not always chosen solely for their natural beauty or existing wildlife populations. For example, Kasungu was gazetted to evacuate people from where tsetse fly had caused a sleeping sickness epidemic! However, most of the national parks and wildlife reserves are strategically located as important rain catchment areas. This is particularly so for those on Malawi's watershed western border. The maintenance of natural vegetation prevents the rainwater washing away too rapidly across cleared soils and causing further erosion.
Malawi's protected areas are spread across the whole country: Nyika National Park and Vwaza Marsh Wildlife Reserve are in north Malawi; Kasungu National Park and Nkhotakota Wildlife Reserve are in central Malawi; whilst south Malawi has Liwonde and Lengwe National Parks, Majete and Mwabvi Wildlife Reserves, and the unique Lake Malawi National Park. Although originally the wildlife reserves had less protection, fewer management resources and more limited infrastructure for visitors than the national parks, that distinction is now much more blurred, particularly with the arrival of African Parks to Malawi. African Parks now manage Majete and Nkhotakota Wildlife Reserves and Liwonde National Park. The phenomenal input and resources they bring and the tremendous work they have already done on the infrastructures and animal populations has ensured that those 3 protected areas are now the country's best – with an honourable mention also to Nyika for its truly unique offerings.
Malawi also has a number of forest reserves. These have limited wildlife protection but do provide welcome escapes in truly beautiful environments, and plenty of opportunity for walks in the wild.
Wildlife
For many decades, Malawi has been perceived as not having as many animals most of its neighbours. But, thankfully, with the arrival of African Parks and their re-introduction of a few thousand animals (now successfully multiplying!), that situation is fast changing.
Big cats used to be only very occasionally seen but both lion and cheetah have been re-introduced to Liwonde and Majete and are thriving in both locations. The thick bush of Nkohtakota makes sightings difficult, but lion are heard there, and there has even been a very recent sighting of one in Nyika. The leopard is found across almost the entire country. Its elusive lifestyle makes sighting difficult but up at Nyika there is a decent chance of spotting one of the large specimens that live in the forest nearby Chelinda Lodge. Of the smaller cats, civet is the most widespread though genet, serval and wild cat can also be seen.
Hyena are the most common of the other major predators and are present in all the protected land areas. Jackal also have populations in Malawi. Sightings of wild dog have been only very occasional in recent years – most likely animals that are just visiting Malawi from Zambia or Mozambique! But there are rumours of their re-introduction to Liwonde.
Although not always easy to spot, preferring to remain in the thick bush, there are healthy populations of black rhino now in Liwonde and Majete There are good elephant numbers in pretty much all the protected land areas except the low lying Lengwe and Mwabvi. Nkohotakota witnessed the largest elephant translocations in human history across 2016-2017 with over 500 individuals moved in to the reserve to set up an elephant sanctuary there. They came from Majete and Liwonde, both of whom had growing populations with more than enough to spare for Nkhotakota. Hippos are numerous in Malawi and are commonly seen the Shire River, which runs through Majete and Liwonde, where they number in the thousands. Crocodiles are also common in the Shire.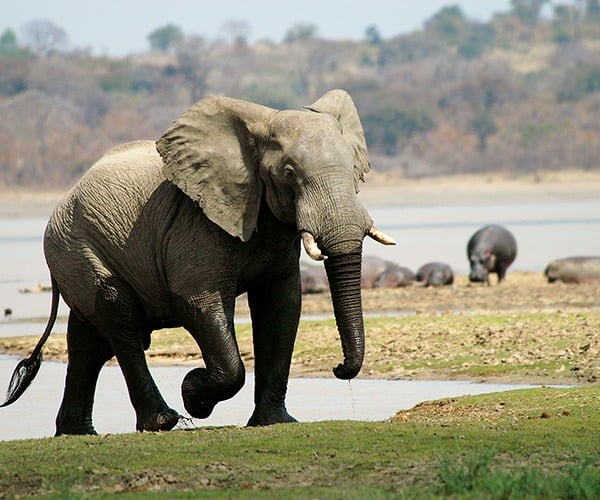 Buffalo are fairly common across the lower lying parks and reserves. Zebra are best seen in Nyika and Liwonde, with smaller numbers in some of the other reserves and giraffe have recently been re-introduced into Majete. Of the antelopes, bushbuck, grey duiker, kudu, grysbok, klipspringer and reedbuck are found in most of the protected areas. Roan and eland can also be seen, with particularly impressive breeding herds in Nyika. Liwonde is the most likely places to spot sable and waterbuck, with Majete now not far behind. Of the rarer species, the beautiful nyala can be seen in Majete and Lengwe. This is the furthest north of all nyala habitats in southern Africa.
Malawi has a fantastic variety of birds with around 650 recorded species spread across the different landscapes. They are primarily woodland or grassland varieties including Livingstone flycatcher, red-winged francolin and the endemic Lillian's lovebird. However, the lake, rivers and dams also attract waterbirds such as hamerkop, fish eagle, kingfishers, egret and pelican. Raptors, like the African marsh harrier, black-breasted snake eagle and peregrine falcon, give further variety.
The majority of the estimated 1000 fish species in Lake Malawi are cichlids, mostly endemic to Malawi. The small brightly coloured mbuna are easily seen in the protected waters of Lake Malawi National Park.
For flower lovers, there is great diversity, including 400 orchid species. These are found at all altitudes around the country. There are also numerous everlasting flowers, proteas, aloes and gladioli plus reedbeds and waterlilies in the river lagoons. Nyika is known for its wildflowers and orchids.
Types of safari
Malawi offers a variety of ways to get up close and personal with its wildlife. Any safari is best taken in early morning or late afternoon when the greatest heat is avoided and the animals are most active.
Walking safaris are possible in all of the parks and reserves and potentially offer the most intense experience, giving a much greater sense of involvement than in a vehicle. Though most animals will sense people first, there is plenty of opportunity for close encounters. Even if large mammals aren't encountered around every corner, there is a fascinating amount to see and interpret. It can also be possible to arrange to spend a few days walking and camping within a park or reserve.
Driving covers a much greater area than walking, increases the chances of sightings and is a necessity in the more open areas. Vehicles can draw the animals' attention but, unless advancing towards them, will not scare them off. None of Malawi's parks & reserves have tarmac roads and the tracks that do exists are better navigated by the drivers, guides and scouts from the lodges, who know the parks intimately.
Boat safaris can provide excellent viewing opportunities. As well as the crocodiles, hippos and riverine birds in or on the water, animals attracted to the river bank to drink are less wary of anything on the water. A sundowner cruise is a particular pleasure – the boat launches late in the day when the animals are active and the hippos are beginning to leave the water. After initial game viewing, the boat drifts and the occupants sip their personal tipple as the sun sets. Finally, a spotlight illuminates the night activity in the water and on the banks. In Liwonde and Majete, the Shire River is excellent for a boat safari, and the Bua River in Nkohtakota can be explored by canoe. In Lake Malawi National Park, there are plenty of boats that can take visitors out from Cape Maclear to view the fish.
For more sedate viewing, hides allow very close sightings of animals completely unaware of a human presence. Observing the comings and goings around a waterhole from a hidden, close-up vantage point, can be a very rich and rewarding experience.
Practicalities
Whilst a couple of the nine national parks and wildlife reserves can be time-consuming to reach from the Malawi's international airports, none is inaccessible. All are accessed by a final short stretch of earth road. A number of them now also have airstrips. Whilst entry by aircraft remains rare (apart from at Nyika where it's the better option), it is certainly possible and is increasingly being offered by private operators.
The Parks and reserves are open all year. Peak time for game viewing is August to October when vegetation is low and limited water forces animals to gather at the few remaining sources. This is also the best time for viewing the mbuna fish in Lake Malawi. The high heath and grasslands of Nyika Plateau, however, attract animals through the rains, having spent the dry season on the lower slopes.
Originally, basic, government run camps offered the only places to stay in Malawi's Parks & Reserves. Granting of concessions to private operators began later than in many African countries and only by 1997 was the accommodation in (just) four of the nine parks and reserves in private hands. Standards have risen and properties have continued to upgrade to now include some truly sumptuous lodges, but in the last 20 years there has been limited growth in the actual number of lodges in the parks. Most still only have one or two places to stay within the entire park, so ensuring an inherent level of exclusivity for their visitors.
Kelly White is Director of the Malawi Travel Marketing Consortium. Malawi Travel Marketing Consortium aims to provide you with the best information to make Malawi your tourism destination.
If you would like to be a guest blogger on A Luxury Travel Blog in order to raise your profile, please contact us.