New Zealand's landscapes are nothing short of spectacular, especially when explored on foot. Whether you would prefer a short easy walk of half an hour through native bush to a deserted waterfall or a day walk on one of New Zealand's most famous tracks, you'll have plenty of opportunities to explore the great outdoors.
Abel Tasman, Tongariro and Mount Cook National Parks are the big names when it comes to walking in New Zealand but MoaTrek tour guides are experts when it comes to knowing the other less well-known local tracks on offer. To get you inspired, we've put together a collection of easy going and beautiful short walks that can be enjoyed as a part your travel experience.
Here are our favourite walks from the trip, from short walks of under an hour to a full day's hiking, if you're a walker you'll love every single one!
Taranaki Falls Loop, Tongariro National Park
Golden tussock, imposing volcanoes and thundering waterfalls characterize Tongariro Plateau, and exploring here on foot is incredibly rewarding. Hike a 2 hour-return loop to the Taranaki Falls, where water tumbles 20 metres over the edge of a huge lava flow – left over from when Mount Ruapehu erupted 15,000 years ago. There are a number of other shorter or slightly longer tracks in the area if you would prefer something different; simply ask your friendly Kiwi guide.
Grade – easy. Length 6 km (3.7miles). Time – 2 hours return.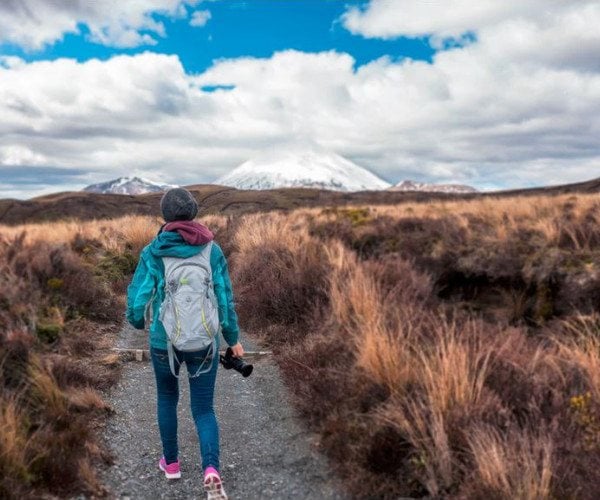 Abel Tasman Coastal Walk
Always one of our favourite days out on tour is the boat cruise combined with a stunning coastal walk in Abel Tasman National Park. Hike on a well-formed track through native forest and up to a headland for panoramic views over the park's golden beaches and coastline. If you don't feel like a walk today that's not a problem as you can continue cruising on the boat before relaxing at Golden Bay.
Grade – easy. Length 4 km (2.4 miles). Walking time – 2 hours (point to point; transport via water taxi).
Kea Point Track, Aoraki Mt Cook National Park
Explore the foothills and dramatic mountainscapes of Aoraki Mount Cook, New Zealand's highest mountain, on the Kea Point Track. Aoraki means 'cloud piercer' in Maori, and this mountain certainly lives up to its name. Gently winding its way through golden grasslands to the Mueller Glacier moraine wall, the Kea Point trail showcases panoramic views of Mount Sefton, Hooker Valley, Mueller Glacier Lake and soaring Aoraki/Mount Cook itself.
Grade – easy/medium. Length – 3km (1.8 miles). Time – 2 hours return.
Blue Pools, Mt Aspiring National Park
This easy track leads to bright blue, crystal-clear pools, carved out of rocks by centuries of erosion and fed by glaciers. Journeying along a gravel path as well as boardwalks, walkers explore a native silver beech forest before crossing a swing bridge above the Makarora River. The views of mountains from the swing bridge are breath taking. The trail then winds further into a forest full of the call of bellbirds and tui to reach the blue pools. Because the water in the pools is so transparent, the resident brown trout look like they are suspended in thin air!
Grade – easy. Length – 1.5km return (0.9 miles). Time – 45 minutes return.
Franz Josef Glacier Track, Westland
One of the best places for easy walking access to our glaciers. A really well graded track, flat at the start but with a few short climbs to keep you honest before you get to the glacier views. You start in the rainforest and then break out into the middle of the U-shaped glacial valley, it's mother nature's work at its finest! Be careful of the weather here, there are a few streams you'll need to walk over and they can rise very quickly at any time. Full information available from your guide or at the Franz Josef information centre.
Grade – moderate. Length – 5.5 km (3 miles).
One of the great things about touring around New Zealand is that there are so many great walks everywhere, they're really easy to get to, excellent facilities and national parks in New Zealand have no entry fees either. If walking is your thing then you'll feel like New Zealand was tailor made just for you.
Miles Clark is the Owner of MoaTrek New Zealand Small Group Tours. MoaTrek was started in 1971 by Miles's mother, Ena, and they're still going strong sharing all their favourite New Zealand spots and experiences with guests on their tours.
If you would like to be a guest blogger on A Luxury Travel Blog in order to raise your profile, please contact us.