By
Thomas Ryves
on Sep 05, 2019 in
Africa
,
Asia
,
Caribbean
,
China
,
Colombia
,
Europe
,
Food and Drink
,
India
,
Mexico
,
Morocco
,
North America
,
Regions
,
South Africa
,
South America
,
Spain
,
Sri Lanka
,
Travel Miscellany
,
USA
,
Western Europe
From hot dogs in New York to egg hoppers in Sri Lanka, food plays a big part in any travel experience, and is one of the things that defines a country, its people and its culture – and often forms some of our favourite and most enduring holiday memories. We pick our top ten foodie experiences around the world.
Pintxos in Spain
Tapas has become popular the world over, and for good reason. A Spanish version of tapas is pintxos – its name means 'spike' or 'skewer', and they are usually served this way, pierced with a skewer on a piece of bread. There are endless meat, fish and vegetarian varieties: a classic is the gilda, featuring anchovy with pickled green peppers, while others include ham and sausage, salmon and egg, and Spanish omelette. Go bar hopping to sample as many of them as possible, and enjoy them with a chilled glass of fizz.
Hot dogs in the USA
Hot dog stands can be found all over the USA and it can be hard to pass by and ignore the tempting smell. A must on any visit to New York is a stroll around Central Park, flanked by the city's distinctive towering skyscrapers, which provides welcome respite from the hustle and bustle of the streets. Pick up a hot dog, topped with onions and mustard, from one of the ubiquitous stands in the park – or a giant pretzel, if you prefer – and take a breather as you enjoy the setting, which has played its part in many a movie.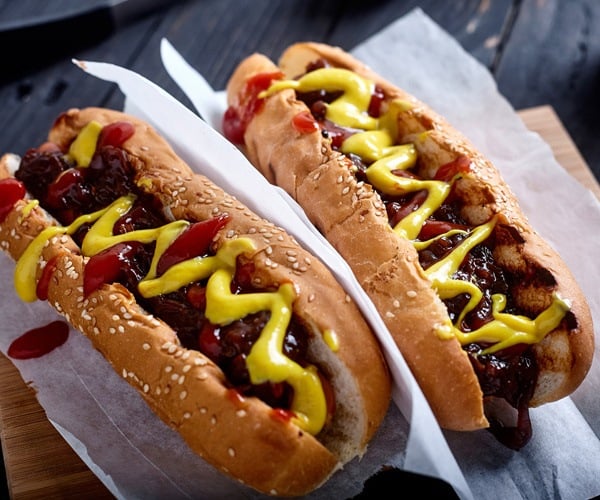 Arepas in Colombia
In between discovering colourful colonial cities, pretty squares, Caribbean beaches and the lush green zona cafetera, which is home to some of the best coffee in the world, make sure you try an arepa. These delicious snacks are made with cornmeal and are part of the daily diet for many Colombians. Generously stuffed with cheese or meat and vegetables, they are simply addictive and are the perfect pick-me-up, especially washed down with a cold beer.
Egg hoppers in Sri Lanka
There's so much to do and see in Sri Lanka, from wildlife to beaches and natural and religious wonders everywhere you go, that you'll need to refuel – and there are few better ways to do that than with an egg hopper. These bowl-shaped pancakes are made with rice flour and coconut milk, with an egg cracked in the bottom. A typical breakfast staple, but enjoyed at any time of day, they can be stuffed with anything from fresh coconut to cheese, curd, grated vegetables and curry, and are popular for good reason – one is never enough.
Saltfish fritters in the Caribbean
Unsurprisingly, fresh fish is abundant across the Caribbean, and each island has its own favourites. After a day spent lazing on a postcard-perfect beach, try the saltfish fritters, which are fried with herbs and peppers and are full of flavour. Eat them with tostones, a Caribbean answer to crisps, made with plantain and salted and deep-fried. For those with a sweet tooth, the banana fritters are a must and can also be found all over the Caribbean.
Biltong in South Africa
South Africa is renowned for its food and drink, as well as its iconic Big Five wildlife safaris and spectacular landscapes and coastlines. While you're taking it all in, try the biltong, a tasty and very popular dried meat snack. There are numerous alternatives, such as ostrich, but the original version is made with beef, sliced and flavoured with black pepper and coriander.
Steamed dumplings in China
It's hard to walk down a street in China without seeing steamed dumplings being cooked in vast bamboo steamers, sending plumes of fragrant smoke in the air. They are served both as a savoury snack, with meat and vegetable fillings, and as a sweet dessert, with fillings such as red bean paste, custard and sugary sesame seeds. Dumplings are ideal for sating your appetite in between seeing the sights – and you'll keep going back for more.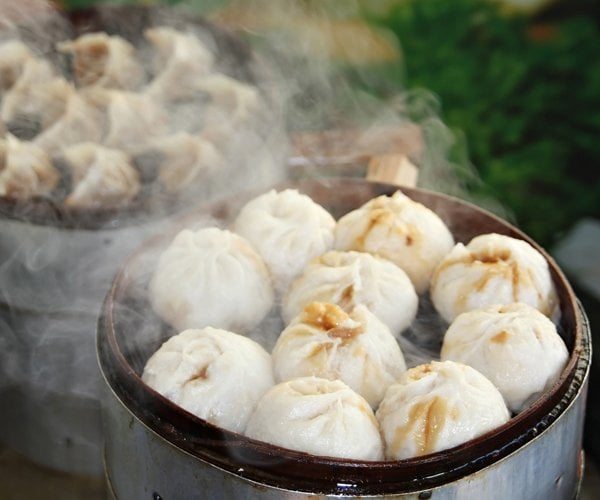 Tostadas in Mexico
Tostadas – crispy, salted tortillas topped with ceviche and avocado, or succulent pork – are a real street food favourite in Mexico. We recommend devouring them alongside elotes – these skewers of whole corn on the cob served on a stick and smeared with cream, mayonnaise and chilli are simply irresistible. They are well worth taking a break for while discovering historic cities, Mayan gems and stunning beaches.
Merguez sausages in Morocco
Morocco is known for hearty, wholesome dishes such as fragrant tagines, but its street food packs a punch too. Try a delicious Merguez sausage, stuffed into a freshly-baked khobz (flatbread) and dipped into a spicy tomato salsa-style sauce. Another street food staple here is grilled or deep-fried sardines, served with a chermoula relish with parsley and paprika. Perfect fuel before heading back into the souks to grab another bargain.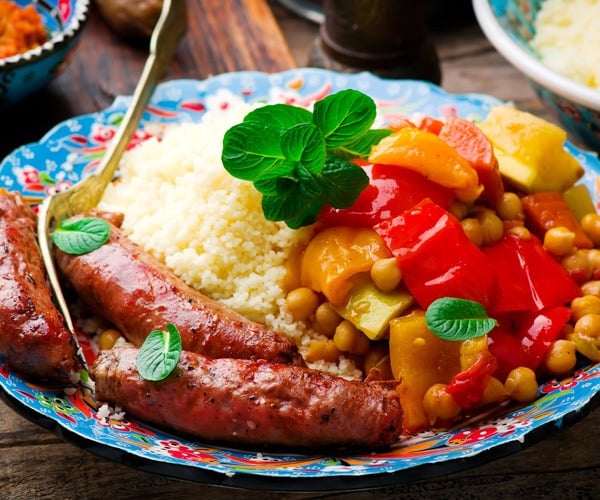 Kachori in India
India is renowned for its sheer variety of tasty street food snacks. One that is especially popular in Rajasthan, including at festivals, and has regional variations all over India, is kachori. This crispy, spicy vegetarian speciality is filled with lentils and chutney, while sweet versions feature ghee, dried fruit and nuts. Take a break from the larger-than-life sights with one of these.
Thomas Ryves is Marketing Director at Exsus Travel. Exsus Travel specialises in creating the very best luxury tailor-made holidays, honeymoons and family adventures in over 80 destinations worldwide.
If you would like to be a guest blogger on A Luxury Travel Blog in order to raise your profile, please contact us.