6 outstanding eco-lodges in South Africa
As travellers we are all more aware than ever of our environmental impact and want to make choices that will help preserve and protect the places we visit. Safari lodges and nature camps are essentially very eco-friendly, and without them (and tourists they attract) far less land would be set aside for conservation and the protection of Africa's landscapes and wildlife. Permanent structures are not allowed in more sensitive habitats, meaning that many lodges and camps can be taken apart and moved to another location allow the land to recover, and even in instances where permanent buildings are used these tend to use solar energy to reduce their impact on the environment. These lodges also strive to be socially responsible and are committed to uplifting their local communities by supporting their businesses, contributing to education and healthcare projects in the area, and creating greater awareness of conservation issues.
South Africa
is one of the most biodiverse countries on earth, and we have chosen a few great examples of our favourite lodges that are inspiring others in their approach of balancing luxury travel and eco-tourism.
Tswalu Kalahari Reserve
Tswalu Kalahari is South Africa's largest privately owned game reserve (100,000 hectares), and is situated in the heart of the Northern Cape Province. The reserve offers excellent game-viewing of desert-adapted animal species such as desert black rhino, black-maned kalahari lion and loveable meerkats. Guided walks, private vehicles, horse-back safaris and hot air ballooning are all available as are nights sleeping out under Africa's biggest skies.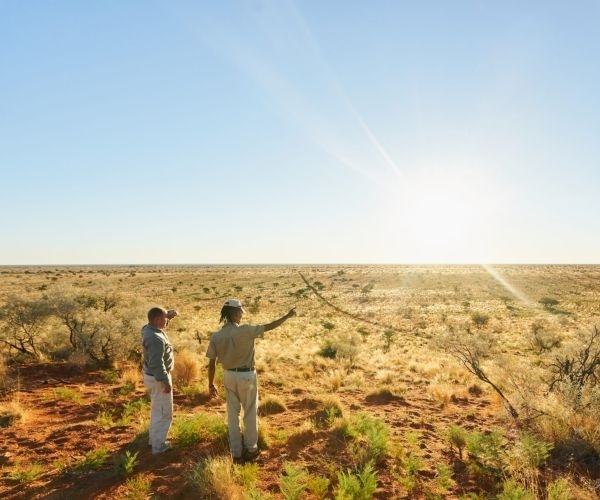 Tswalu Kalahari was created as a conservation project to rehabilitate and restore the natural environment from previously farmed land. The reserve is designed to support research projects, such as studying the impact of climate change on endangered species, and a number of community projects including the Tswalu Healthcare Centre, small scale horticulture and a school project. In combination with their main focus being conservation, the reserve offers an exclusive safari experience with 2 intimate, luxury lodges, built from organic materials. The lodges create employment opportunities for the local community, teach awareness to their guests and with a variety of game species on the reserve, Tswalu is a perfect example of excellent eco-tourism.
Grootbos Private Nature Reserve
This five-star eco-lodge reserve is perfectly located amongst indigenous fynbos, milkwood forests and beside the picturesque Atlantic Ocean. Guests here can take a quiet walk through the ancient forest, or explore this natural wonderland by 4-wheel drive vehicle, or enjoy the views from horseback on a guided ride. Bird lovers will delight in the large number of different bird species that are found in the reserve, and there are other activities such as shark cage diving, scenic flights, exploring archaeological caves and whale watching.
Grootbos is one of the world leaders in luxury eco-tourism, ensuring preservation for their wildlife and flora, guest involvement and awareness through shared knowledge. The reserve has also created several projects that not only uplift their local community and preserve their environment but they have also created a foundation to help other hospitality businesses to start their own 'green initiatives'.
Umlani Bushcamp
Umlani Bushcamp is a classic African safari camp located in the Timbavati Private Nature Reserve, which forms part of the Greater Kruger National Park. The camp offers an authentic wildlife experience in Big 5 territory. View lion, leopard, elephant, buffalo and rhino, as well as over 40 other mammal species and 350 bird species.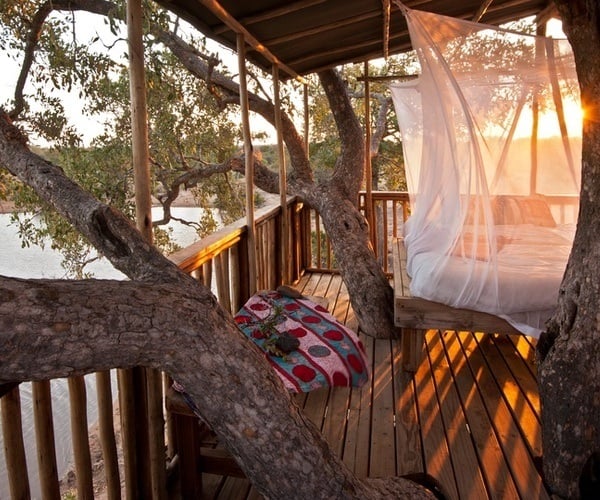 This is a very popular lodge for visitors as it offers a strong sense of African charm in its guest experience. The lodge's efforts to be more eco-conscious add to the adventure for the guests, while ensuring they are doing their bit to run a sustainable eco-friendly lodge. The lodge is powered by solar energy and the guest huts are lit by candlelight and oil lamps.  All food produce is locally sourced and effective water savings methods are implemented.  Non-toxic and biodegradable cleaning products are used exclusively at the lodge, and all waste is recyled with organic waste being composted on-site. The lodge is certified by Fair Trade Tourism, and in addition to supporting local education and training inititives, the lodge runs run in-house Ranger and Tracker Apprentice programme.  80% of the staff at Umlani come from the local community, and their commitment to training  staff  so they can grow and develop their careers means that there are several people who started as apprentices at Umlani  whoe are now working as rangers, trackers, chefs and in management at other neighbouring lodges.
Thonga Beach Lodge
Located in the iSimangaliso Wetland Park, an internationally recognised World Heritage Site, the lodge is surrounded by coastal forests, South Africa's largest fresh water lake, pristine beaches and clear warm water with abundant marine life – creating the perfect haven for nature enthusiasts and those who want to explore somewhere untouched, offering privacy and tranquillity with minimal environmental impact.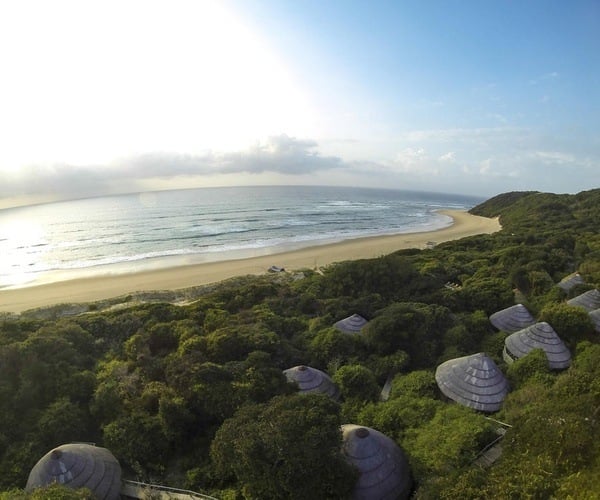 The driving force behind this lodge is to ensure that each decision is made ethically and with the natural environment in mind. Be it small touches such as reusable water bottles or sustainably sourced seafood for their guests, to bigger projects that include creating micro economies for their neighbouring communities or the turtle tracking and research initiatives – Thonga Beach Lodge is a front runner in balancing luxury with eco-tourism.
Sibuya Game Reserve
The only game reserve in South Africa that is solely accessed by boat, having more navigable river. Located in the malaria free Eastern Cape, Sibuya offers an abundance of diverse wildlife, including the Big 5. Their two Eco-destination lodges – Forest and River Camp – are both being run almost exclusively on Solar Power.
This is where you go to disconnect (literally as there is no wi-fi, air-con, fans or hair dryers) and absorb yourself in nature. The reserves offers many ways in which they are giving back, including: Volunteer programmes that assist in the involvement of research, wildlife tracking, anti-poaching support and area maintenance. Their staff are recruited and trained from the local community, they obtain locally sourced produce for their kitchens and utilize on site recycling and composting. The team also literally get their hands dirty with regular river clean ups. This really is a very special and unique safari experience, with a wonderful emphasis on conservation and eco-tourism.
Makanyi Private Game Lodge
Even in otherwise eco-friendly lodges, the majority of game drive activities are still conducted in traditional petrol or diesel vehicles. Makanyi Private Game Lodge, in Timvabati, has become among one of the first game lodges to introduce the new breed of electric vehicles for game drives. The vehicles are recharged from solar panels and a full charge lasts around 6 hours on average, which equates to between 150 km and 200 km depending on the terrain….way more than would ever be needed on any game drive.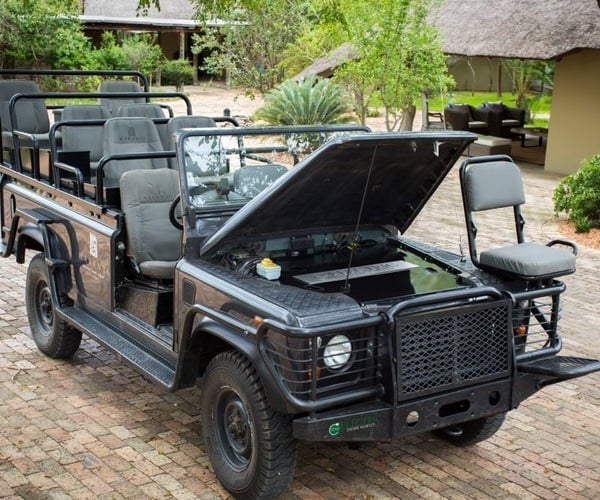 In addition to the environmental benefits, there are a number of advantages to electric vehicles for guests. The absence of engine noise means that you can hear more of the sounds of the bush around you, and your guide will be better able follow animals who might have otherwise been spooked by the sound of the engine. The smooth drive of the vehicles will also provide a better platform for taking photos and videos to capture scenes without the vibration and noise from the engine.
Paul Campbell is a Co-founder and Managing Director at Travel Butlers. Travel Butlers are specialists in tailor-made safari and beach holidays to Africa and the Indian Ocean.
If you would like to be a guest blogger on A Luxury Travel Blog in order to raise your profile, please contact us.
Did you enjoy this article?
Receive similar content direct to your inbox.