By
Paul Eyers
on Sep 14, 2019 in
Accommodation
,
Asia
,
China
,
Food and Drink
,
Going Out
,
Hong Kong
,
Hotels
,
Regions
,
Restaurants
,
Travel Miscellany
We have always loved Hong Kong but now we love it a whole lot more as the vegan scene is growing at an exponential rate. These vegan friendly luxury hotels in Hong Kong serve up a fine selection of creative plant based options to their discerning customers; make sure to check them out when you are planning your vegan travel adventure to this exciting and vibrant location.
Our first stop was Cordis Hong Kong which is located in Mongkok and offers guests a choice of elegant rooms and suites all with oversized bathrooms and floor to ceiling windows. Throughout the hotel you will find contemporary art, with different themes on each floor, when you venture outside you will find yourself right amongst the bustling Kowloon neighbourhood and just a few moments from the MTR, allowing easy access to everything Hong Kong has to offer.
Breakfast was served in The Place which is situated at the lobby level of this modern city hotel; clear labelling of the buffet items made locating vegan options simple and with helpful staff offering to adapt non vegan items we were very well catered for.
From the buffet we enjoyed excellent vegetable dumplings, Korean mushrooms and soft tofu, rice paper rolls and plain rice congee with condiments including sesame seeds, seaweed, Thai chilli flakes, lime juice, Japanese picked radish, soy sauce and deep fried shallots.
Then things got really exciting, the Chef talked to us about "preparing something special" for breakfast the following day but little did we know just how exciting that would be. We were served a burger for breakfast! Not just any burger, but the plant based burger from Impossible Foods that is taking the world by storm; and trust us when we say this was the most creative presentation of a burger we've ever seen. A perfectly grilled plant based pattie on a fresh and flavoursome tomato sauce, topped with porcini mushrooms, asparagus and pan fried potatoes. Wow, can we have a burger for breakfast every day please?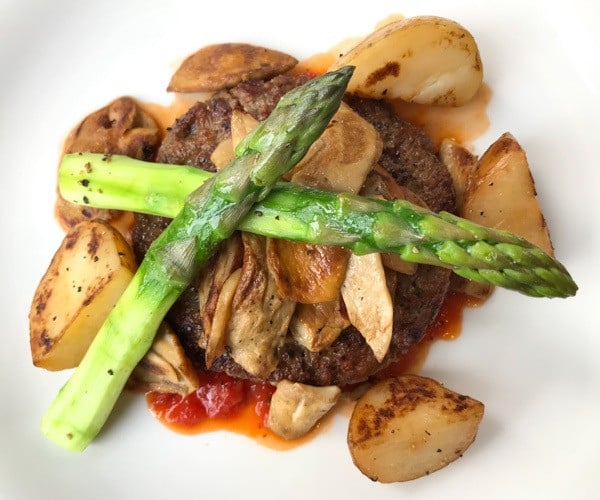 Having been recognised in the Hong Kong & Macau Michelin Guide since 2009, we knew we were in for a treat when dining at Ming Court. Serving the finest Cantonese cuisine is what they are renowned for but they have recently added vegetarian and vegan options to the seasonal a la carte menu and also a vegetarian set menu that can be served 100% vegan. These exciting changes have been in conjunction with the excellent Green Monday movement who are at the forefront of promoting and marketing plant based cuisine throughout the region.
Our trio of starters included this chilled salad, topped with gold leaf and comprising cordyceps flower, enoki and matsutake mushroom; it looked beautiful and tasted just as good as it appeared meaning we didn't want it to end.
Dishes also included 'Sweet and Sour OmniPork' which was rich, flavour packed and cooked perfectly. Omnipork is the 'game changing meat alternative' that offers a healthier and more environmentally friendly option to those who want to reduce their meat consumption. The chef at Ming Court had re worked a classic dish and the result was sublime, we enjoyed every last morcel and will be heading back for more next time we're in Hong Kong. Remarkable.
JW Marriott Hotel Hong Kong is a 5 star luxury hotel that welcomes business and leisure travellers alike to enjoy the sophisticated accomodation and first rate hospitality from this luxury hotel chain. The well appointed rooms and suites offer a selection of Victoria Harbour or mountain views and the convenient location, as part of the Pacific Place complex, make this an excellent choice.
Breakfast in JW Café was an extensive and exciting buffet; with assistance from the staff we uncovered many vegan options such as fruit, salad, fried rice, congee with condiments, vegan dim sum and fresh English muffins to which we added peanut butter, blueberries, sliced almonds, shredded coconut and maple syrup. The super helpful team also offered to prepare a couple of 'off menu' items including lightly fried tofu cubes with porcini mushrooms and asparagus, served with a spicy chilli sauce.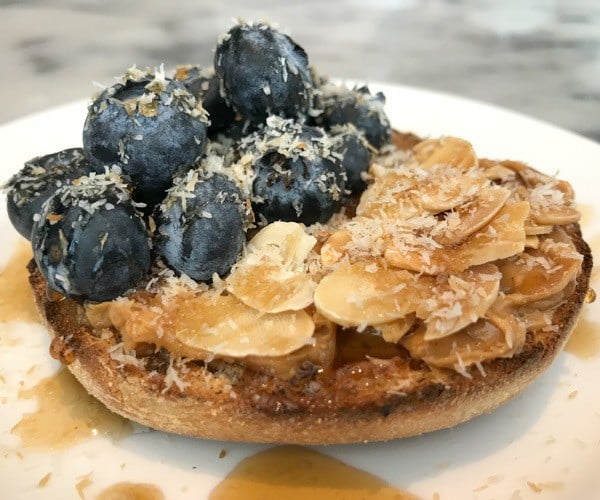 The chef at The Lounge arranged a plant based lunch for us that was light, vibrant and packed with goodness. Our duo of salads comprised a mixed quinoa creation with creamy avocado, the sweetest of mango and crunchy cucumber; this was topped with micro sprouts, heirloom tomatoes and a zesty citrus dressing. We also enjoyed roasted Japanese pumpkin with beetroot, baby spinach and a yuzu gel. Sweet roasted pumpkin, earthy beets and the tangy and sour yuzu were the perfect combination that certainly excercised our taste buds!
Grand Café is the all day dining restaurant at the luxurious Grand Hyatt Hong Kong that serves both a la carte, and buffet options; but it was the vegan and plant based food that appealed to us and we were certainly not disappointed.
The menu included a number of vegan dishes including a burger, salads and a spinach with portobello mushroom tortilla wrap that was easily veganised by changing the regular mozzarella for Daiya mozzarella. The Mapo Tofu dish was full of assorted mushrooms and served with rice, soup and pickles; the flavours were fantastic and for those of you who can resist the vegan burger this dish will leave you very satisfied indeed.
For us though, it was all about the Impossible Burger with sweet potato rosti and chipotle mayo which was impossibly incredible. It was perfect including the bun, the creamy parsley sauce, the melted vegan cheese (from Daiya) and the super tasty homemade chipotle mayo. Excellent.
GREEN is the cafe and all day Brasserie at Hotel ICON, a modern and stylish hotel located in Tsim Sha Tsui that offers guests panoramic harbour views, in house spa, helath club and rooftop pool. Located on the ground floor and boasting Asia's largest indoor vertical garden, it is the perfect choice for a laid back lunch with friends or business colleagues.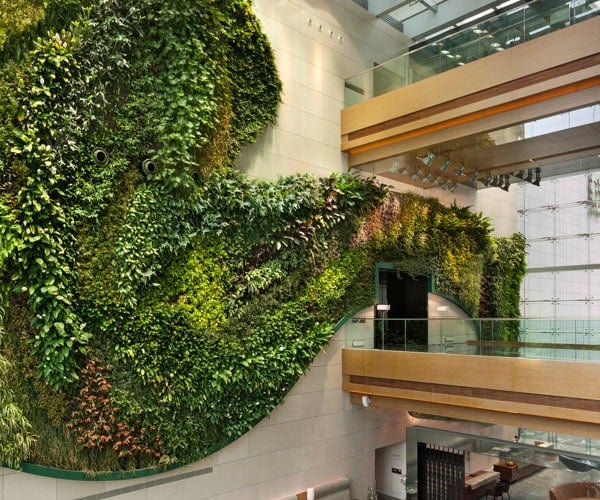 We can't get enough burgers so when presented with the option to enjoy one more Impossible Burger we just couldn't refuse. Served with hand cut chips and a side of avocado it was another example of just how good this plant based burger really is. Grilled to perfection in a fresh, seeded bun we were yet again in our happy burger place. Don't miss out on the creative mocktails on offer at GREEN, we loved the 'Ginger Apple Bliss' and the 'Watermelon Cooler', both were refreshing and the perfect companion to our burgers.
Big love to all of these restaurants and hotels in Hong Kong that are embracing the demand for vegan and plant based cuisine, long may the growth continue as the health and environmental benefits are huge. Extra special thanks to the team at Green Monday who continue to be at the forefront of the movement in Southeast Asia; their commitment to delivering sustainable, innovative, wholesome and responsible food choices is unrivalled. Bravo.
Paul Eyers is Founder of Vegan Food Quest. Vegan Food Quest have become luxury vegan travel specialists as they continue to find, eat and write about the best vegan food in the world.
If you would like to be a guest blogger on A Luxury Travel Blog in order to raise your profile, please contact us.