5 unique, once-in-a-lifetime wildlife experiences
It's true; the plains of Africa, and the rainforests of Asia and South America, offer some of the most thrilling wildlife experiences on the planet. However, along with traditional safari wildlife encounters, there's a whole host of unbelievable destinations and wildlife encounters you might never have thought about. From Alaskan grizzlies to the birds of a remote Atlantic island, consider the following as being among the ultimate experiences for all wildlife lovers.
Extreme Hawaiian shark encounters
Sharks, terrifying or fascinating? Whatever your deep-down feelings are, this once-in-a-lifetime exhilarating opportunity to get up-close and personal with the denizens of the deep will stimulate your emotions, and give you stories to last a lifetime.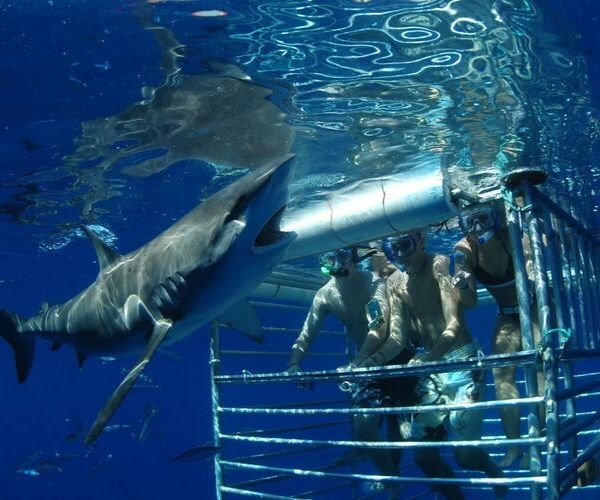 In a specially constructed cage submerged below the waters of the Hawaiian Pacific, get an eye-to-eye encounter from behind the safety of thick, reinforced windows – offering crystal clear visibility – of the kings and queens of the ocean. In the company of professional naturalists, along with experiencing a blood-pumping adrenaline rush, you'll learn about the shark's biology and its importance in the natural order of the planet's ecosystem.
Bird, dolphin and whale watching in Madeira
Churned into life and magnificence by the action of submarine volcanoes over many millennia, Portugal's Atlantic island of Madiera and the surrounding archipelago are both stunningly beautiful and remotely isolated. The oceans around the islands are teeming with a great diversity of marine life, whales, dolphins, turtles, and an amazing proliferation of seabirds.
This sublime wildlife experience will see you set sail from Machico Harbor in a sturdy rigid-hulled inflatable vessel, perfect for the task in hand. On this unique adventure, you're likely to spot striped and bottlenose dolphins, pilot whales and sperm whales who are drawn to the area to feed and play. As a bonus, you may even be lucky enough to get a sighting of the largest creature to have ever lived on land or in the waters of planet earth, the Blue Whale.
Bioluminescence kayak tour in Florida
Not as well known as Africa's Big Five, but, the tiny single-celled marine organisms Dinoflagellates add their own brand of spectacular beauty to the world of wildlife. Bioluminescence is the characteristic that turns these tiny creatures into the glowing stars of the animal kingdom. Florida's Banana River, close to Cape Canaveral and Merritt Island, is home to one of nature's most spectacular phenomena, the eerie nocturnal bioluminescence of millions of these microscopic creatures.
Disturbed by the wake of your kayak the creatures flush with blue/white electricity, creating an unforgettable and natural marine light show. Immerse your hand or kayak paddle into the water and watch the ensuing lights flicker and dazzle. This is a once-in-a-lifetime encounter and one which might even be intensified by the presence of other wildlife visitors such as dolphins or the elusive manatees who inhabit the region.
Winter wildlife and Alaskan wildlife conservation center
Conservation of wild animals is essential to their species' survival. This incredible – non-profit – Alaskan Wildlife Conservation experience will give you an overview of the importance of these centers, the type of work in which they are engaged – the care of injured or orphaned native animals species and their return to the wild – and an insight into the variety of wildlife inhabiting the vast Alaskan wilderness.
You will see wildlife roaming in habitats as close to their natural home as possible while they engage in their rehabilitation process. Meet brown bears, wood bison, musk ox, and caribou while learning about efforts to protect their habitats and avoid human-wildlife conflict. Located at Portage Glacier your journey to the center will take you past Turnagain Arm and the Chugach Mountains, giving you the opportunity to also view and photograph animals in their natural environment. This is the perfect wildlife experience for anyone with a genuine love of animals and their conservation.
Chitwan safari in Nepal
Nepal rarely springs to mind when discerning wildlife lovers think of safari experiences, but that's about to change. The Chitwan National Park was the first national park in Nepal, established in 1973 and given UNESCO World Heritage Site status in 1984, and is home to some of the most amazing wildlife experiences in all of Asia.
On your Chitwan wildlife experience, you'll have the opportunity to encounter Indian elephants, leopards, crocodiles, rhinoceros, monkeys, snakes, amphibians, butterflies, a huge selection of native birds, and of course, the indigenous Bengal tiger. This specialist safari will take you deep into the national park to witness the great diversity of the Nepalese ecosystem. Featuring jungle hikes, a visit to an elephant stable, and a wildlife canoe ride, your sensational safari wouldn't be complete without witnessing unique sunsets and the hospitality and friendliness of the local Tharu people.
Linas Ceikus is CEO and Founder of Tinggly. Tinggly is an experiential gift company offering you the chance to give unique experience gifts in lieu of material possessions, ideal for all discerning travel-lovers.
If you would like to be a guest blogger on A Luxury Travel Blog in order to raise your profile, please contact us.
Did you enjoy this article?
Receive similar content direct to your inbox.