By
Paul Johnson
on Sep 25, 2019 in
Accommodation
,
Bars
,
Europe
,
Family Travel
,
Featured
,
Food and Drink
,
Going Out
,
Hotels
,
Regions
,
Restaurants
,
Speciality Travel
,
Switzerland
,
Travel Miscellany
,
Western Europe
Built over a century ago, in 1915, the historic 140-room Lausanne Palace is a 5-star hotel in the Olympic city of Lausanne. A member of Swiss Deluxe Hotels and Leading Hotels of the World, this Belle Epoque hotel faces out towards the city at the front and enjoys Alpine vistas across Lake Geneva (which goes by the preferred name of Lac Léman in this part of Switzerland) to the rear.
The welcome
We arrived by train from Geneva Airport and the hotel had asked us for our arrival time at Lausanne station so that they could meet us on arrival. My phone rang shortly before we arrived into Gare de Lausanne. It was our driver confirming that he would be on the station platform to meet us. He greeted us with a smile, helped us with our cases, led us to the car and took us on the short transfer to Lausanne Palace.
This was our second stay at the hotel, but our first for quite a long time, yet the hotel was every bit as welcoming and inviting as we remembered. Whilst the formalities were sorted, we had a welcome drink in the lounge at LP's Bar close to reception.
The room
We stayed in a spacious (60 sq m) Junior Suite (room 301) with an interconnecting twin bedroom (303) for the children – rooms 301 and 303 on the third floor of the hotel. The décor was very simple yet stylish which we liked; we actually saw a number of other rooms, too, and there are a number of differently-styled rooms throughout the hotel, so something to suit everyone, with a constantly rolling refurbishment programme.
The suite came with a separate living area with a balcony you could sit out on, and with fabulous lake and moutain views, situated between the two bedrooms.
The bathroom
The same neutral tones extended to the bathroom with floor-to-ceiling tiles, twin basins, a bath and separate walk-in shower could be found.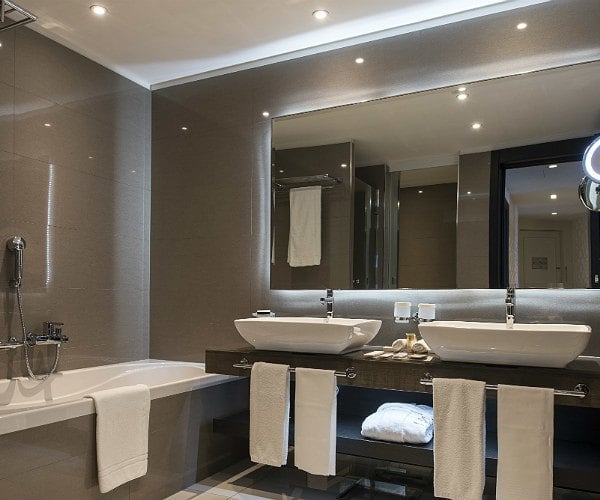 Penhaligon's London toiletries were provided – Blenheim Bouquet shampoo, shower gel, conditioner and body lotion.
The facilities
When it comes to facilties, Lausanne Palace is extremely well-catered for, with four restaurants, two bars, a spa and extensive meeting and event space.
Cote Jardin is where breakfast is served each morning. It has a bright and open terrace lined with box trees and with yet more of those fabulous views out towards Lake Geneva and the Alps. For dinner, they offer quality Mediterranean cuisine and were awarded 14 points by the prestigious food Gault and Millau guide.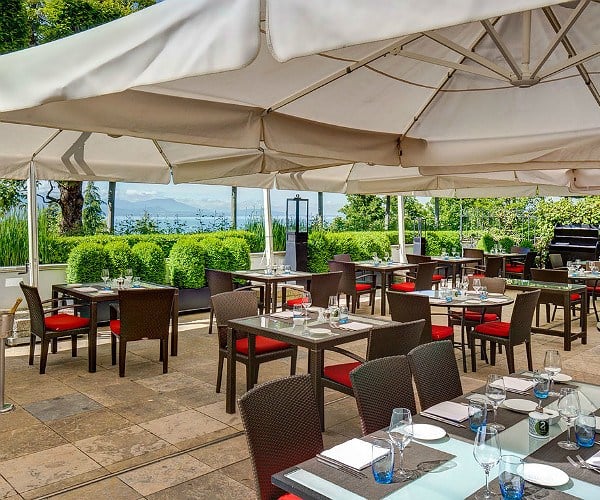 On the evening of our visit, they were holding a barbecue evening where we were first treated to a refreshing amuse bouche of melon and tomato gazpacho with deep fried octopus and cherry tomato.
We then visited a grill which was being manned by a chef and were able to able to choose from a range of meats – steaks, ribs, chops and various other cuts.
Inside there was a buffet with a range of salads you could also choose from…
…as well as a selection of desserts that were so tempmting that it required a serious measure of self-control!
There is also the Brasserie du Grand-Chene, serving classic Parisian dishes and classic plats du jour, and Palace Sushi Zen, the hotel's Japanese restaurant offering sushi and sashimi, udon noodles and soba soup. We dined at the latter where four sushi masters from Japan work their magic.
We opted for sushi and sashimi selection plates that we could share and that allowed us to savour a variety of different pieces.
Among our favourites were the shitake sushi which were really hearty and full of flavour, and eel sushi which was so soft and tender, with a slight sweetness. Both are pictured below.
La Table d'Edgard is the hotel's gourmet Michelin-starred restaurant but was unfortunately closed at the time of our visit. It wasn't all bad news, though, as we visited the Cafe Beau-Rivage brasserie as the Beau-Rivage Palace sister hotel in Ouchy.
Here we had an exceptional meal. The Japanese Amberjack Tatiaki had a firm texture and seemed to complement well with the yuzu and black sesame seeds and radish pickles.
The Nicoise-style gambas a la plancha with spring onions made a lovely salad.
Pictured also is the grilled line-caught bass from Noirmoutier (an island off the French Atlantic coast), served with an eggplant caviar and cima de rapa and anchovy condiment.
In terms of being packed with flavour, the bomba rice (like paella) with pan-seared king prawns and calamari and chorizo mousse was a real winner.
Also pictured here to tempt your tastebuds… an amazing open ravioli of Maine lobster with candied lemon and baby fennel with a bisque emulsion…
…and a pan-seared spider steak of pork with coco beans and chanterelle mushrooms with parsley and garlic.
For dessert, I had the meringue with strawberry sorbet and gruyere double cream to round off a truly exceptional meal.
Returning to Lausanne Palace, the hotel spa is one that uses Valmont products – a Swiss brand and a pioneer in cellular cosmetics and the development of effective anti-aging treatments – as well as skincare products from Menard and Aveda. I had a facial treatment that left my face feeling fresh and radiant, but there are also massages, body treatments, manicures and feet care services available.
In addition to the spa treatment rooms, there's a spa shop selling swimwear and Valmont products, as well as a selection of candles and scents from specialist creators based in Lausanne. There's also an outdoor area with sun loungers, an indoor pool and a gym with state-of-the-art Technogym equipment and a personal trainer on hand if required, plus a range of daily programmes available.
Guests can also access the Yogi Booster Bar which is open daily and caters for anyone looking to 'live better' with an organic plant-based diet and a focus on detox cuisine.
For business travellers, Lausanne Palace is also a popular meetings and events venue. The hotel has five banquet and receoption rooms, four of which are modular and can be adapted to the needs of the client. They can accommodate up to 300 people for a sit-down meal or 500 guests for a cocktail party.
There is also a modern and fully equipped conference centre with eight fully adjustable modular meeting rooms, some of which have direct access to the hotel's terrace.
Location
Lausanne Palace is just a 10-minute walk from Lausanne Gare and within easy walking distance of much of the city. If you are arriving with luggage, you can arrange to be collected from the station and a member of the hotel's team will be there to meet you at the platform. If travelling around the city, taxis are available but the Metro system is also very easy to use. Tickets can be obtained from the hotel concierge and the nearest Metro station (Lausanne-Flon) is just a 3-minute walk away on Rue du Pont.
Other nice touches
The hotel went out of its way to make every aspect our stay special. From Champagne and fresh flowers in our room, to chocolates and snacks and drinks for the kids.
It's the little things that demonstrate the extra special care and attention that set a true luxury hotel apart from the rest, and Lausanne Palace offered these in abundance.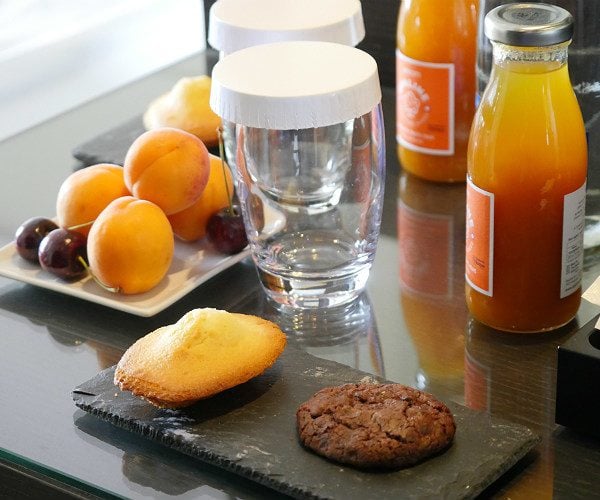 Cost
Rooms start from 400 CHF per night, excluding taxes and fees.
A Junior Suite with a lake view starts from 770 CHF, excluding taxes and fees.
The best bit
It's hard to put your finger on just one of thing as there is so much to appreciate at the hotel, but our suite and the view over Lake Geneva certainly took some beating.
The final verdict
We last visited Lausanne Palace more than a decade ago when A Luxury Travel Blog was still in its infancy. Back then we were travelling with a toddler and a baby so didn't get to relax quite as much as we might have liked! The hotel was every bit as good as we could remember, only this time we were able to fully appreciate and enjoy its deserved reputation as one of Switzerland's favourite hotels.
Disclosure: Our stay was courtesy of Lausanne Palace. Our thanks also goes to Lausanne Tourism and Switzerland Tourism for their support with the trip.