Lisbon is the vibrant and cosmopolitan capital of Portugal. A popular destination for a weekend break with easy access to Lisbon airport from most countries. One of the oldest cities in the world, and the second oldest European capital city (after Athens), predating other modern European capitals by centuries.
But how do you spend your weekend with so many excellent restaurants, bars and sights to see and visit, trying to compress it in to one weekend can be very difficult. So we have made it a little easier for you with our list of 5 must do things for a weekend visit.
Visit Limão Rooftop Bar
What ever time you arrive in Lisbon, a visit to Limão Rooftop Bar is a must. Located on the tenth floor of the H10 Duque de Loulé, an exclusive Boutique Hotel full of charm and can be found in a historical building in the centre of Lisbon, close to Avenida da Liberdade. Though the location is in the centre of the city, you will find this one of the most relaxing spots in Lisbon.
The building was renovated and decorated by interior designer Lázaro Rosa-Violán, the beauty of this typical 18th-century facade was preserved, whilst the interior is a fusion of traditional Portuguese elements and contemporary modern and functional elements.
The same level of detail has been applied to the roof top bar, with striking blue and white décor and glass panels ensuring your view is not interrupted. There are 2 seating areas, one interior and one exterior that offers some of the most amazing panoramic views across Lisbon extending to the river and beyond.
The Limão offers a great selection of wines and cocktails along with a variety of Portuguese tapas and excellent friendly service. Enjoy the views during the day on the terrace or sit back and watch the sunset and Lisbon come to life during the evening.
Take a river cruise on a private yacht
The Tagus is the longest river in the Iberian Peninsula. Starting in Spain and finishing in the Atlantic in Lisbon, no trip to Lisbon is complete without spending time on this amazing river. Once in the city you will be able to choose from a large variety of river cruises of varying durations and locations. However, many of these can be crowded with other sightseers all wanting the same experience.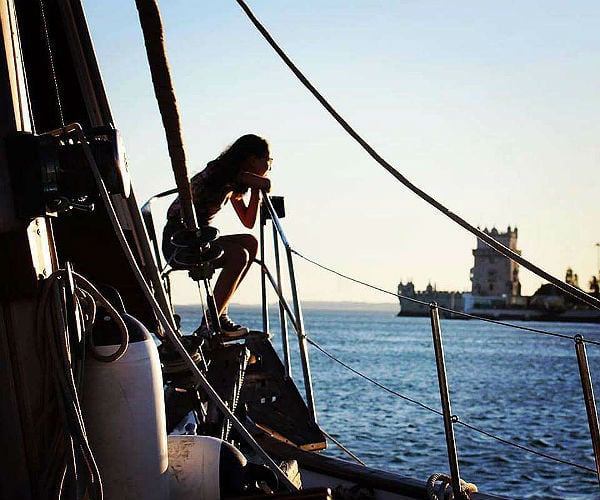 However, if you want to have a truly luxurious experience away from the crowds, consider booking a private tour on a vintage yacht. SeaBookings provide a private river tour in Lisbon, the vintage yacht is manned by an experienced skipper that will also give you live commentary on the sights that you will see. With relaxing music, a selection of Portuguese petiscos (Portuguese tapas) and excellent wine you can really enjoy the sights in luxury.
There is no other way to view the amazing 25th of April Bridge or to obtain some of the best photographs of the Praça do Comércio historical square. The private vintage yacht trip, really is one of the highlights of any trip to Lisbon if you want to experience nature, history and culture without sharing it with strangers.
Visit O Mundo Fantástico das Conservas Portuguesas (The Fantastic World Of Portuguese Sardines)
If you want to experience something a little more unusual on your trip, then there really is nowhere more unusual than O Mundo Fantástico das Conservas Portuguesas, this is a tinned sardine shop located in Rossio square in the centre of Lisbon. The shop has a circus theme and sells only tinned sardines. This may not sound like a must see attraction, but it really is.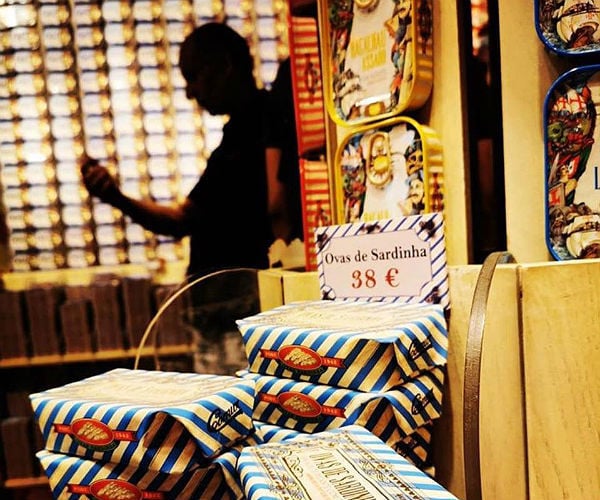 Each tin of sardines has a different year from 1916 onwards, with over 100 years to choose from these make a fantastic gift, combining the history of the Portuguese sardine with an amazing historical fact. Each tin is decorated in a vintage design with the year clearly marked and interesting facts about that year, for example 1945 has the end of WWII and that musicians Bob Marley, Rod Stewart and Eric Clapton were born.
Each decade has a distinct colour and every year has a slightly different tone. This allows for the bright and colourful store to blend so well but retain easily viewed years. There is also a sound track (especially created for the store by artist Carlos Alberto Moniz).
If you are searching for an unusual gift to take home or something to mark a special occasion, these tins are the perfect present. However, the design of the shop is so colourful and extraordinary that even if you choose not to buy, the experience is well worth a visit!
Visit Sintra
A visit to Sintra has to be near the top of your list for a trip to Lisbon. Sintra, where nature mixes perfectly with the palaces and monuments, to make this one of the most impressive areas in Portugal, so much so the area, not just one building, was granted UNESCO world heritage status. The historic town centre is a great place to start. There are a wide selection of restaurants serving regional or international cuisine and many castles and palaces to visit.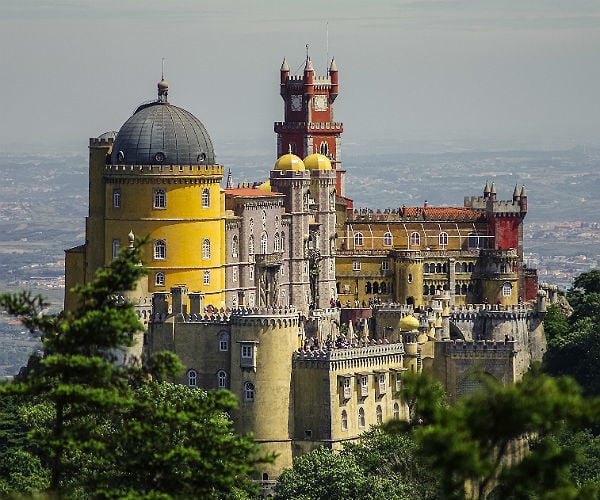 Pena Palace is one of Portugal's best examples of Portuguese architecture in the romantic period, colourful and striking in red and yellow, this palace is a must see from any angle, including the distance as it emerges from the clouds high on a hill top. Castelo dos Mouros (Moorish Castle) also known as Sintra castle, is a 10th century fortification built after the Moorish conquest of the Iberian Peninsular. This castle will give far reaching views all the way to the Ocean.
If you do not want to spend your entire trip in Sintra (which you could easily do as there is so much to see) then Quinta da Regaleira is located close to the town centre. Built between 1904 and 1910, in a gothic style, it is likely to be one of the quirkiest palaces you can visit, with many follies' in the gardens and far reaching views, the building and gardens are more of a work of art than a traditional palace. Which ever palace you choose to visit, you will not be disappointed.
Visit Praça do Comércio
If you are looking for the perfect place to eat lunch, the Praça do Comércio is ideal. This is one of Lisbon's grandest plazas. Originally it was the home of the old royal palace until it was destroyed by the earthquake of 1755.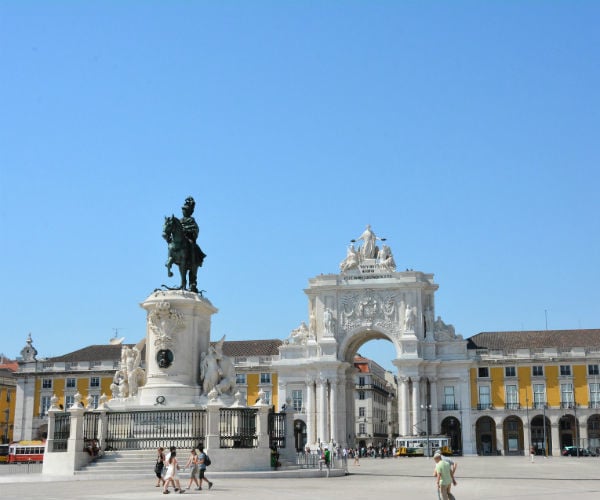 The four sides of the main square each have spectacular views, with the southern end looking out over the Tagus River. Here you will find a grand marble staircase. These steps date to before the 1755 earthquake and were built for the arrival of royal dignitaries and would have led straight into the royal palace.
Both sides have the famous yellow coloured buildings with 18thcentury arcades running along them. The main aspect of this square is the Verissimo da Costa's triumphal Arco da Rua Augusta, sitting proud in the centre of remaining yellow coloured buildings. If you choose you can visit the top of this structure for some of the best views of Lisbon. If you are just wanting to enjoy some lunch, the restaurants are varied, all with outside eating areas where you can enjoy your meal or a glass of wine and watch the world go by.
In the centre of the plaza is the Equestrian Statue of Joseph I, designed by Machado de Castro in 1775. From the plaza you can walk along Rua Augusta, which is a lively pedestrian street, the centre of which is filled with seating areas of the many cafes and restaurants, enjoy the traditional and international shops or watch the numerous street artists.
There are so many other places to visit and experiences to enjoy, but for a weekend in Lisbon, these have to be at the top of any list.
Jenny Lovett is the Founder of Portugalholidays4u.com. Portugalholidays4u.com is a website showcasing all that Portugal has to offer with an extensive collection of villas, apartments and holiday accommodation.
If you would like to be a guest blogger on A Luxury Travel Blog in order to raise your profile, please contact us.