From the indulgent cabin get-aways to the freedom of hitting the slopes and coming back to an open fireplace, there is nothing more desirable than visiting a luxury ski resort for your winter holiday destination. Begin the whole experience by arriving in style by private jet. Not only does it add a touch of glamour to your travels but it can drastically reduce your travel time, maximising your time on the slopes. Private jet hire provides a stress free solution for your ski holidays!
Here, we take a look at why private jet hire can maximise your time on the slopes this ski season.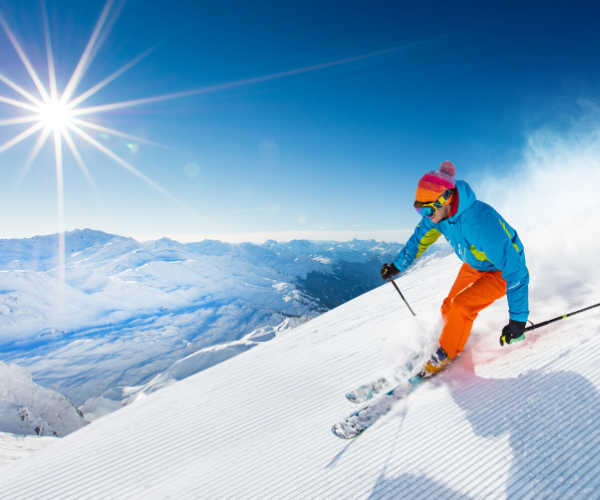 Avoid weather related airport delays
Ski season typically runs from November to mid April. If you are travelling from the UK during this period, the weather can be very tempremental , with snow and ice on the runway causing scheduled flights to be delayed or even cancelled. Private jets are less impacted by heavy snowfall so there is less risk of lengthy delays, cancellations and missed connections. Private jets can use smaller airports where cleaning of the runway and de-icing of the aircraft can be undertaken much quicker than at larger, busier airports. In extreme weather conditions where most commercial flights are grounded, private jets have a remarkable ability to resume normal flights.
Cut down time spent at the airport
With a private jet, there is no more wasted time at the airport. You only need to arrive at your dedicated private terminal 15-minutes prior to your scheduled departure time and beacuse you are pre-cleared prior to the flight, you avoid all the lengthy check-in and security queues in the main terminal. Your bags are loaded directly onto the aircraft and you are in the air within 5 minutes of arriving at the airport. The time saved at the airport can be better spent on the slopes!
Reduce transfer times
Many of the world's top ski resorts have smaller airports closer to them which are not accessible by scheduled airlines. This alone can save hours on transfer times to/from the resort  with some resorts a 2-3 hour drive from the main international airport. Helicopter transfers can also be arranged, to avoid the sometimes treturous road conditions, ensuring you arrive at your destination stress free, fresh and ready to hit the slopes!
No equipment limitations
Being able to bring your own skiing equipment with you is an important benefit to flying by private jet. There are no extra charges for over-sized luggage and you know your skis are carefully stowed with no fears of them getting lost! There are certain jets that offer much more generous hold space, so be sure to check these details prior to booking your flight. Our recommendation based on cabin, baggage and aircraft performance would be an Embraer Legacy 500, 600 or 650 or a Citation Sovereign – depending on passenger numbers.
Save time
Ultimately the main reason why private jet hire can maximise your time on the slopes this ski season is the time it saves you compared to flying by scheduled airline. Take a look at our comparison below and see for yourself! What would you do with all that spare time?
Private jet vs scheduled flight

| | | |
| --- | --- | --- |
| | Private jet | Scheduled flight |
| Airport wait time | 15 minutes | 3 hours |
| Arrival airport | Samedan (St Moritz) | Zurich |
| Flight time (from London) | 01:20 | 01:45 |
| Baggage re-claim | 1 minute | 25 minutes |
| Transfer to resort | 10 minutes | 02:45 |
| | | |
| Total time: | 01:50 | 07:50 |
Vickie Clark is Client Services Director at The Private Jet Boutique Ltd. The Private Jet Boutique Ltd. is a one-stop shop for private jet charter, helicopter charter, scheduled flights and luxury holidays.
If you would like to be a guest blogger on A Luxury Travel Blog in order to raise your profile, please contact us.