8 honeymoon destinations in Bali
Bali is renowned across the globe as the 'last paradise' for good reason. Images from this exotic land have long filled people the world over with dreams of that perfect holiday that brings together sun, sand, waves and world-class luxury. Then there are the volcanic mountains, lush green forests and unexplored getaways that leave you speechless. Bali is Indonesia at its unadulterated and natural best. It's no fluke that the little island has shot to the top of world tourist map at such a dizzy pace. Resorts draped in an air of romance and pristine beaches that wash away all your woes have played a major role in this little island's immense popularity. As a honeymoon destination, Bali is second to none. Its beaches have been rated on par with the Mediterranean wonders of Greece and its delectable cuisine and unique culture leave you wanting more. Home to some of the world's most luxurious resorts and hotels, a honeymoon in Bali will leave you with memories lasting a lifetime. Opulent, secluded and at times extravagant, these are some of the absolute best Bali has to offer.
1. Alila Ubud
Despite its limited size, Bali is blessed with a multitude of natural riches. Booming tourism has seen numerous luxury resorts spring up around these parts. But for a couple on a honeymoon trip, few places match the privacy and the green goodness of the fabulous Alila Ubud hotel. Overlooking the mesmerising Ayung River valley and draped in a shroud of green seclusion, this is a dream destination for honeymooners.
Rated among the best and most exotic hotels on the planet, it boats of one of the best pool experiences in the world.
2. Four Seasons at Jimbaran Bay
Jimbaran Bay's amazing beach views and serene, peaceful ambience make for the perfect tranquil hideaway. From elephant safaris to the Bali bird park, you can experience the culture, tradition and the true flavour of Bali here. This chic resort is one of the most sought-after locations on the island, thanks to signature Four Seasons service and truly exquisite luxury facilities.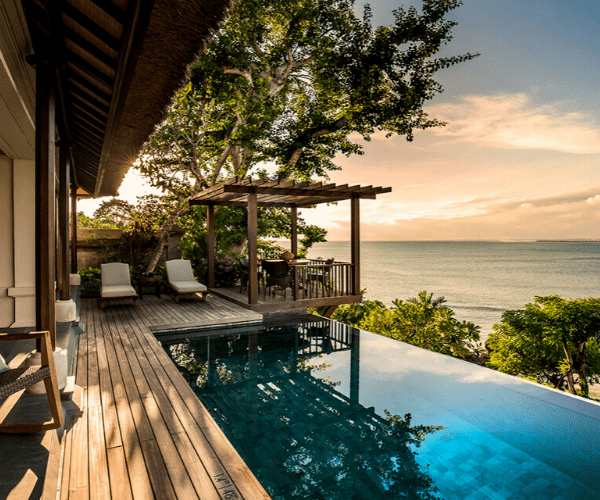 Known as one of the best hotels in the world for honeymooners, there is a special romantic itinerary on offer here for those looking to experience the true timeless charm of the Indonesian archipelago.
3. The Samaya Seminyak
Sophistication coupled with serenity is the unbeatable combination that Seminyak has to offer. The Samaya Seminyak has frequently been dubbed the best
luxury hotel
in Indonesia, and has also been named one of the top 10 in Asia; it really is the crown jewel of the region. With grand beachfront villas and royal courtyard villas, the resort pampers you endlessly.
Delicious local cuisine and great spa facilities mean there's no end to the ways to indulge here. Sweeping beaches and sleek bars might leave you intoxicated in more ways than one!
4. Menjangan Resort
It is an absolute wonder that Menjangan is not already a shining beacon on the world tourism map. Part of the lesser-explored terrain in Bali, it is a hidden wonder that offers a perfect getaway for those on honeymoon. In fact, many arrive here hoping to tie the knot in this serene and tranquil setting!
Enclosed within the wondrous Bali Barat National Park, it is the only resort in the entire Island that spans a whopping 382 hectares. Unadulterated north-west coast of the island, coupled with the vibrant wildlife of the national park, will leave you enchanted. A paradise for bird watchers, a diverse range of flora, fauna and marine life becomes a part of your adventure at the Menjangan Resort. Relaxing mangrove spas and a top range of international cuisine round off your unforgettable stay here!
5. Kayana Villas
If you are looking for royalty and exclusivity, look no further than Kayana Villas. Moving away from the hustle and bustle of Seminyak, this collection of 24 villas offers ample privacy for newlyweds, plus direct access to a gorgeous beach. Apart from the obvious villa experience, holidays here are enhanced by the tranquil Ayur Spa that allow ample opportunity for rest, relaxation and rejuvenation.
Minimalist interiors and modern amenities at Kayana Villas ensure you are always draped in luxury. Don't miss out on the 'in-villa themed dinners' that promise a romantic candle-lit dinner as you enjoy a cool dusk giving way to a starry night sky.
6. Alila Villas Uluwatu
The brilliant limestone cliffs of Bali's Bukit Peninsula form the dramatic backdrop for Alila Vilas Uluwatu. Away from all the bustle of the more popular locations, the resort offers a collection of villas and terrace suites that seem to be precariously perched right above the Indian Ocean. Nestled in the less-explored reaches of Bali, a stay here will rejuvenate your senses and leave you feeling fully restored. You'll enjoy ultimate privacy here; each villa enjoys its own pool and private cabana. Outstanding service and mesmerising sunsets will complete your love affair with the Alila Vilas.
7. Bvlgari Resort Bali 
Another hidden gem located within Bali's Bukit Peninsula is the Bvlgari Resort. Here, traditional Indonesian design meets a beautiful European flair. Melt away in the luxurious spa or celebrate your newly-wed status with a cocktail in the "Il Bar" which also has a menu of deluxe wines for you and your loved one to indulge in. Take advantage of the hotel's private beach and soak up the glorious Indonesian sun with a spot of sunbathing or take a relaxing stroll beside the crystal-clear water's edge. Sangkar Restaurant, one of the resort's three eateries, offers a range of truly spectacular dining experiences accompanied by ocean views – there really is something for every visitor. So, say "I do" to the truly gorgeous Bvlgari Resort and start your honeymoon the right way.
8. Conrad Bali
Enjoy ultimate luxury whilst having access to some of the lushest outdoor facilities Bali has to offer at Conrad Bali. The Conrad Bali truly has the "wow" factor, offering guests access to a white sand beach, tropical gardens and spectacular blue lagoons. Bask in true beauty with ocean view rooms, experience the utmost comfort in one of the hotel's deluxe beds, and take full advantage of the hotel's tranquil seclusion – some of the suites here enjoy a private pool. Dive head-first into your honeymoon at this magical resort.
Sarah Roberts is Director of Inspiring Travel Company. The Inspiring Travel Company, established in 1974, offers exceptional tailor-made luxury holidays and experiences to some of the most elegant and desirable destination across the globe.
If you would like to be a guest blogger on A Luxury Travel Blogin order to raise your profile, please contact us.
Did you enjoy this article?
Receive similar content direct to your inbox.