Recent years have seen the rise of wellbeing travel with the Global Wellness Summit's Wellness Trends report stating that 2018 was a "new era of transformative travel". In 2017, 691 million travellers took wellness specific trips that focused on the pursuit of maintaining or enhancing one's personal wellbeing. The awareness and emphasis on wellbeing is on the increase, where travellers want to spend their time off investing in themselves. And with wellness broadening from the initial spas and yoga retreats, to now encompass a wide variety of activities that are good for general health and well-being, where better to invest in healthy travel than Malawi? It has many ways in which you can do just that – from walking trails, hiking, biking, horse trails, scuba diving, and a few yoga retreats!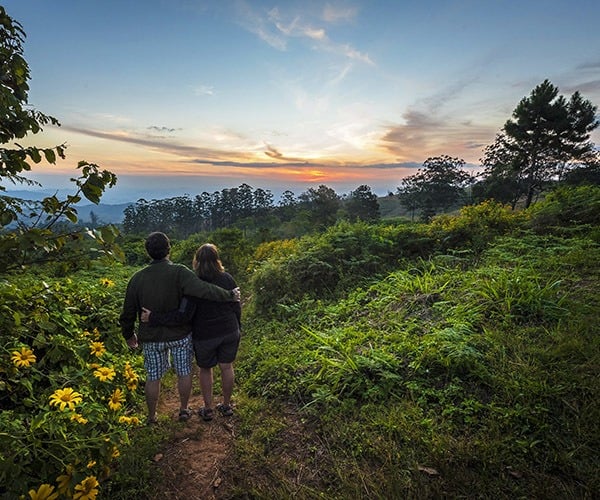 Mumbo Island: remote relaxation
Mumbo Island is an idyllic uninhabited tropical island in Lake Malawi and protected as part of the Lake Malawi National Park. It lies an hour's boat ride or three hour paddle in a kayak from the mainland and is small enough to walk across in less than an hour. The camp adheres to the strictest principles of eco- architecture and is constructed entirely of timber, thatch and canvas. There are plenty of activities available from island walks to kayaking, snorkelling and diving, but just lying in a hammock on an island in a lake in the middle of Africa is as remote and relaxing as it gets! Mumbo now also hosts a number of yoga retreats, recently expanded after guest feedback to allow even more time to relax and 'detox'. The retreats include session of pilates and mediation as well as yoga – and, of course, an opportunity to try out some snorkelling!
Zomba Forest Lodge: nature trails
Guests who come to Zomba enjoy hiking, which is a welcome break to sitting either in a safari vehicle or on a beach – though many are content with a gentle amble instead. The Zomba Plateau itself offers lots of different walks for different abilities and durations, but immediately around the property are 3.5km of nature trails which guests love exploring, solo or with a member of staff. Guests can even join a walk with the lodge owner and her dog which enables them to explore places that they would not necessarily have gone on their own, and enjoy a bit of canine-therapy along the way! The lodge also organises and annual Run4Reforestation, a multi-distance running event with 5, 10 and 21km races, with all the proceeds going towards their tree planting project Zomba TREEZ.
Blue Zebra Island Lodge: snorkelling and diving
Located in the Central Region of Malawi and less than a two hour journey from Lilongwe, Blue Zebra lodge is situated in the Lake Malawi National Park on Nankoma Island, which forms part of the Marelli Island Archipelago. The three islands are home to a vast array of freshwater fish, including some of the most rare and colourful in the world. The islands support diverse flora and fauna and are a birdwatchers paradise. The lodge also offers free use of snorkelling equipment to view the unique fish that inhabit every inch of the shoreline. The more adventurous can take advantage of other water sports including wakeboarding, water-skiing and SCUBA diving. The water sports centre is PADI certified and can cater for novice and experienced divers, with dive sites located all around the island to suit every level of experience. The dive centre is involved with a number of conservation initiatives to protect the island's Cichlid fish.
Luwawa Forest Lodge: hiking, biking and much more!
Luwawa Forest Lodge has been operating now for twenty years as a tourist lodge and outdoor adventure centre. One of its most popular activities is the 4 day wilderness trail from the mountains of Northern Malawi where they are based, down to Lake Malawi. Get lost in this incredible trail, that passes through a unique wilderness area over Kawandama mountain through indigenous forest and down the Rift Valley escarpment to the Lake at Kachere Kastle. The lodge itself is ideally situated on the Viphya Highlands in the beautiful and tranquil Luwawa Valley overlooking Luwawa Dam which is well stocked with a variety of fish including wide-mouthed bream. The lodge specialises in outdoor adventure tourism and has a range of healthy activities on offer including horse riding, mountain biking, rock climbing, abseiling, trail walking, canoeing on the Luwawa Dam, fishing, birding, orienteering, forest fitness courses, table tennis etc. And, at the end of a tiring day you can retreat to the garden sauna. With locally grown organic produce on the menu and plenty of fresh mountain air, this is undoubtedly a very healthy place to spend a few days!
Makuzi Beach: yoga retreats
Makuzi Beach Lodge is located along the northern shores of Lake Malawi. Delightfully sited in its own private bay, the lodge is ideal for that perfect "Retreat to Paradise". Makuzi Beach has three stylish en suite thatched executive chalets and eight standard en suite chalets all nestled in manicured gardens overlooking the lake's warm, clear waters. The serene and tranquil setting of Makuzi Beach ensures the ideal location for Yoga and Meditation retreats, taught by lodge owner and also qualified Sivananda Yoga instructor and Reiki Master, Lara Pollard. Makuzi Beach Lodge promises a calm and relaxing atmosphere to find peace and practice Yoga.
Bua River Lodge: tap out
The lodge is located just two kilometres inside the eastern boundary of the Nkhotakota Wildlife Reserve in Malawi. Bua River Lodge prides itself in offering a break from everything, even from the internet, allowing its guests to be totally immersed in the wilderness. Enjoy the peace and great food on offer, all of which is made on site even the bread, jams and relishes. Walking safaris are offered, with a trained and armed game ranger. Walks are tailored to the wishes of the guests, varying from short strolls along the river to a nearby waterfall, to all-day hikes, an ascent of Chipata Mountain (1,700 metres) in the west of the reserve and overnight safaris with fly camps.
Kelly White is Director of the Malawi Travel Marketing Consortium. Malawi Travel Marketing Consortium aims to provide you with the best information to make Malawi your tourism destination.
If you would like to be a guest blogger on A Luxury Travel Blog in order to raise your profile, please contact us.