If you're looking for what to do in Ecuador, look no further. This petit country, has it all: mountains, rivers, diverse wildlife, the Amazon jungle, the Andes Mountains, the Galapagos Islands and a stunning untouched coastline. The best part? It's all at a fingertips' distance. From the heights of the capital city in Quito, lying at the 2850 meters (nearly 10,000 feet) above sea level, you can be at the coast in 5 hours, in the Galapagos Islands in 2h15mins, or in the Amazon in just a few hours.  In one of the most ecologically diverse countries in the world, there is a wealth of things to do for outdoor lovers.
1. Trekking among unparalleled landscapes
If you're looking for what to see in Ecuador, the Andes are a great place to start, taking in breathtaking sights and wildlife.  There are many trails where you can enjoy the outdoors and reach fascinating lagoons like Quilotoa, Cuicocha or Mojanda, or explore the Arrayanes forest in Mindo.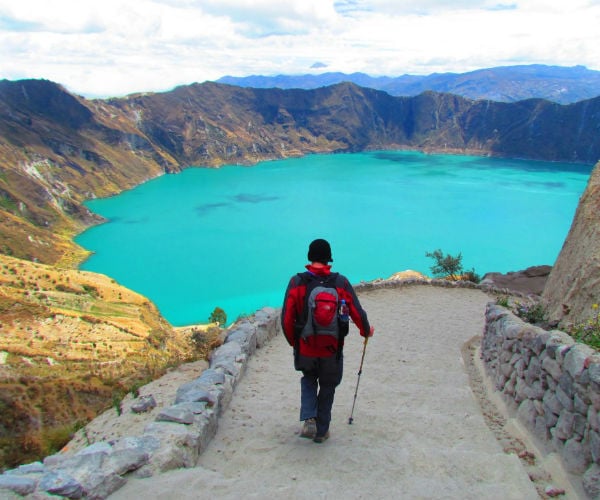 2. Mountain climbing in the land of volcanoes
Ecuador has 27 potentially active volcanoes, which provide the perfect terrain for mountain climbing. One of the most popular places for beginners is the Pichincha Volcano, on the east side of Quito. El Corazón, Cotopaxi and Chimborazo are also ideal spots.
3. Mountain Biking in any of Ecuador's four regions
Bikers can choose from many different routes in any of Ecuador's stunning regions. Go mountain biking with a guide in the Andes or take a scenic route through Baños or the Galapagos.
4. Horseback Riding through the Andes Mountains
Hop on a saddle with a Chagra (an Andean cowboy) and discover one of the many horseback-riding routes in these majestic mountains while staying at a hacienda.
5. Rafting along world-class whitewater rapids
With one of the highest concentrations of rivers per square mile in the world, those seeking a whitewater adventure will be in heaven. Head to where the Amazon jungle meets the Andes Mountains, and enjoy world-class rafting on the Napo river (class III), Misahuallí river (class IV), and Toachi River (class III).
6. Canyoning down Ecuador's many waterfalls
Repelling down waterfalls, or canyoning is popular for travelers and locals alike. There are more than 13 waterfalls in Ecuador so you have your choice of pristine locations. The most famous ones are in the Tungurahua Province, Baños, Ecuador: Manto de la Novia, San Jorge, Cabellera de la Virgen, and Cashaurco, among others.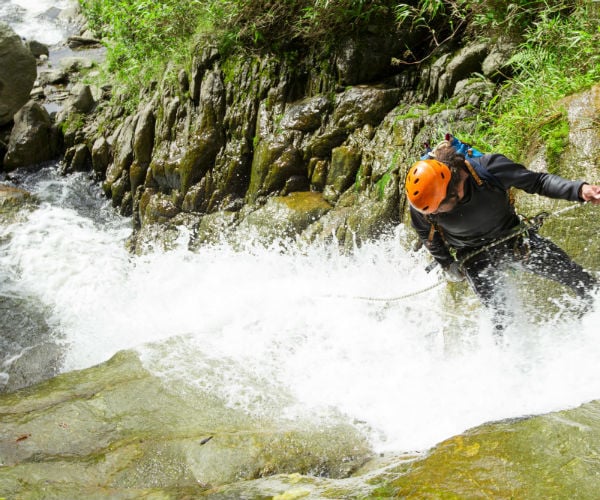 7. Kayaking on the mainland's rivers or in the Galapagos
Kayaking can be done both on mainland Ecuador and in the Galapagos. The most popular places on the mainland are Cofanes, Aguarico, and Chingual rivers. Whereas in the Galapagos, you can kayak during your Galapagos cruise or on an island-hopping tour in Santa Cruz, San Cristobal or Isabela.
8. Surfing the Pacific Coast
Swell seekers can find ideal waves on the Pacific Coast in Montañita, San Mateo and Ayampe. San Cristobal Island in the Galapagos also offers amazing places to surf like Puerto Chino beach, Tongo reef, el Cañon, and Punta Carola.
9. Snorkeling to discover exotic marine species
If you are visiting the Galapagos, snorkeling is one of the main activities during your Galapagos cruise or tour. On mainland Ecuador you can snorkel at Los Frailes or Isla de la Plata, Puerto Cayo Beach and the Machalilla National Park.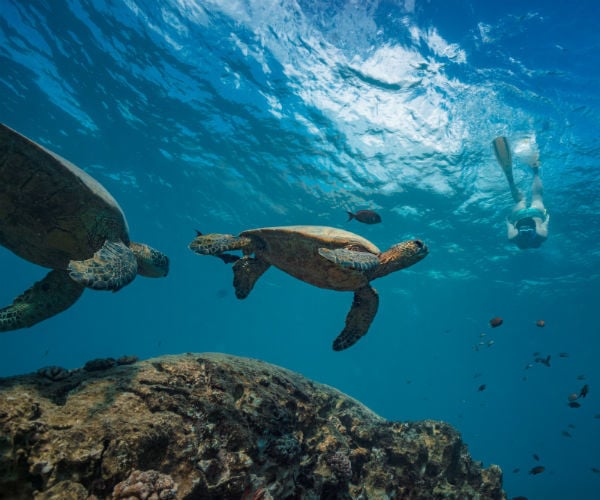 10. Diving in Paradise
In the Galapagos there are many diving tours from Santa Cruz Island either for beginners or experienced divers. Or live-aboards that take you to the best places to dive in the Islands, like Wolf Island or Gordon Rocks.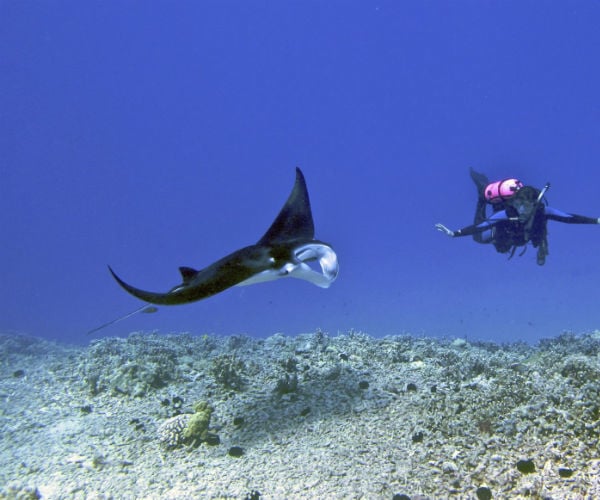 Carlos Beate is the Commercial Manager at Andando Tours. Andando Tours offers exclusive traveling experiences, specializing in sailing around the Galapagos Islands and overland along the magnificent Avenue of Volcanoes on the Ecuadorian Andes.
If you would like to be a guest blogger on A Luxury Travel Blog in order to raise your profile, please contact us.