On each cruise, there is a lecturer. I am one of those speakers. It might seem easy, but the selection process to be on the ship is interesting as well as discerning. First, I had to think about my topic. I have had a life-long interest in comedy, earning income in the 1980s from writing jokes for both radio and commercial television, but eventually conceded that I was not good enough to make it my full-time job. My series of cruise talks was to be on the theme of 'They Made Us Laugh'. Pam and I have been on many P&O cruises, so it was natural to apply to them first.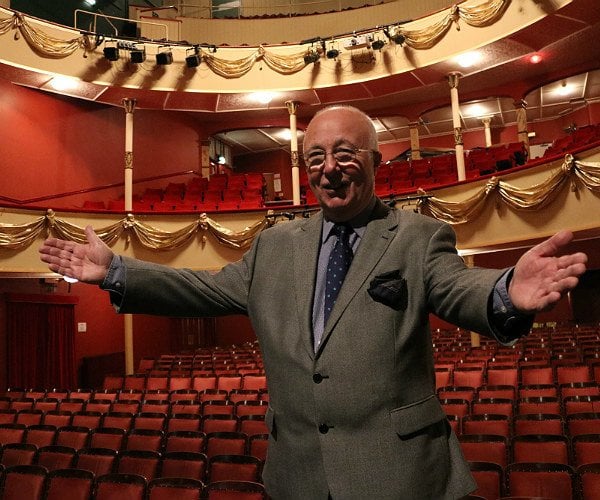 They have forms to complete online, but so they eliminate many I had to provide not only two references from speaker secretaries who had previously booked me, but also a video of me on stage. This cost me £150 from a local professional company who recorded me at my Royal Hippodrome for an hour or so, editing down to five minutes.
Ten people were called to Carnival's Southampton HQ to audition. I was the only one not talking about my career, there were three photographers, two ex-policemen, one lady whose 1850s ancestor had written an Indian recipe book, two military gentlemen, and a lady who verified quiz questions for major television shows such as Mastermind and Pointless. We each had a thirty-minute slot, half for a segment of our talk, the rest preparation and questions and answers. The audience comprised bookers for Cunard and P&O ships, as well as fellow would-be lecturers.
Carnival provided the laptop, we had to have a Slideshow presentation to accompany, as this is a company requirement for all lectures on board. At the end of my brief slice, I was the only one to sing. Tommy Cooper had a record in 1961 that made number 40 in the charts, so I serenaded them with 'Don't Jump Off The Roof, Dad,' in my flat attempt at entertainment. It was pleasantly suggested that instead of giving the full talk, leave them wanting more. Also, some potential speaker topics would be more interesting to different parts of the Carnival company, so people would be coming and going throughout the day, just like an audience in a ship's theatre.
When all had given their pitches, Cunard and P&O bookers explained what might be asked of us. We would initially be tried out on a short trip to ensure that we were compatible. If the cruise was a long one, such as 28 days to and from the Caribbean, then we would be flown to meet the ship, only staying for a few days. Only scheduled airlines, no budget, as difficult refunds from them if any scheduling problems.
Partners welcome to accompany to share cabins without charge, but their flight had to be paid for. Passengers status, but crew rate of 50% for all drinks. An unexpected perk.
My audition, including singing, must have worked, because within five days I had two cruise offers.
Three months later, Pam and I were on the Oriana. We flew from Heathrow to Madrid, then a flight to Gran Canaria. It would have been cheaper and more direct to fly budget, but we adhered to their schedule, otherwise they would not have paid. A private transfer to the ship was laid on, but we were not allowed to board until we had surrendered our passports. Even though we were joining the ship for six days towards the end of her cruise, we still had to go through the safety procedure, and something extra for crew members – water tight doors.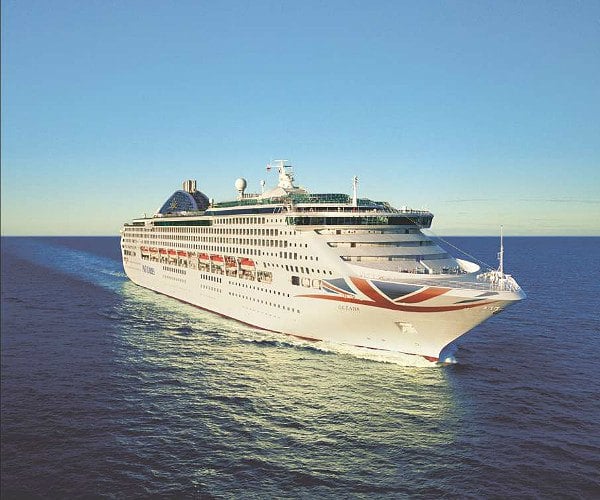 Passenger decks stop at level five, we were on four, so as theoretically crew members we had to be aware of safety procedures, which involved operating the lower level water tight doors that passengers never see. Pam and I were instructed on how to press the button. After twenty minutes, we're now fully-trained operatives.
The next day was a port day in Lanzarote, somewhere we had previously visited for a day on a cruise, so it was free time. I reported late afternoon to the theatre's technical director so I was aware of what to expect on my maiden lecture. Six nights on Oriana, three days at sea with a lecture on each, returning to Southampton. Our cabin was a basic inside twin-bedded one, where we only stayed to sleep. We were separate from the crew, being in the quarters for entertainment staff. Our cabin cards were identical to those used by passengers, until it was time to present for payment for drinks, when each bill clearly showed the half price due.
There is the main theatre, where I appeared for my first Tommy Cooper talk, and a revue-style auditorium where I gave those on Norman Wisdom and Max Miller. The first two were well received, not so Max, I suspect because he is not so recent in the memory. I was introduced by one of the entertainment staff, who immediately left and I had to close myself.
Three months later we were on our second lecturing cruise. This was on the sister ship Oceana.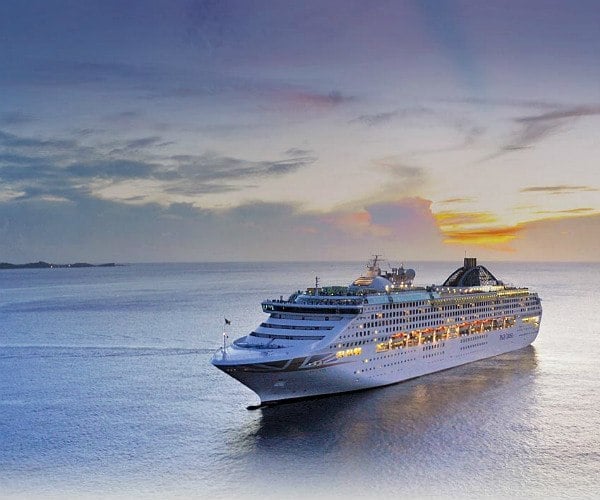 In late Summer her cruises were mainly week-long out of Valetta, Malta's harbour. This time we flew from Gatwick, on Air Malta. A lot of the people on the flight were also joining the ship. Again a private transfer for entertainers, we were getting used to be treated in a very special way. The Oceana cabin for lecturers is again on deck four, but this time we shared the same crew access, so at the beginning were frequently stopped and asked if we were lost passengers. There is a crew office where any queries are answered, and I was able to obtain two lanyards in dark blue, denoting crew. When you access the passenger area in deck five there is a sign on the rear of the door telling crew that they must speak English when on the other side.
We reported for our water tight doors training, this time as we had already been instructed we were absolved. We mingled with the other joining passengers for the safety drill. This time I had four lectures to give, two days at sea, four in port. All four talks were in the main 600 seater theatre, I reported early, it was a fantastic sensation seeing the theatre fill, knowing I was on my own for 45 minutes to entertain. One of the staff introduced me, then I was telling them all about Tommy Cooper. The lecture went really fast for me, listening to the laughter, revelling in the warmth they had for my subject. I was told by the technical director that it was unusual to have the theatre two thirds full.
In order, our ports of call were Zadar, Venice, Split, and Dubrovnik. These were all new to us, and I will be writing further articles about each destination. The Croatian coast was an unspoilt delight, but what surprised us was the currency, the Croatian Kuna. We had assumed as they are in the EU, then the euro would be commonly accepted. Yes, it is, but the exchange rate varies greatly from café to café, let alone resort. Somewhere might offer nine to the euro, elsewhere seven.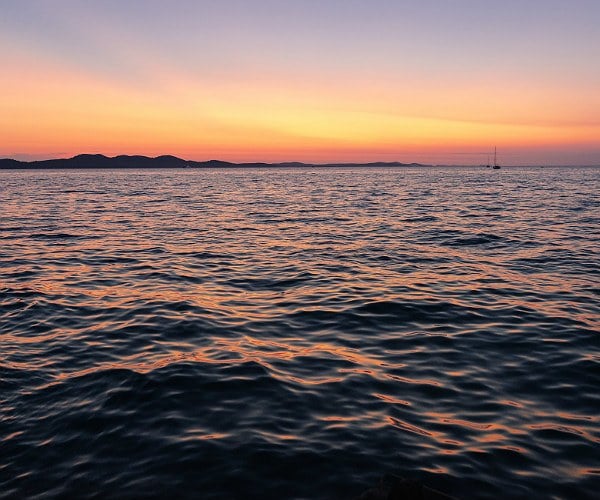 Back on the Oceana, we dined in the main restaurant, but the entertainment staff had a separate table. As they often travel on their own, they would be in the self-service cafeteria, so Pam and I frequently had the table to ourselves. P&O does not now add gratuities to the cabin bill, so we were spared this frequent dilemma. The attitude of the service staff seems to us to be just as normal, so maybe the cruise company has compensated them in some other way, which seems unlikely.
It is somewhat pleasant to peruse the wine list knowing you will only be paying half the price. But as part of the staff, and also a passenger, sobriety is normal behaviour, so it was easy to resist temptation to indulge.
There was no attempt at any time to ask us to perform any extra tasks, such as escorting passengers on day trips. We had occasion to ask reception questions, just like passengers; these were answered as if we were.
The drawback for us was because we were on a scheduled flight from Valetta to Gatwick, there was only one, leaving at 21.00, so we didn't get into home terminal until very late. Fortunately we had already organised airport parking, which was waiting for us.
If you are considering applying to be a cruise ship lecturer, let me mention the potential downside. Because we were in the crew areas, the cabin size is very small. We have yet to be on a Cunard ship, but understand that their cabins are much larger for the lecturers, not in the crew area. The speaker requirements are the same, but tend to be more educational in theme, with doctors, professors, and publicly recognised personalities.