Brazil is one of the most diverse and fascinating countries in the world offering everything from the world famous Carnival, to tropical beaches to Amazonian adventures.  There are too many things to mention in one post so we've highlighted a few favourites below which are not to be missed!
Buzios
Escape the hustle and bustle of Rio and head out to Buzios, Brazil's answer to St.Tropez.  A former fishing village turned stylish weekend hotspot.  It is where the Cariocas (a native or resident of Rio de Janeiro) head for the weekend.  A three hour drive east of Rio lies this beautiful, fashionable seaside resort made famous by Brigitte Bardot and her Brazilian boyfriend in the 1960's followed by a visit by Mick Jagger in the 1970's.  Its more distant history is less glamorous; it was a hub for the slave trade and also home to pirates of various nationalities, however today you will find a vibrant mix of  tourists and Cariocas all looking to chill out and enjoy the best of this gorgeous little town.
Visit Rua das Pedras and Orla Bardot to sample some of the best bars (and Caipirinhas!), restaurants (try Bar do Ze on Orla Bardot) and shops that the town has to offer.
Stay at Pousada Casas Brancas for a boutique hotel with beautiful views across the bay and a great location; it also offers a swimming pool and a spa alongside mouthwatering Mediterranean food.
There are over twenty beaches in the area, each suited to different requirements – try surfing at Rasa and Manguinhos beaches while the main waterfront beach is great for people watching.  João Fernandes (stay at Insólito Boutique Hotel & Spa) is ideal for families thanks to its calmer waters.  Snorkelling, boat trips and swimming are all a must in the clear, warm waters surrounding Buzios.  December to March is the busiest time with temperatures reaching over 30 degrees in the daytime.
The Pantanal
This wetland wonderland lies in western Brazil's Mato Grosso do Sul state and spreads over the border into Bolivia and Paraguay to over 80,000 square miles.  It is one of the most bio diverse regions in the whole of South America and as such offers wildlife viewing that can rival the better known Amazon.  As with all pristine wilderness the world over, there is the ever looming threat of human expansion into the area.  The associated negative impacts on the biodiversity of the region is a concern and sadly very little of the Pantanal is currently protected by the Brazilian government.
According to the World Wildlife Fund the Pantanal is home to about 3,500 plant species, 656 bird species, 325 fish species, 159 mammals, 53 amphibian and 98 reptiles.  The opportunity to see wildlife is endless and there is even the possibility of spotting a jaguar. Depending on the time of year you will either encounter a flooded wetland (December to March) where a boat is your best bet to view wildlife or the dry season (May to October) when horseback or on foot is the preferred option (and your chances of spotting wildlife are better).
Stay at Pousada Barra Mansa for a remote and incredible experience in a family run lodge (arriving by light aircraft is the easiest option although 4×4 car is possible in the dry season).  Whilst it may not be top end luxury it is extremely comfortable and the quality of the guides, the activities and experience on offer are second to none.  There is a maximum of 17 guests at any one time so the experience can be tailored to your requirements.  You can enjoy boat trips, fishing, canoeing, horse riding, walking to name a few – you will not get bored exploring this enormous, beautiful wetland.  Capybaras (large guinea pig type animals) and caimans are seen a stones throw from the lodge.
Bonito
Several hours south of the Pantanal lies the town of Bonito and the Rio Sucuri and Rio da Prata.  This magical place offers the chance to snorkel in exceptionally crystal clear water (due to its mineral content) and is well worth a visit.  A trip to Bonito is easily combined with a visit to the Pantanal (fly to Campo Grande and drive the three hours by car to Bonito).  It recently featured in David Attenborough's Seven Worlds, One Planet BBC program.  It showed the incredible Piraputanga fish that follow Capuchin monkeys along the riverbank and leap from the water to catch berries from the trees above or enjoy those dropped by the monkeys in haste.
Whilst tourism is regulated here to help protect this ecosystem, sadly agriculture is creeping ever closer to the river banks and there is a danger that these beautiful waters may become clouded and fishing stocks depleted.  For now though, it remains a stunning haven  and is well worth a visit.
Fernando de Norohna
This group of islands really is heaven on earth and consequently (and fortunately!) it is heavily protected as a National Marine Park.  UNESCO talk of its 'indescribable beauty' and they are not wrong.  Fernando De Norohna lies approximately 340 kilometres off the north east coast of Brazil and  access is via plane from Natal or Recife on the mainland and takes around an hour.  A maximum of 500 arrivals per day is permitted and a tourist tax (which increases exponentially) helps to limit longer stays and is levied on all visitors to the island.
There are around 3,000 permanent residents alongside the steady stream of visitors.  There is even a record of Charles Darwin stopping off there in 1832.  Rainy season runs from April to August when there is an abundance of wildlife of all shapes and sizes, especially of the mosquito variety!  The dry season is from September to March and unsurprisingly is the peak time to visit.
Whilst it is not as high end luxe as some resorts in Brazil; that is part of the charm and the accommodation offering on the island is both laid back and beautiful.  Prices for accommodation, food and drinks can seem high. but given the supply/demand imbalance coupled with the fact that most of what is needed must be imported, it is not hard to understand why.  Stay at  Pousada Maravilha which offers the most luxurious accommodation on the island and has incredible views from the infinity pool.
Getting from beach to beach is best done by hiring a buggy and whizzing around the (mostly unpaved) roads as you wish; ideally armed with a mask and snorkel.  Some of the beaches require relative agility to reach.  On such example is the Baia do Sancho which is arguably the most beautiful.  It is either accessible by boat or down a vertical ladder, from the track above the beach, not ideal if you are scared of heights but well worth it once you get down!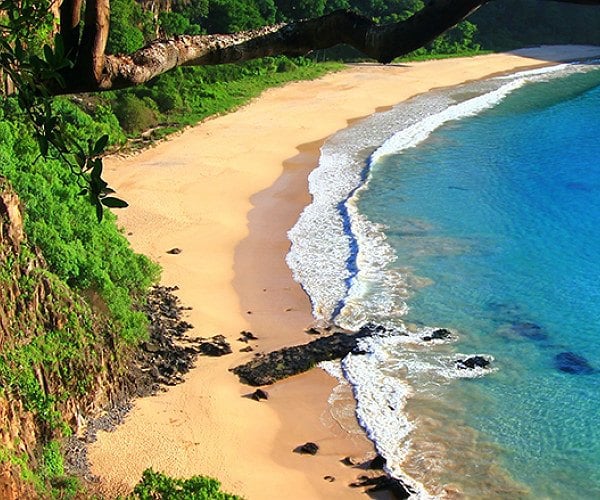 The scuba diving is out of this world.  Thanks to the protection given by the Marine Park coupled with excellent visibility (regularly up to 30m) and warm waters, it is rich in marine life.  There a several types of shark (lemon, nurse, tiger and hammerhead sharks), turtles (hawksbill and green turtle), huge numbers of dolphins (spinner) and barracuda to name a few.  Atlantis Divers are a good outfit who will provide guided dives and all the gear you will need; there is a huge variety of dives available.  There are basic 12m depth dives ideal for beginners to drift, cave and wreck dives for the more experienced diver.  For advanced divers, this includes a navy ship that sunk in 1983 and lies around 62m below the surface (although much of the dive is at around 55m depth).