Many people connect hiking and trekking with backpacking and low budget travel. Some tourists visiting Israel dream of hiking in the holy land, but they end up avoiding it due to concerns that they will need to compromise on lodging standards. However, there are plenty of ways to combine your desire for an outdoor adventure with your luxury vacation standards.
"Inn to inn" hiking
"Inn to inn" hiking has gained high popularity over the past decade, with more and more companies around the world (mainly in Europe) offering packages. Israel has not been left behind with several international and domestic providers that offer a variety of inn to inn hiking itineraries.
What is inn to inn hiking? It is like backpacking, but with style! The program is usually designed for individuals and small groups that hike from one lodge to the next with just a lightweight day-bag on their shoulders, while the arranging company takes care of all the hassle. Suitcases are transferred from one hotel to the next, a fine dinner is served (If there is no nearby restaurant), Breakfast and lunchboxes are provided, and a local person that speaks fluent English makes sure that everything runs smooth. The walking is usually self-guided, but it is also possible to hike with a local guide. In some cases, additional amenities, such as a massage, wine tasting, or traditional food workshop, can be added to enrich the experience. Some of the more famous trails for this type of travel style in Israel are the 125 kilometers long Golan trail that crosses the Golan Height from North to South, and the 70 kilometers long sea to sea trail that crosses Israel from the Mediterranean Sea to the Sea of Galilee.
However, most tourists, also if they love outdoor activities, are visiting Israel for other reasons. It could be a religious centered visit, a beach vacation or a city break in Tel-Aviv and Jerusalem. However, it's a great added value to spice it up with one or two day-hikes in between. Here are some excellent ideas on how to do it…
Eilat in Winter
This touristic city on the shore of the Red Sea is super crowded and extremely hot during the Summer. However, during the winter, the town's character totally changes. The crowds are gone, leaving its tranquil beaches empty. The water temperatures never get below 20°C, and on a sunny day, a swim is possible. But the secret that many tourists are unaware of, is that the desert mountains surrounding Eilat are one of the best hiking areas in Israel with an impressive network of waymarked trails. What could be better than spending a rough day outdoors and finishing it in a luxury seaside hotel with a cocktail on a beach bar? In Eilat, you can find some of the best five stars hotels in Israel and an excellent selection of fine restaurants.
The Dead Sea
The Dead Sea area is another hidden gem for outdoor enthusiasts. Most people come to spoil themselves in a SPA hotel and float on the salty water. But the surrounding desert landscape has much more to offer. Don't miss a hike in the Ein Gedi natural reserve. The trails range from easy and short family walks to full-day tough desert hikes. Another exciting option is the explore the mysterious terrain of Mount Sodom (90% of its soil is Salt!). Either hiking on its trails with amazing views of the Dead-Sea, or embarking on an underground adventure, rappelling, and crawling inside the longest salt cave in the world!
Jerusalem
Jerusalem is an astonishing city. It has something to offer for all tastes: history, archeology, arts, architecture, fine dining, Nightlife and much more. Unknown to most people is that Jerusalem is also a fantastic Hiking Hub. Hiking is never the main reason for a vacation in this wonderful city; however, for a nature lover, to squeeze a day-hike in between the city's many attractions can be a refreshing delight. What makes hiking around Jerusalem so unique is that the city is situated on the central ridge that creates a rain shadow effect. The western slopes are forested green mountains dotted with small springs, and the eastern slopes mark the beginning of the barren Judean Desert, with its deep and wild canyons. If you have just one day for hiking, don't miss Wadi Qelt. A deep gorge with running water that connects Jerusalem to Jericho. Besides its natural beauty, some of the oldest monasteries in the Judean desert are built hanging on its cliffs.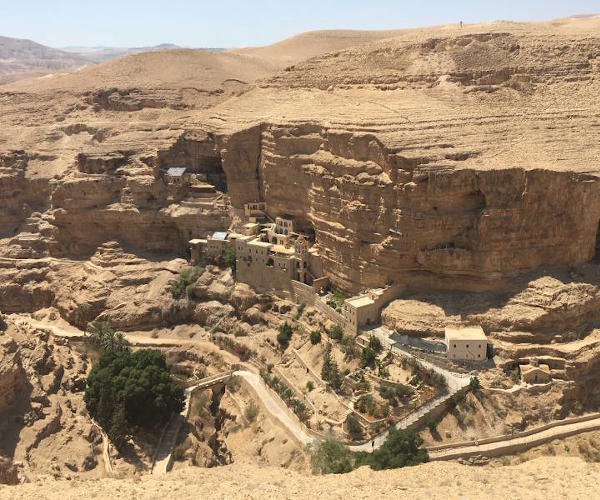 The additional bonus is, that these activities will take to the 'off the beaten track' spots, away from the big tourist crowds. Many times those are the most cherished memories from a trip.
Erez Speiser is the Founder and Managing Director of Israel by Foot. Israel by Foot is a leader of high-level trekking, hiking and outdoor vacations in Israel.
If you would like to be a guest blogger on A Luxury Travel Blog in order to raise your profile, please contact us.