By
Thomas Ryves
on Dec 10, 2019 in
Adventure Travel
,
Antarctic
,
Asia
,
Botswana
,
Canada
,
Central America
,
Colombia
,
Costa Rica
,
Ecuador
,
India
,
Japan
,
Malaysia
,
North America
,
Polar Regions
,
South America
,
Speciality Travel
,
Uganda
Face-to-face wildlife encounters are always a memorable highlight of a luxury holiday or safari adventure, and there are numerous ways wildlife fans can indulge their love of animals all over the globe – in destinations that also offer beautiful landscapes, unique experiences and exceptional hotels to stay in along the way. Here we round up our top ten wildlife experiences across the world, from the Galapagos, a perennial wildlife favourite, and Costa Rica, another wildlife and birdlife hotspot, to some more off-the-beaten-track wildlife destinations, such as Colombia, Japan and India.
Experience the ultimate wildlife adventure in the Galapagos
The Galapagos needs no introduction for offering an ultimate wildlife adventure – this is one of the world's most famous places for wildlife fans. From Darwin to Attenborough, the Galapagos Islands have captivated naturalists for centuries, with their dazzling range of endemic species, from marine iguanas to Galapagos penguins. Explore these fabled islands on a luxury cruise, including the chance to go kayaking around rugged coastlines and diving with sharks. On land, stroll along pristine beaches where sea lions bask, and walk across lava-strewn landscapes.
Horse ride with local cowboys in Colombia
The Llanos Orientales in Colombia is home to a rich diversity of wildlife and birdlife, from howler monkeys, caimans and capybaras to the native corocora (or scarlet ibis), which gives Corocora Camp its name. This remote camp has just four luxury tents, and is set amidst vast plains perfect for riding horses where cowboys have roamed for centuries. Other activities include cattle herding, joining local biologists to track jaguars and pumas in the jungle, birdwatching trips and getting involved with local conservation projects. In the evening, enjoy barbecues and music around the campfire, accompanied by panoramic sunsets.
See grizzly bears in Canada
British Columbia in Canada is a wildlife lover's dream – see grizzly and black bears, grey wolves, humpback whales, bald eagles and more, in stunning landscapes. Stay in some unique lodges in spectacular settings, such as Great Bear Lodge in the Great Bear Rainforest, reachable by a scenic seaplane flight – quite a way to arrive at your hotel. The quality of the bear viewing in this area is so high that the BBC use it as their base for filming grizzlies. Find out why it's so special on bear-tracking walks and interpretive rainforest treks, and take boat rides to waterfalls or around the pristine glacier-carved inlet, before some night-time stargazing.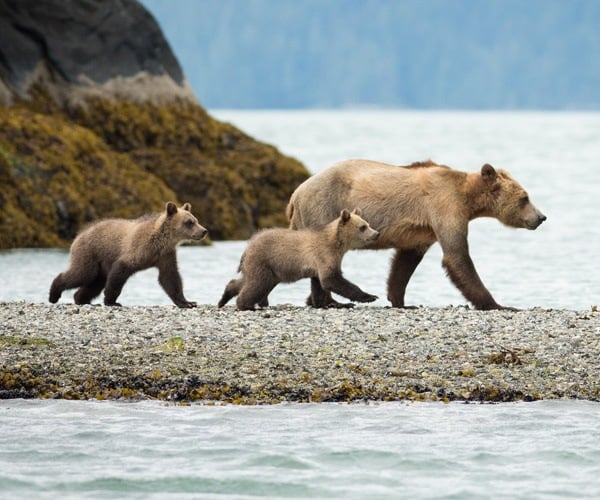 Come face to face with orangutans in Borneo
Visit Malaysia and Borneo to see orangutans in their natural habitat and watch them being fed in the heart of the rainforest, where you might also get to see pygmy elephants and rare animals such as the Sumatran rhino and the proboscis monkey. Head up on rope bridges high in the forest canopy to see exotic birds. Venture out on the water on river cruises, and go on an evening boat trip to witness hundreds of fireflies glowing on the riverbanks. For a blissful contrast to all that wildlife spotting and adventuring, end your holiday with some prime beachfront relaxation, such as on the idyllic island of Tioman.
Go in pursuit of penguins in Antarctica
On an epic once-in-a-lifetime holiday in Antarctica, you can follow in the footsteps of legendary explorers such as Shackleton, by embarking on a luxury cruise to far-flung destinations like the Falkland Islands, South Georgia and the Antarctic Peninsula. See penguins, sea lions, seals, whales, dolphins and albatrosses in pristine icy waters and clear skies. Budding photographers can hone their wildlife photography skills during their cruise on photography programmes with expert photographers. Those with a real adventurous spirit can even camp out on the ice during their journey.
See snow monkeys in Japan
For an alternative wildlife adventure, and a fantastic option for families, head to Japan to witness adorable snow monkeys, or macaques, bathing in natural hot springs in the mountains, unfazed by their curious human visitors. See all sides of Japan during your holiday: in between memorable encounters with the macaques in the countryside and stays in a traditional ryokan, take in its attractive modern cities, including the bright lights of Tokyo and the charms of Kyoto – whose castle and aquarium will also keep little ones entertained.
Track gorillas in Uganda
A highlight of a wildlife holiday in Uganda is undoubtedly the opportunity to track gorillas in the heart of the forest, accompanied by expert guides who will help you make the most of this bucket-list experience. This is a fantastic destination for wildlife fans, as not only can they track gorillas, they can also see tree-climbing lions, who bask in the shade of the branches to escape the heat of the sun, leopards, elephants, chimpanzees and more. Go on forest treks, safari game drives and scenic boat trips, and stay in characterful lodges nestled in the heart of the wilderness.
Walk with giraffes in Zimbabwe and Botswana
While we're on the subject of Africa, this is also a perfect destination for family wildlife holidays. Children can come face to face with giraffes and more of Africa's iconic wildlife on a family safari adventure to Zimbabwe and Botswana, taking in landmarks such as Victoria Falls, the Okavango Delta and the otherworldly landscapes of Makgadikgadi National Park, home to one of the largest salt flats in the world. With game drives, walking safaris and the chance to take part in Young Explorers programmes, before gathering round the campfire at dusk, the family certainly won't be bored.
See exotic birds in Costa Rica
As well as ticking all the boxes when it comes to tropical landscapes, beautiful beaches and wow-factor places to stay, Costa Rica is one of the most accessible places in the world to see exotic birds and much more, up close. See birds such as colourful toucans, macaws and the aptly-named resplendent quetzal, which was worshipped by the Mayans and Aztecs. As well as birds, spot sloths and monkeys in the trees, and see hatchling turtles, whales and dolphins in the Pacific Ocean and along its coastline. Zipline in the cloud forest and go river rafting, keeping an eye out for wild inhabitants from iguanas to river otters along the way. This is simply one of our favourite spots for a wildlife-focused holiday or honeymoon.
Go tiger and leopard spotting in India
India may be known for its rich culture and history, fascinating cities and world-famous landmarks such as the Taj Mahal, but it is a worthy wildlife destination too. Head to Ranthambore, Rudyard Kipling's inspiration for the iconic Jungle Book, to see majestic Bengal tigers prowling in the forest and around the historic Ranthambore Fort, which sits in the national park and was built in the 10th century. Leopards, wild boars, sloth bears and macaques can also be seen here. Amongst India's other wildlife experiences, stay at a luxury safari camp in rural Rajasthan to spot leopards and more, from flamingos to crocodiles, on memorable game drives. During your stay, you can also tour the landscapes with a local tribesman to get a real and authentic feel of this striking setting.
Thomas Ryves is Marketing Director at Exsus Travel. Exsus Travel specialises in creating the very best luxury tailor-made holidays, honeymoons and family adventures in over 80 destinations worldwide.
If you would like to be a guest blogger on A Luxury Travel Blog in order to raise your profile, please contact us.