Any 1970s backpacker who would venture into Phuket or Koh Samui today will definitely have a hard time recognizing the places they used to know. The paradise islands of Thailand have grown far from the far-flung tropical hideaways they once were. The old paths are now paved, fishing boats have given way for yachts and cruise ships, and the thatched seaside huts have been replaced by high-end accommodations including star-studded resorts and, of course, private luxury villas.
Though both destinations possess a good selection of holiday homes, every now and then we encounter vacationers at a crossroads in choosing whether to visit one or the other. Of course, we will not and cannot conclude which island is better than the other since every traveler has their own preferences – but we will try to give an overview of how they compare with regards to the factors relevant in choosing your ideal Thai island holiday destination.
Villa locations and settings
Phuket and Samui share very similar topography: gorgeous beaches, lush inland hills, impressive seaside boulders, and rocky coastal cliffs covered by charming woodlands. Combined with clever engineering, these breathtaking natural features create truly dramatic settings for private villas.
In Phuket
With an elongated landform, Phuket enjoys longer stretches of beaches, especially along its western side which faces the Andaman sea and the vast Indian ocean. Areas such as Patong and the 6-kilometer Bang Tao beach are popular for its fine white sand.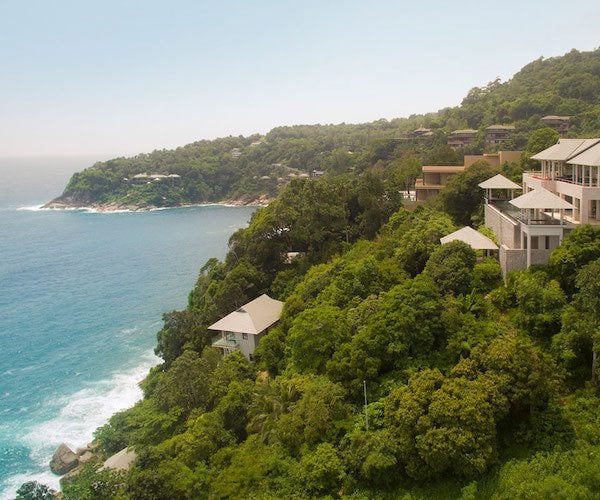 However, there are very few villas here privileged with a beachfront as most beachside lands have already been developed as commercial areas. If you wish to be near the island's nightlife, you cannot expect to find beachfront villas, but there are plenty of hillside properties offering splendid sea views either walking distance from the beach or just a short drive away.
The coastal woodlands of Kamala along Phuket's famed Millionaire's Mile are home to luxurious villa estates with spectacular clifftop properties looking out into the ocean.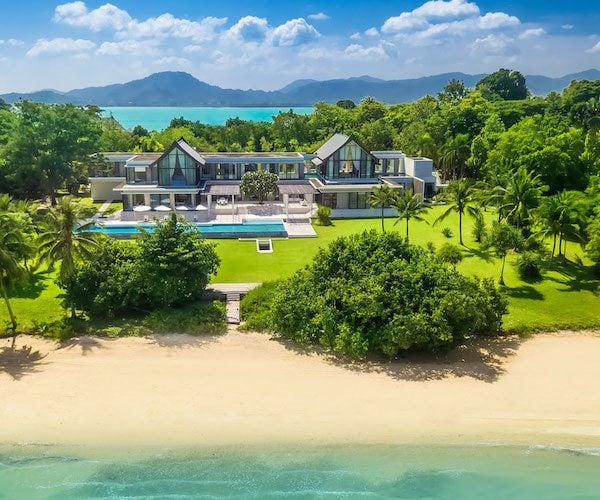 Should you prefer a beachfront setting, there are a good number of villa options in the more remote areas of Phuket. The exclusive Cape Yamu Estate on the quiet eastern side hosts some of the island's most luxurious beachfront villas. Though the beach here is not as ideal for swimming, it is certainly crowd-free with access restricted only for estate visitors. It is perfect for walking or sunbathing and has a view of the distant Phang Nga bay cliffs.
Up north, in the neighboring Phang Nga province, beachfront properties are also found along the secluded Natai beach area. Though technically not part of Phuket, this rural hideaway has become popular with villa vacationers too with its virtually untouched 10-kilometer stretch of ocean-facing beach.
In Samui
Having gained attention from land developers much later than its sister island, Koh Samui still possesses the true island-village vibe which has already gone in most parts of Phuket. And though, you will find a good selection of lively establishments especially in Chaweng and other areas of Bophut, there are no high rise buildings or multi-laned concrete highways.
For this same reason, Samui also enjoys more beachfront options among its private villas. Along the northern shores, you will find vacation homes right next to the lovely Mae Nam beach. Down south, if you are after complete seclusion, the peaceful neighborhood of Laem Sor offers also hosts a selection of luxury villas on the far south. But arguably, the best choice would be the quiet Lipa Noi beach a gorgeous stretch of fine and unpretentiously white sand.
Samui also boasts impressive hilltop villas that captures the island's awe-inspiring coastal landscape from high above. You will find these in the areas of Choeng Mon, Mae Nam, and Nathon.
Activities
Phuket is more advanced in terms of development and has some advantages in terms of conveniences of urban living. For example, it has more and bigger shopping malls offering a wider selection of goods. The more popular party venues are also found in Phuket for those looking for a lively night out. However, Koh Samui has its own offerings of beach clubs which could often be less rowdy.
The yachting scene is thriving in Phuket, evident with its four different marinas that present gateways to the wonderous formations of Phang Nga Bay and neighboring islets. Though it has no marina, yacht charters are also available in Koh Samui offering tours to the exciting islands that dot the Thailand gulf including the Ang Thong National Marine Park.
Other leisure activities that can be enjoyed in both islands include golfing, muay thai, yoga, zip lining, scuba diving, snorkeling, and visiting Elephant sanctuaries. Most luxury villas come with dedicated concierge service that will assist you in arranging activities for your stay.
Accessibility and transport
The presence of an international airport is undeniably a key advantage in choosing Phuket, connecting direct flights to 58 destinations from 22 different countries. You can expect, however, to pass through together with a vast number of other tourists as the airport serves thousands of travelers every single day.
Because it is more developed, there are more establishments and more choices of places to go to in Phuket. But because it is much larger (more than twice the land area compared to Samui), fixing your itinerary and transport around the island will need a good deal of preparation. Well maintained open highways enable you to drive across the region with relative ease. There are parts however where traffic tends to build up.
Koh Samui, with its small-town feel, allows you to explore its central areas on foot such as the vibrant streets of Chaweng and the idyllic Fisherman's Village. Roads are less developed and unconventionally less straight, curving at every one hundred meters or so. But because of its smaller size and circular form, distances between places are also shorter.
Silvan Kitma is General Manager of The Private World. The Private World is a villa rentals company offering some the most top-rated luxury vacation home rentals in the world's top tourist destinations.
If you would like to be a guest blogger on A Luxury Travel Blog in order to raise your profile, please contact us.