The Western Cape of South Africa attracts tourists from all corners of this globe, and for good reason. One of the main attractions at the winelands and who doesn't like great wines, amazing food and beautiful landscapes? Some of the wine estates offer accommodation which rivals the quality and finesse which you can find in their wines too.
Delaire Graff
For many the name Graff does ring a bell. The famous Laurence Graff , owner of the Diamond holding that holds his name and most known for his elaborate diamond jewelry, bought the wine estate in 2003 and decided to turn it into South Africa's most amazing wine, hospitality and art destination. He is a great lover of African Art, and when you drive up you'll soon start to see the first pieces from his vast private collection that adorn every corner of the estate.
Of course, as a producer of some of the most luxurious jewelry pieces, the lodge equals this level of exclusivity and luxury. Stunning views, private pools, lavish marble bathrooms, …you name it, every villa (cause calling it anything less would be an insult) has it. What sets this place apart is the small little details which you can find all over the estate, but also in the service. For example, every evening they will bring canape's and champagne to enjoy while you prepare for diner in your villa. Talking about diner, there are 2 restaurants on the estate, which both serve very different, yet incredibly tasty food. Of course, don't forget to pair your dishes with some of the Delaire Graff wines, which are equally tasteful. It's clear Graff knows his diamonds, as he created one himself with this estate.
Lanzerac
This historic wine estate has had a long history. Constructed in 1692, it is one of the oldest in the cape region and used to be named Schoongezicht, which means as much as "amazing views". The named got changed into Lanzerac by one of its most iconic owners, Mrs. English. In 2017 the estate had a massive setback as a fire damaged the main areas of the hotel. It closed down for more than a year and used the time to refurbish everything and anything, while still keeping the authentic look and historical furniture which gives it its distinctive look.
Today it is one of the most beautiful wine estates in Stellenbosch and staying here is like walking back into time, but with a modern twist. The estate has 2 restaurants, a deli and tasting room for guests who are not staying over. The luxurious spa is another hotspot in the area, with a gorgeous staircase that brings its guests to the treatment rooms, and a wonderful outside terrace where you can relax and sip some bubbly while overlooking the vineyards. For the guests there are many room types which will cater for any desire. My favorites are the suites which sometimes even come with their own private plunge pool. Perfect to sit back, relax and enjoy the views, the peace and quiet, and a nice glass of one of the estate's wines.
Vrede en Lust
Another estate which has a rich history, dating back to 1688. A lot has happened since, but once Dana Buys took over the estate in 1996, a new era had begun. He restored the farm into its former glory to make it one of the most desirable places to stay or get married within the winelands. It's location is perfect, right in the middle of Stellenbosch, Paarl and Franschhoek – the ideal base to explore the region and visit other wine farms or do some of the countless activities in the area.
When staying here, you can choose between the modern luxury vineyard rooms, or the more traditional cottages and manor house. I have a soft spot for rooms that have views over the vineyards and here you are surely going to be spoilt for choice. Don't forget to go for a Lindt wine tasting, where you'll enjoy 6 different Lindt chocolates which are perfectly paired with six estate wines. Need any other reason for a visit?
Boschendal
As one of the oldest and most-loved wine estates in the region, Boschendal saw the value of adding the option for its guests to stay on the estate. There are all kinds of different cottages spread out over the whole estate. Some are housed in historic farm houses, others are newly build (yet retaining the old style which runs through Boschendal). But believe me when I say you'll find it hard to stay inside as there is so much to do. First and foremost there is of course the wine tasting, cause who doesn't like to sit back to taste some amazing wines while enjoying the historical surroundings?
But don't forget to pay a visit to the deli and adjacent farm shop and butchery. Here you'll find all kinds of fresh produce which are sourced on the farm itself, like pasture reared Black Angus beef, freshly baked breads, home-made preserves and olive oil which is all made in-house. The farm is also a popular place for picnics and you don't need to worry about bringing anything, as you can buy your own picnic baskets there. Nothing beats some quality time with family and friends while enjoying some amazing views of the surrounding mountain, topped with basket full of yummy stuff.
Grande Provence
When Alex van Heeren took over this property in 2004 he used his vast knowledge of hospitality to uplift Grande Provence to an level which it had never seen in over 325 years. A major refurbishment was done and the result was (and still is) just stunning. The suites and villa are the perfect safe haven to wind down from a full day of activities. And you don't need to go far to experience those. On the property there's plenty of stuff that will keep you busy and entertained.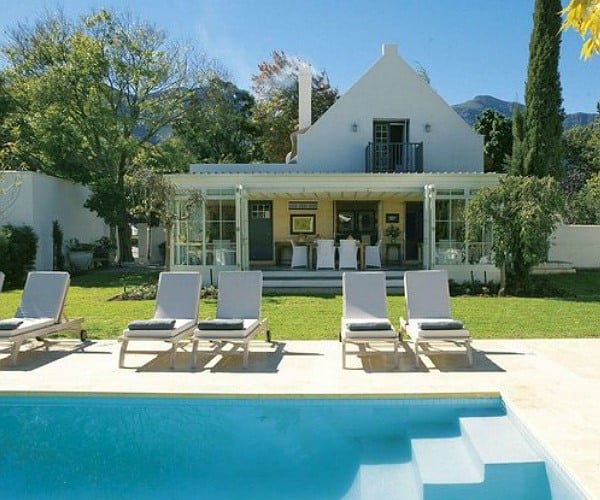 There's a cheetah conservation project that gives you the chance to meet these amazing animals. An art gallery where you can enjoy some beautiful art from established but also emerging local artists. Several food options to choose from, like the restaurant and the bistro. But for the ones that like to relax even more there is the Grande Country picnic basket which you can order and which is filled with all kinds of yummy stuff. Cold cuts, fruits, breads, cheeses, wine….you name it, you'll find it in the basket. And no better place to enjoy it then the Grande Provence gardens which are set in the middle of the vineyards. Last but not least pay a visit to the tasting room. You'll remember its industrial look combined with the great wines for a very long time.
Have you visited the one of these estates? Or did you stay in another one which would fit in this list? Let me know, I would love to hear about it.