I guess one of the appeals of skiing for celebrities is that on the slopes they can be anonymous. They can don a helmet and a pair of goggles and easily blend in with the common folk in the chairlift queue and on the piste. It must be refreshing for the rich and famous to be able to go about their business and not be bugged and harassed for autographs and selfie shots. From politicians to royalty, reality television stars and A-list actors, the Alps are alive with celebrities. Here are five resorts that are likely to be a good place to rubber neck.
Verbier, Switzerland
Verbier comes out top as the resort most likely to be visited by celebrities. The resort is popular with the likes of Pippa Middleton and the Duke and Duchess of Cambridge. Madonna hit the slopes here. Sarah Ferguson, the Duchess of York and members of the sporting elite, including World Cup-winning rugby player Lawrence Dallaglio have all been spotted without helmets and goggles.
Recently Prince William hit the headlines after the Dad-dancing incident in Verbier. The husband to Kate Middleton, father to Prince George and Princess Charlotte, and second in line to the British throne was recently away on a ski trip with friends when he decided to go out to club and hit the dance floor. Prince William reportedly drank a few Jägerbombs before throwing shapes, awkward ones at that, to Luniz's '90s hit "I Got 5 On It." Sir Richard Branson owns a chalet here and for an arm and a leg you can rent it out for a week or two.
Courchevel 1850, France
Arguably the wealthiest resort in the whole of the Alps, the chic resort of 1850 is home to 'six' star hotels, (yep, you read that right, 'six'), Michelin starred restaurants and luxury shopping. Russian oligarchs are responsible, in the main, for making 1850 the hot spot that it is today. The village fills up with Russian celebs during Russian new year. This elegant ski village has also charmed A-list celebrities including Leonardo DiCaprio, David and Victoria Beckham and Pippa Middleton. The 1850 resort, the most elite of its four villages, is where Kate and William are believed to have stayed recently. Brigitte Bardot helped to put it on the map in the 1960s long before the Russians took an interest.
The resort even has its own airstrip right on the slopes, which sees dozens of private jets arrive each day in peak season. The landing here is adjudged to be one of the most difficult in the world. The runway is set at a gradient of 18.5% in order to help slow landing aircraft. It's one of the shortest runways in the world, with a length of 525 metres. The dangerous approach through deep valleys can only be performed by specially certified pilots. Earlier this year a light aircraft skidded on landing and hit a snow bank at the end of a runway. All five occupants walked away with four suffering minor injuries.
Zermatt, Switzerland
Home to the iconic mountain range with most peaks reaching over 4000m; Zermatt is one of the best ski resorts in the world. It's incredible scenery, atmosphere and slopes attract the rich and famous. Settled under the magnificent Matterhorn, Zermatt is a picturesque alpine village filled with gourmet restaurants, stunning chalets and world class skiing.
Celebrities spotted in this fabulous Swiss resort include film stars Angelina Jolie and Brad Pitt, legendary drummer Phil Collins and both Abba ladies. Incidentally Agnetha and Anni-Frid both have homes here. During the Zermatt Unplugged Music Festival held in April, you can mingle with some well known musicians and singers, including Dido, Jack Savoretti, and Gerard Depardieu who will be singing for his super. Gérard Depardieu is one of the most famous character actors of French film. He will be paying tribute to an artist friend, the chansonnier Barbara, who died in 1997, and is considered to be an incomparable artist of French chanson alongside Edith Piaf and Juliette Gréco. Gérard Depardieu's approach to the work and personality of Barbara has captivated the French public. He will be accompanied by pianist Emmanuel Christien.
St Moritz, Switzerland
Some places are simply unlike any other; the mere mention of their name summons up vivid images and emotions. St. Moritz is one such place. Its unique appeal began long before the days when Roger Moore raced down the slopes as James Bond, Alfred Hitchcock was inspired by Engadin's black crows and Gunter Sachs and Brigitte Bardot whispered sweet nothings to each other in the snow.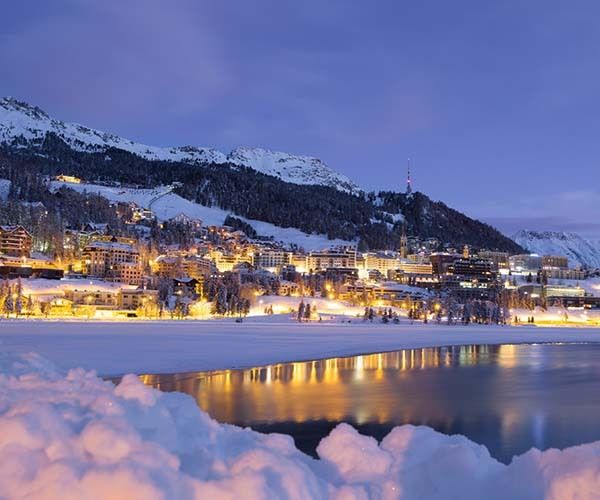 The history of St. Moritz as we know it today began in 1864, when hotelier Johannes Badrutt made a bet with some of his British guests. He promised them that, in addition to the gorgeous summers, winter in St. Moritz is so pleasant that on clear days you can enjoy the sunshine on the terrace without wearing a jacket. If he turned out to be wrong, the hotelier promised to pay their travel costs and accommodation. The following December, the group of British men crossed the Julier Pass covered from head to toe in furs. Upon arrival in St. Moritz they were met by blue skies, warm sunshine and Badrutt, who stood waiting to greet them without a jacket and with rolled up sleeves. Winter tourism was born.
It's no surprise St Moritz is a celebrity and rich list hotspot with its annual Polo World Cup on their frozen lake. This prestigious event started 30 years ago and draws more than 12,000 visitors and a host of top celebrities. The long list of celebrity visitors includes Claudia Schiffer, George Clooney, John Travolta, Robert De Niro, Elizabeth Hurley and Naomi Campbell. Back in the swinging 60's Chalie Chaplin and Alfred Hitchcock used to holiday here.
Due to its fabulous location, St Moritz enjoys 300 days of sunshine each year and during peak times, the resorts very own airport brings in more than 40 private jets a day so the rich and famous can enjoy the Swiss slopes.
With designer shops, exclusive sporting events and superb spas, St Moritz is always at the top of the exclusivity lists. You'll find the biggest names in fashion here including, Dolce & Gabbana, Gucci, Louis Vuitton, Prada, Roberto Cavalli and Versace.
Klosters, Switzerland
Though Prince Charles has been making skiing look awkward for 50 years, we are all lucky that Prince William and Kate Middleton have taken over the limelight and given royal skiing a boost of excitement. They even used the slopes to seal their royal relationship with a smooch, their first kiss in public was a huge media event in January 2006.
What is almost forgotten: The American High Society from film, music, theatre and literature came and went from here as far back as the 1950s. So much so, that the village gained the title "Hollywood on the Rocks". At that time, the successful American screenwriter Peter Viertel was commissioned by a Swiss film producer with writing a screenplay and quickly moved to accommodation in Davos. To pass the time, Viertel learned to ski and in doing so discovered Klosters, which had previously been chosen as a holiday destination by the renowned war photographer Robert Capa . This soon grew into a great love of the resort, which he developed together with his friend and writer Irwin Shaw ("The Young Lions", "Rich Man, Poor Man") into "Hollywood on the Rocks".
Its reputation drew famous stars such as Paul Newman, Gregory Peck, Yul Brynner, Lauren Bacall, Greta Garbo. Gene Kelly, who danced on the tables in the hotel bar of the legendary Hotel Chesa Grischuna. Rex Harrison, who discussed his musical notes for "My Fair Lady" with the hotel pianist. And Deborah Kerr, who married Peter Viertel in 1960 in Klosters.
During the time of "Hollywood on the Rocks", many British and American guests moved to Klosters, and made their second home here. They characterised the style and atmosphere of the holiday village for decades, and their children are still doing it to this day. A visit to the Chesa Bar or the Dancing Casa Antica during the winter season are enough to be gripped by this magical ambience.
Danny Frith is Director at SkiBoutique. SkiBoutique is a luxury ski chalet agency based in Switzerland.
If you would like to be a guest blogger on A Luxury Travel Blog in order to raise your profile, please contact us.