Tower Bridge is not London Bridge. (And neither of them are falling down.) In spite of London Bridge being given the fairly dubious honour of starring in that famous English nursery rhyme 'London Bridge is falling down', sung the world over, it is undoubtedly Tower Bridge which is the more iconic of the two bridges. Tower Bridge is by far the prettier of the two, and where London Bridge may have the more famous name, it is Tower Bridge that often lays claim to being a stunning symbol of London.
And then, of course, Tower Bridge can boast of being neighbours with that exquisite piece of in-the-know London whimsy: the 'Girl with a Dolphin' sculpture.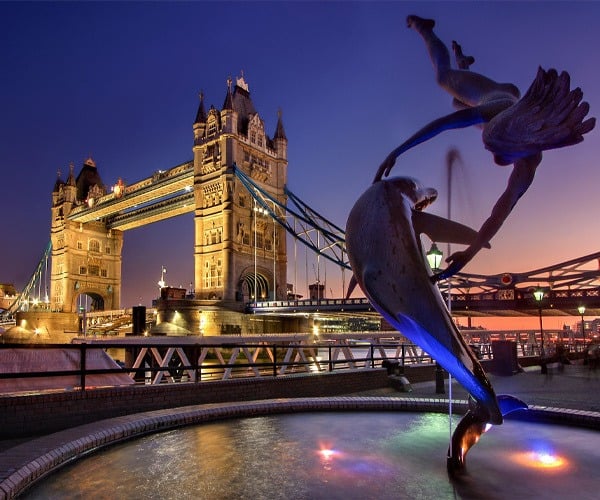 It would be easy to miss 'Girl with a Dolphin' given the dazzling grandeur of Tower Bridge overhead. That would, however, be a mistake. This stunning, delicate piece of art was created in 1973 by artist David Wynne, a British sculptor with very little formal artistic training. Nearly all of Wynne's artistic works show the special connections often found between humans and animals and are created from simple experience rather than conceptual design. In fact, his celebrated dolphin pieces (he produced a number of them) were based on hours of actually swimming with the animal himself.
You can find 'Girl with a Dolphin' outside the Guoman Tower Hotel at St Katharine's Dock on the banks of the Thames River, on the North East side of Tower Bridge. To get there, take the underground to Tower Hill station then walk towards Tower Bridge. Instead of climbing up the stairs to the bridge itself, pass underneath it to find the fountain and sculpture on the other side.
Top tip: If you love 'Girl with a Dolphin' be sure to visit her 13-foot 'brother', unveiled just one year later in 1974. David Wynne's 'Boy with a Dolphin' can also be found along the banks of the Thames River, this time next to Albert Bridge on Chelsea Embankment.
Still more interested in the bridge itself rather than the art beneath? Here are a few quick facts to tide you over:
At the time of its construction – between 1886 and 1894 – Tower Bridge was the largest and most sophisticated bascule bridge ever completed. (The central span of the bridge can be raised to allow ships to pass.)
Tower Bridge is built to look even older than it is – the huge grey stones were specifically selected to give the bridge a medieval feeling.
More than 400 workers helped build Tower Bridge and over 70000 tons of concrete were sunk to the bed of the River Thames during construction.
Tower Bridge is 244 metres long and each tower is 65 metres high.
Originally painted chocolate brown, in 1977 Tower Bridge was painted red, white and blue for Queen Elizabeth's Silver Jubilee.
More than 40,000 people use this iconic symbol of London every day. If you're given the chance to be one of them, take it.
If you have a really special photograph you would like to share with A Luxury Travel Blog's readers, please contact us.