Luxury, finery, and class. These are the three words that most describe the beautiful city of Vienna, the Crown Jewel of Europes Imperial Age. Located along the Danube in eastern Austria, Vienna has set itself apart in Europe as being a city whose very history is written in opulence. From towering cathedrals and churches to ornate palaces standing testament to forgotten empires, the city offers a grandiose glimpse into both the rich cultural heritage and the sleek modern pace of life in Austria. The same is true for its luxury hotels.
These five hotels are each curated to provide the height of modern amenities while each have their own unique flavor to add to your stay. Perfect for a European luxury retreat or for conducting business that's meant to impress.
Andaz am Belvedere
A hotel concept built by Hyatt, the Andaz am Belvedere is a beautiful modern hotel that is designed to take your breath away with every step you take. With 303 urban guestrooms, including 44 suites, the hotel blends creative interior designs, furnishings, and artwork, with service, attention to detail, and immersion into the surrounding locale. With rooms starting as low as € 150, you can treat yourself to Eugen21, the hotel's incredible restaurant featuring a mixture of seasonal dishes and urban Viennese cuisine. If you desire an exotic nightcap, the Arora offer's a fantastic view to sip your favorite drink as you enjoy the rooftop bar. Amenities include a fantastic concierge service, a business center, as well as a fitness center and a five-star room service.
Palais Hansen Kempinski
This aptly named "palace" is a hotel designed to cater to the discerning client seeking to bask in all the luxury Vienna has to offer. With courtyard views, penthouse suites, and dominating scenes of historic Vienna only a window glance away, the fantastic staff at the Palais Hansen Kempinski wait eagerly to serve you. Featuring several five-star restaurants and bars, this establishment also features a beautiful cigar lounge. The in-house spa features not only pampering and cleansing treatments of any magnitude but also a fully staffed fitness center and indoor pool.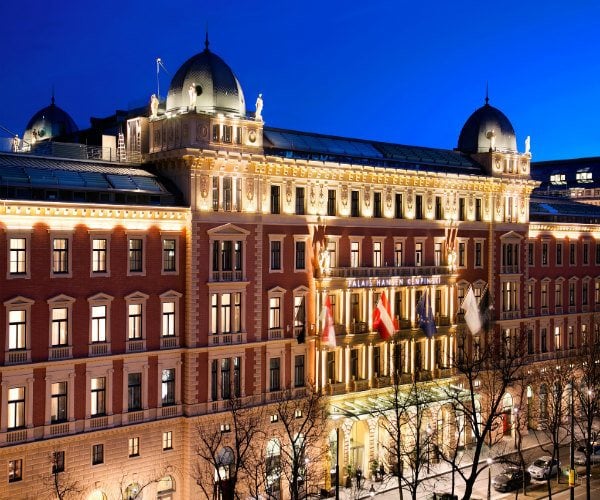 Hotel Imperial
One of the more historic hotels on our list, the Hotel Imperial is named so because it was originally built as a town residence for royalty in 1863. In 1873 the palace was converted into a hotel for the Vienna World's Fair and for the last century and a half it has become a Vienna institution.
The Hotel Imperial has over 130 rooms and suites, many of which offer a fantastic view of old Vienna. The luggage liaison promises stress-free travel to the hotel's guests as they enjoy amenities such as wifi throughout the building, a fantastic fitness center, and 24 Hr. Room Service. While there are no restaurants located in this hotel, the hotel offers local dinner delivery from esteemed restaurants such as the Café Imperial Wien, Restaurant OPUS, and other local luxurious eateries.
Hotel Bristol Wien
A member of the Marriott family of hotels, the Bristol, as it's called, sit's just across the way from the Vienna State Opera and has stood as an art-deco gem in Vienna's crown since 1892.  With over 150 exclusive rooms and 24 unique suites, the decore of this turn-of-the-century style offers spectacular views of the old city. Enjoy exquisite meals all day at the hotel's restaurant, Bristol Lounge, a dining experience set before an elegant hearth and a crackling fire. In addition to the restaurant, The Bristol Bar is the first American style bar in Vienna filled with exquisite cocktails and cognacs.
Hotel Bristol also houses several salons are the perfect place to kick back and enjoy the five-star service as well as a personalized fitness center open 24-hours. This hotel is also known for being a great business venue and wedding destination, thanks to the six magnificent rooms that can accommodate anywhere from 10 to 200 people.
Palais Coburg
Another historic hotel is the Palais Coburg, originally settled as early as the 1500's and built into the magnificent manor it is today in the 19th Century. In the 1970s renovations were made and the palace was transformed into this luxury five-star boutique hotel. The palatial hotel has 33 suites all immaculately decked in the grandest finery while keeping all your expected modern amenities. Through the hotel you can book a dining extravaganza at acclaimed Viennese chef Silvio Nickol's Gourmet Restaurant, a fine dining experience not to be missed. While one of the pricier hotels in the city, the Plais will offer you unmatched service and lavish you in the decadence you'd expect from a home fit for a Baron.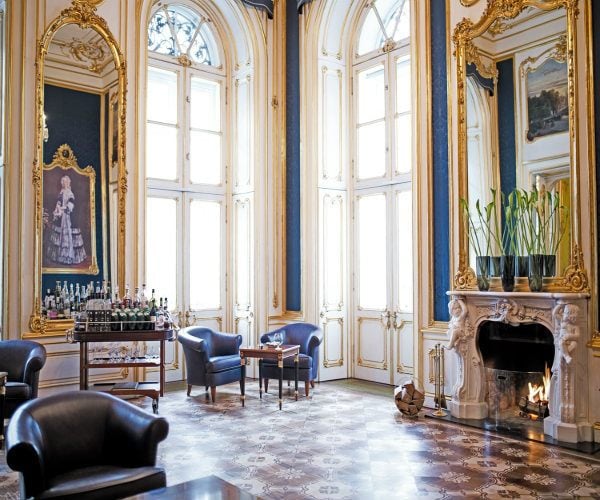 Whether you're taking a business trip to impress, looking for a relaxing vacation stay, or just passing through in style, Vienna and her fine hotels are beautifully suited to bring joy to even those with the most refined tastes. Her old palaces are a wonderful place for modern business and leisure to take place, making sure that no matter what your purpose in this grand city, you feel like royalty. Be sure to enjoy the sites, the smells, the sounds, and overall grandeur that makes Vienna the city it is, and be sure to do so in a style fit for a king or queen. From her fountains to her restaurants, Vienna is at your beck and call, so take advantage of her beauty and book the perfect room today.
Guido Graf is Founder of Privateupgrades. Privateupgrades is a global luxury travel club with over 20 years of experience in luxury hotels, ensuring exclusive VIP privileges like upgrades, free breakfast, free nights, rate discounts, free airport transfers, free massages and much more.
If you would like to be a guest blogger on A Luxury Travel Blog in order to raise your profile, please contact us.