You have to admire the determination of a restauranteur who chooses to open a restaurant halfway up, or even at the top of a mountain! The challenges are enormous simply getting the ingredients up there for the fantastic dishes they serve and for the stocking of the bar and this adds hugely to the running costs. Of course, everything that goes up, must come down, that's all the rubbish, and often a skidoo is the only way and requires endless trips.
The rewards for a successful restauranteur can be very rewarding. Shortly after I started in the ski business in the mid-1990s there were rumours that one of the owners of a slope-side Courchevel restaurant had been arrested. His misfortune had been a loose association to "someone" the French police had been investigating, which resulted in the restaurant owner coming under investigation himself. The restaurant concerned was taking so much cash, from the newly arrived Russian oligarchs that the authorities were convinced the restaurant was being used for money laundering! The owner was promptly arrested and remanded while the authorities installed an auditor in the restaurant to discover who and where the cash was coming from! Within weeks the owner was released after it was established that the restaurant was 100% legitimate and its huge daily takings were simply a result of his wealthy oligarch clients who celebrated their lunches by opening 1,000's of bottles of the finest Cristal Champagne. One wealthy Russian was rumoured to have spent €3m in Courchevel over the two weeks of the Russian new year, he was warmly welcomed by the businesses in Courchevel 1850 at the time.
Like our Russian friends, a great part of any skiing holiday for me, is lunch on the mountain. After a couple of hours racing around, these days, mainly Blue and Red runs, I work up a huge appetite, (although not enough to spray Cristal Champagne over my friends at the table!)
The holy grail for a mountain top dining table, is sheltered from any wind on a warm sunny restaurant terrace with a view overlooking the mountain peaks and slopes. Heaven…
The biggest problem is predicting which day of the holiday is going to be the sunniest to reserve a terrace table, before the masses beat you to it.
I've been lucky enough to visit some of Europe's best mountain restaurants.
These are some of my favourite recommendations for the best places to stop for lunch this winter.
This list, is in no particular order, with all these restaurants, advanced booking is essential, if you want a table between 12 and 2pm. But don't forget, lunchtimes can be a wonderful time to be skiing on empty slopes, so, I often slip in for the second sitting.
Chez Vrony, Zermatt

Budget: €€€€€
Reservations: 027 967 25 52
Zermatt has no shortage of fine restaurants, but the Chez Vrony would be my first choice, especially when the sun is out. Make sure you book in advance to get a table on the terrace or in the fabulously quirky restaurant.
Chez Vrony, uses only locally sourced organic ingredients in the recipes that have been passed down by past generations. The wine list is extensive too.
Bel Air, Courchevel 1650
Budget: €€€€
Reservations: 04 79 08 00 93
I tend to avoid the restaurants around Courchevel that cater to the millionaire Russian visitors, not because I don't like Russians, but because I can't afford most of them! I once spent €200 on 4 hot chocolates with rum in Courchevel in one of the more expensive eateries. Besides, I prefer the skiing at this end of the Three Valley map, there are far fewer skiers and lovely wide runs.
Whenever I'm in the Three Valleys I'll always have lunch or at the very least a snack at Bel Air. The terrace is extensive and on sunny days, it's the place to be for lunch.
The menu is very French, escargot, great steaks and mountain favourites such as Tartiflette, expect to pay around €100 for a good lunch and a bottle of wine.
Ciao Pais, Sauze d'Oulx
Budget: €€€
Reservations: +39 (0)122 850 280
Sauze d'Oulx has become a favourite ski resort for me and my group of friends in recent years and they will be furious that I let that cat out of the bag about the Ciao Pais. Sorry Brian, Matt, Dom and Tony, the next lunch here is on me!
The owner, Mirko is the front of house man and an excellent host and lover of fine Italian wines and he will happily discuss the best wines for your chosen menu.
Ciao Pais is located on a blue run, leading back to the village, it's away from the main ski run that most skiers use, but locals know the reputation for the excellent rustic mountain dishes. The rabbit stew is very special as is the Pork Knuckle. An extensive menu and excellent value wines make this my first choice for a special lunch.
A small chapel next to the restaurant was used by the Italian resistance during the WW2.
Findlerhof, Zermatt
Budget: €€€€€
Reservations: +41 27 967 25 88
Findlerhof, in Zermatt, is another fine dining experience with a view! I can never make up my mind if I prefer here or the Chez Vrony, both vie for the top spot on Trip Advisor, I suggest you try them both.
On busy days I have found the service slow, but the wait is worth it, especially if you are on the terrace.
La Fruitiere, Val d'Isere
Budget: €€€€
Reservations: +33 479 060 717
Right next to and owned by the Folie Douce group, arguably Europe's finest brand in mountain top après ski, but what is not so well known is this fantastic fine dining experience. Make it a very long lunch and you can continue the party until after the lifts close dancing in your ski boot at the Folie Douce next door.
The restaurant takes its inspiration from a milk a dairy. The food is of good quality with locally sourced ingredients and an excellent cheeseboard. Expect to pay around €100 for a good lunch with wine.
Le Cap Horn, Courchevel 1850
Budget: €€€€€
Reservations: +33 4 79 08 33 10
This is one of the restaurants frequented by the millionaires that favour Courchevel 1850. You can watch them land in their private jets in the mountain airport next door.
The food here is everything you could expect from one of Courchevel's top hotels, but prices are eye wateringly expensive and early booking is essential even if you are a resident.
fine wines.
Chez Dany, Verbier
Budget: €€€€€
Reservations: +41 27 771 25 24
Lunch at the Chez Dany is an adventure, its access is via snow Cat or the more adventurous can ski down from Ruinettes towards the tiny hamlet of Clambin, very close to Verbier village. The setting and views are stunning. The menu consists of traditional Swiss mountain favourites, I can particularly recommend the Carpaccio and Fondue.
La Bouitte, below Val Thorens
Budget: €€€€€
Reservations: +33 479 08 96 77
One of the three valleys 3 Michelin starred restaurants, La Bouitte is located above St Martin de Belleville in the village of St Marcelle. This is a restaurant to save for a special celebration, if you have lunch here you probably won't want to ski in the afternoon!
La Bouitte is a family-run, head chef René Meilleur shares the kitchen with son Maxime and the food is exceptional, as you would expect from a restaurant with 3 Michelin stars. Advance booking is essential.
Hospiz Alm, St Christoph, St Anton
Budget: €€€€€
Reservations: +43 5446 3625
Its was a client who first told me about this restaurant, no mention of the food, only that you could use a slide via a helter-skelter to reach the basement loos! Something I've now done many times since, in my ski boots and as you can imagine it is hugely popular with children. Every restaurant needs a theme! But don't let this put you off, the food is exceptional.
The waiter and waitress dress in traditional Leiderhosen and Durdels which add to the welcoming feels of this infamous traditional restaurant.
Hospiz Alm has become my favourite lunch spot when skiing in the Arlberg ski area. Try the tender Loin veal in a bread crust, it's delicious.
Rud Alpe, Lech
Budget: €€€€
Reservations: +43 5583 41825
I only recently discovered the Rud Alpe, I don't why, the buildings been there 250 years, I guess I never passed it at lunchtime? The food here hits the spot. I enjoyed a hearty mix of black pudding and warm cabbage served in its frying pan at the table. Trust me, it was delicious. For dessert in Austria, there can only be one, the famous "Kaiserschmarrn" with stewed plumbs, a great desert to share.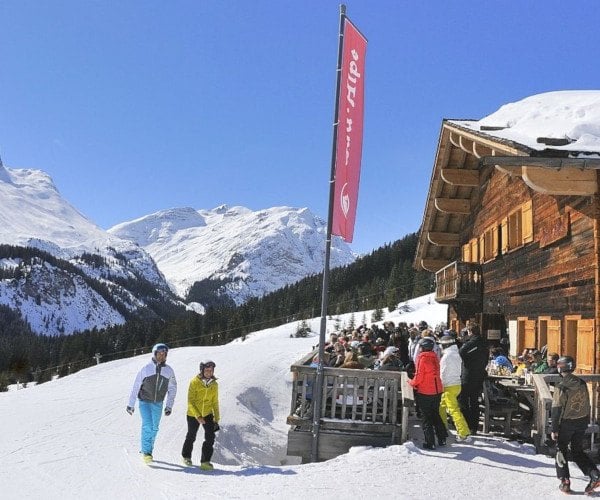 Its located above Lech at around 1580m right on the piste. In the afternoon skiers drop in for Glühwein and strudel. One of the few restaurants that still uses its own organic products, made from animals nourished solely on Alpine grass.
Angus Kinloch is the Managing Director at Ski Line. Ski Line specialist ski agency that provides luxury ski holidays to Europe's and North America's most popular ski resorts.
If you would like to be a guest blogger on A Luxury Travel Blog in order to raise your profile, please contact us.