You've booked your trip and the count-down is on. It's never too early think about what you'll be packing and what luggage works best. Whether you are headed to some undiscovered Shangri-La in mist topped mountains, a luxury all-inclusive destination, or taking to the skies on a high octane business trip to must see world capitals – you'll need quality pack and carry solutions along with a bit of packing organisational savvy.
From city breaks to global adventures, luggage, holdalls and backpacks and are prone to rips, tears and abrasion.
Travelling the globe for work and pleasure has helped to educate me in choosing durable carry solutions that should last you a lifetime – just like the memories that you're making.
Whether you are carrying every last thing you might need in a luxury backpack or packing treasured clothes and possessions in full size luggage – I've found that the same luggage requirements and packing methods apply.
Choosing the right carry solution
Choose options for maximum comfort that are the right size for you. If this is traditional luggage on wheels, check the handle height. If you are going for a carry-on backpack, look out for padding on the hips, shoulders and back.
Are there compartments and easily accessible areas for your toiletries? (remember the fluid restrictions for flights – with carry-on luggage and smaller backpacks you'll need to access these easily before each security check.)
With larger bags, are there easy to access sections so you can quickly get your hands on chargers, toothbrush, nightwear etc if you're arriving shattered and rolling straight into bed?
I would suggest ordering a couple of types of bags online, then see which one you prefer once you've tried packing a few things.
Whether you are off to a luxury resort or a quirky boutique place, all luggage is treated the same by baggage handlers, so be sure to choose carry solutions with durability in mind.
Read up on the science and testing behind the fabric used in the bag or pack. Question it. How has it been tested? What qualities does the fabric have? You're going to need a lot of abrasion resistance and great tear strength. Nothing worse than seeing your belongings scattered on the luggage carousel. (Trust me, this is a real phenomenon!)
Check the obvious – is it waterproof? I learned this the hard way from watching my bag get drenched while sitting on the tarmac in Hawaii.
Do the zips look like they will withstand the usual last minute cramming in of soggy
swimwear and mementos?
Pro packing tips
Pack ahead – I find that if I pack at least a week before then this leaves more time to not only get excited about the trip, but plenty of time for buying the items that I've forgotten. I only seem to remember these must haves during the actual packing process! Packing the night before sends my mind into overdrive and I tend to have a bad night's sleep before my trip.
Buy a luggage scale and pack it for your trip. You may have more luggage allowance for shopping than you realise once you have used up your larger toiletries!
Check and double check your luggage allowance. Airline policies change all the time. For a recent short trip I was caught out because I had gone over on baggage weight and had to repack / rebalance the load at the check in desk. Lesson learned – always bring an extra collapsible bag for those last minute must haves.
Become a rolling convert. Once you try rolling your clothes and gear there really is no going back! You will be surprised by how much space this frees up and how much easier it is to see exactly what you've packed. I've found that knitted clothing such as tee's, dresses, and leggings are your travel friends for easy pack and go mobility. And provide wrinkle-free solution for when you have to go straight from airport to a special event.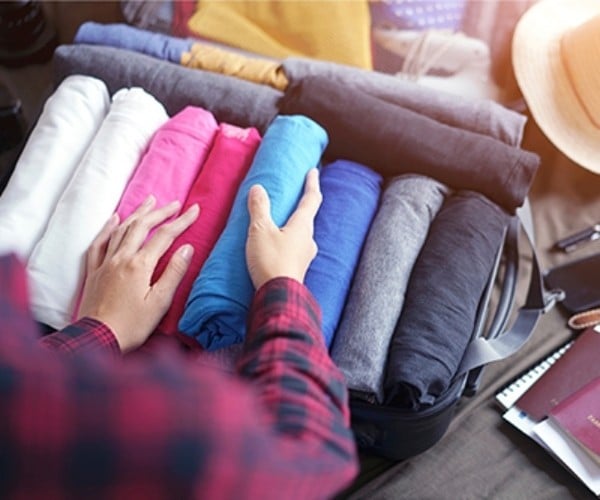 Packing cubes are also great especially if you are packing for kids. They are really affordable and mean that the children can get involved in unpacking at the other end because the items are pre-sorted – a cube for underwear, one for dresses and so on.
Cut back and bulk up! Don't forget that most luxury accommodation offers reasonably
priced laundry services. If you are going for two weeks, then try taking one week's worth of clothes – I've never looked back after trying this. I also make sure that I wear my bulkiest items to travel in. Heavy-duty outdoor jackets and snow-boots are going to take up a lot of your luggage weight allowance and space.
Make a list for each type of trip and save it. I now have lists saved for '2 week beach holiday', 'winter city break', and so on. I can call these up whenever I need them and often I've made a note of what I didn't need. This can also be really great for encouraging independence with children – you can simply message the relevant list to them and begin giving them the independence to become pro travellers.
Always pack a lightweight bag such as a tote or fold away backpack in your main luggage; it's sure to come in handy for all manner of uses from beach to hiking or climbing and beyond.
Ditch the 'just in case' items – there are shops in most parts of the planet these days, so if you really do decide you need it you can buy it.
Cindy McNaull is the Business Development Director for INVISTA's CORDURA® brand fabric. CORDURA® fabric has a more than 50-year legacy of enabling the development of high-performance apparel and gear products.
If you would like to be a guest blogger on A Luxury Travel Blog in order to raise your profile, please contact us.