Kyoto is one of Japan's most historical cities and one of the most popular tourist destinations in the country. Known as the Imperial Capital, it's located in the heart of Western Japan and is easily reached from Osaka international airport. The picturesque city is peppered with beautiful sights, including bamboo forests, magical cherry trees and ancient architecture. It has a staggering amount of temples and shrines with some dating as far back as 794AD, making it one of the best places to visit if you want to delve into the culture and tradition of Japan. In fact, due to its historical importance it was one of the cities spared by the World War II bombings. Below are some of our favourite things to do when visiting Kyoto.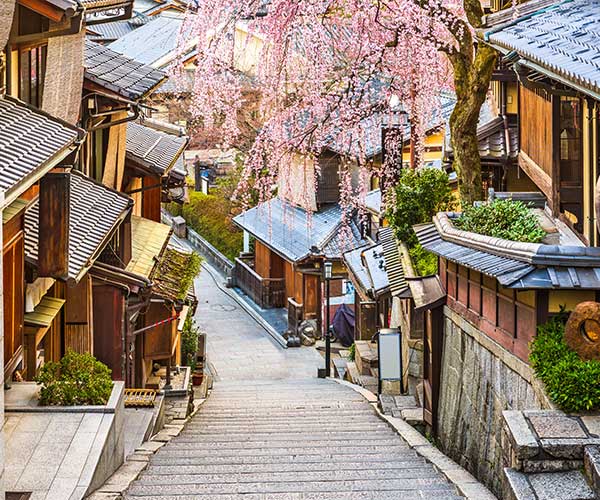 Visit the Golden Pavilion 
Kyoto has over 2000 temples and pagodas scattered across the city. One of the most impressive and visited is the Kinkaku-ji, also known as the Golden Pavilion. Decorated with gold leaf, it is part of the Rokuon-ji temple complex and stands in front of the Mirror Pond – it's name showcasing the beautiful reflection photography that can be taken of the temple when the sun is out. The building was originally built for the shogun Ashikaga Yoshimitsu as his place of retirement, and later became a Zen temple following his death in 1408. While the stunning structure has been burnt down many times, most recently in 1950, it has been rebuilt to mirror the original beauty and ornateness that it always held. Surrounded by beautiful nature, the temple is best visited in the early hours to avoid the crowds.
Tour the Geisha district 
Gion is a historic area in Kyoto which is famous for being the city's geisha district. It's like taking a step back in time to old Japan, with its collection of traditional machiya buildings and picturesque streets. A few of the scenes of 'Memoirs of a Geisha' were even filmed here. There are a few high-end restaurants to visit here or you could simply wander the avenues keeping an eye out for the distinctive makeup of the geishas and their apprentices known as maikos. Be advised that the geishas and maikos are very private and photos are not welcome so please be respectful of this at all times.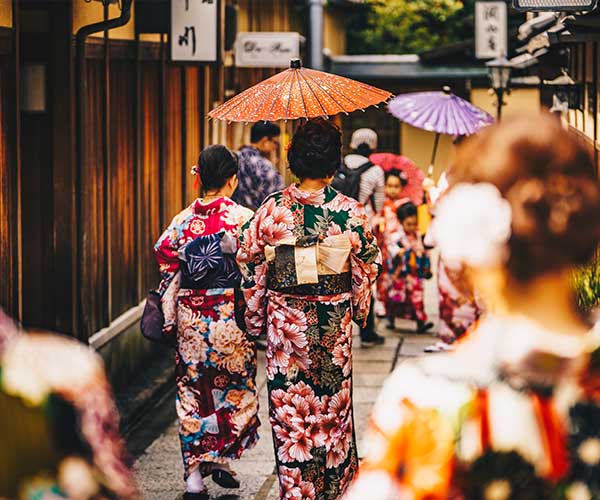 Browse the Nishiki Market 
Like any good city in Asia, Kyoto has a wonderful market to explore. The Nishiki Market is a huge shopping street which sells a variety of Japanese food. Sample fresh seafood, meat skewers or treat yourself to a matcha ice cream! If you fancy a sit-down lunch there are a few restaurants to pop into too. It's a wonderful place to lose yourself in the hustle and bustle of vendors and shoppers alike, while trying to pick which delicious delicacy you should try next.
Visit Nara
Not far from Kyoto is the historical city of Nara. It was the first official capital of Japan and offers some of the oldest temples to visit including Horyuji – the world's oldest surviving wooden structure. Another important temple to add to your list is Tadai-ji-, home to the famous Great Buddha and an impressive structure. Nara is a compact city and full of ancient heritage and shrines, much like Kyoto itself, so we recommend setting aside a full day to explore the area. There are various fine gardens showcasing the rich flora of Japan, with one of the best being Isui-en Garden with its ponds and colourful shrubbery. Nara Park is also a popular place to visit due to its large amount of wild deer that are roaming through. The animals are used to having people around and you can purchase special deer crackers if you wish to feed them.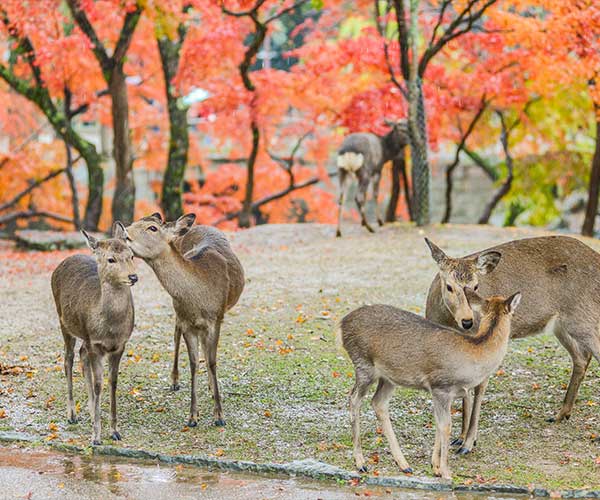 Go to a tea ceremony 
Tea is a huge part of Japan and is served with most meals. A tea ceremony is a traditional ritual that originates from Kyoto and you can experience it for yourself when visiting Japan. There are several tea houses to visit, where you will learn about 'Sado' which means the way of the tea. Sometimes it's hosted by a geisha, who will show you how to make and drink the matcha tea and the cultural importance behind it.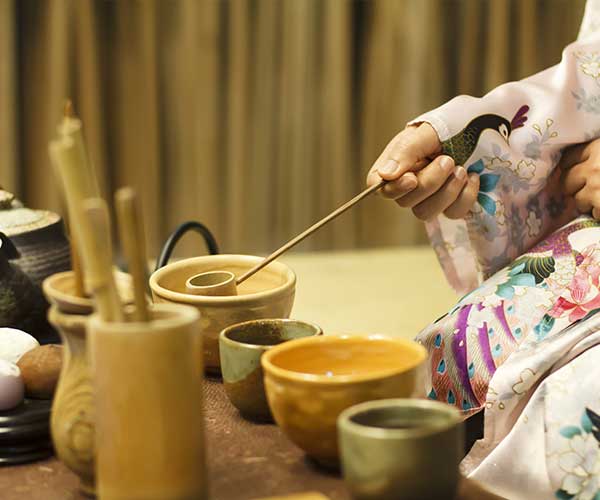 Admire the Fushimi Inari-taisha Shrine 
Another iconic shrine to visit in Kyoto is the UNESCO listed Fushimi Inari-taisha Shrine. It's famous for its thousands of bright orange torii gates which lead to the shrine itself and is surrounded by lovely cherry trees. This extremely photogenic path sits at the foot of Inari mountain which takes roughly two hours to walk up, until you reach the shrine which is dedicated to rice and sake.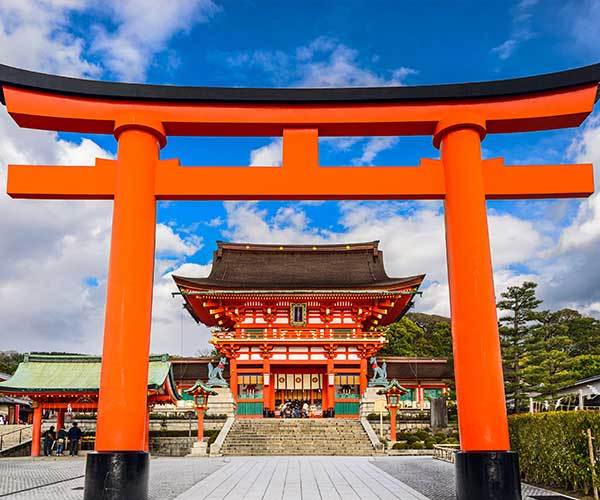 Walk along the Philosopher's Path 
If you visit Japan during March or April, enjoy a walk along the Philosopher's Path in Kyoto. This picturesque route is famous for its sakura trees during the cherry blossom season and is bursting with hues of pink and lilac during this time. It follows a canal and starts at the Silver Pavilion before ending in the neighbourhood of Nanzenji and at 2km in length – it's a lovely stroll to break up your day. The path is named after Japan's famous philosopher Nishida Kitaro. It's thought that he would use the trail to practise meditation on his daily walk to the university of Kyoto. It's one of the most charming walks in Kyoto and is perfect for both nature and photography lovers.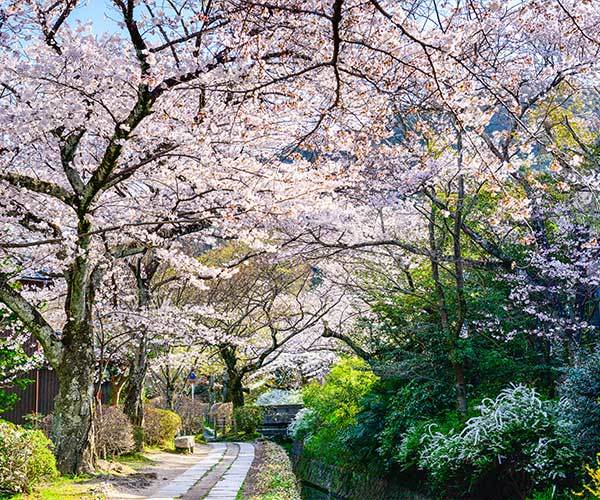 Matt Gannan is the CEO and Owner of Tucan Travel. Tucan Travel operate cultural tours in Latin America, Africa and the Middle East, Asia and Europe, as well as tailor-made holidays in Latin America, Africa and Asia.
If you would like to be a guest blogger on A Luxury Travel Blog in order to raise your profile, please contact us.