By
Marc Harris
on Jan 14, 2020 in
Adventure Travel
,
Africa
,
Botswana
,
Kenya
,
Namibia
,
Regions
,
Rwanda
,
South Africa
,
Speciality Travel
,
Tanzania
,
Uganda
If there is ever a time for contemplating what to do throughout the year, then there is no better time than the start of a new decade. With concerns about wildlife stability and the ever-growing concern of climate change, it seems that the next decade will be pivotal for everyone. One of the concerns is the loss of many of the planet's treasured and species and if we don't take the initiative, we may not be able to see these animals in the wild ever again. With this said, many of us have wildlife bucket lists that we would love to tick off, so here are some of our top bucket list items that you should consider.
Gorillas in Uganda and Rwanda
Fast becoming one of the most popular wildlife experiences in Africa, trekking through the mountains to spend time with the mountain gorillas of Rwanda or Uganda is something not to be missed.
For anyone who wants a wildlife experience that is intimate, personal and at times indescribable then look no further than a gorilla trek. Thankfully, this breath-taking experience can be undertaken all-year round so there aren't any limiting factors in terms of when you can and can't see them. Obviously during the dry season, when the foliage is thinner and less dense, the gorillas are easier to photograph and find, however the gorillas are found 99% of the time. Once they are found (this could take half an hour, or it could take three hours of trekking) then you get to spend an hour watching the family interact, play and communicate whilst completely oblivious to your presence.
If you are stuck on whether Rwanda or Uganda would suit you better, then there are a few things to consider. The most important thing to know is that the gorilla experience is the same in both countries. No matter what trek you go on, your time with the gorillas will be limited to an hour and your group size is restricted to only eight people. It is the cost and lodge styles that are the main differences between the destinations.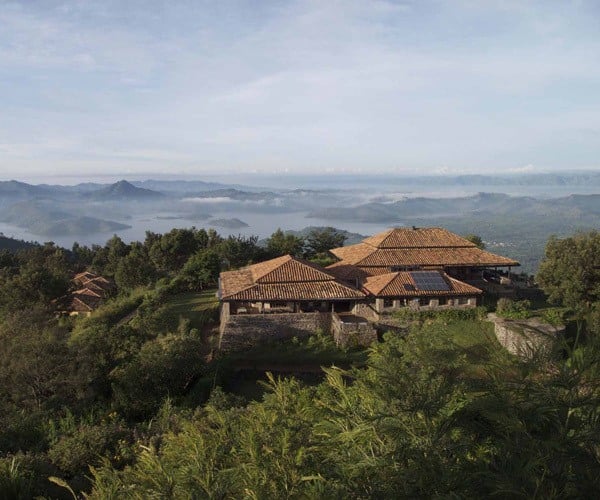 In Rwanda, gorilla permits are $1,500 per person and the lodge highlights include Singita's Kwitonda situated in Volcanoes National Park and Virunga Lodge in Virunga National Park. Whilst Singita comes with all the superfluous amenities that they have become renowned for; Virunga Lodge is slightly more authentic, but certainly does not compromise on the high levels of comfort or service that are to be expected. What really sets Virunga Lodge apart are the extraordinary views of the surrounding forests that you can be sure will take your breath away.
By comparison, Uganda's gorilla permits are about half the price of Rwanda at about $750 per person. The best lodges are beautiful, but don't reach the dizzying heights that Singita sets. A favourite is Clouds Mountain Gorilla Lodge which can be found on the south-western side of Bwindi Impenetrable Forest. Comprising of seven cottages, including two family rooms, Clouds has a home-away-from-home feel and is great for everyone. If you're on a slightly tighter budget, then Nkuringo Bwindi Gorilla Lodge is definitely the place to visit. Although slightly bigger in size, Nkuringo still keeps that homely feel with very comfortable rooms and fantastic levels of hospitality and service.
Pangolins in South Africa
To see a pangolin on safari is the ultimate dream for many experience safari goers. These creatures are so rare and secretive that even the safari guides themselves can go for years without seeing them. Thankfully there is a wildlife haven in South Africa that is an excellent conservation success story and has seen the worlds most trafficked animal thrive and seen on an almost daily basis.
Tswalu Kalahari has conserved an area of over one-hundred-thousand square kilometres and has provided conditions that have seen rare and enigmatic animals such as the aardvark, aardwolf and pangolin thrive.
At Tswalu you are guaranteed a private vehicle with your own private guide and tracker which allows you to build your own itinerary, if you want to stay out later, you can! The beauty of Tswalu is the pristine wilderness. The red Kalahari sand stretches as far into the horizon as you can see and is also home to the black-maned Kalahari lions, painted wolves and plenty of meerkats, some of which are habituated, making for the best photographic experiences.
In this vast wilderness, you will only find two lodges. The Motse which is made up of nine spacious and ultra-luxurious suites and the Takurni homestead which is perfect for bigger groups looking for exclusive use of a lodge. The small and intimate lodge set ups mean that sightings are rarely shared and you can be guaranteed an exclusive and personal experience.
Although Tswalu can be visited throughout the year, the months of July, August and September are best for pangolin sightings due to the cooler weather. During South Africa's summer months, temperatures can soar here and the pangolins tend to move less and later in the evening making them slightly harder to find.
Flooding in the Okavango Delta, Botswana
Arguably one of the most extraordinary natural occurrences on Earth sees the overflow from the rain in the Angolan highlands seep into the Okavango Delta and turn a drying landscape with a few water tributaries into a fully immersed water world.
The dry channels start to fill with water from the end of May onwards and as the months progress, the landscape is transformed. Safari takes on a whole new meaning with Mokoro being one of the preferred (and sometimes only) way to traverse this watery environment. Although game viewing is generally viewed as being the best during the 'flood' months, the Okavango provides fantastic game viewing all year round.
The famous Mombo Camp rightly attracts a lot of the headlines for its ultra-luxurious and all-round fantastic service, but it does come at a price! If you are on a tighter budget, then Botswana may be harder to fit into your plans as the government's development emphasises a low-footfall, high price strategy. That being said, Qorokwe is a small and intimate camp that doesn't carry the high prices tags seen at Mombo or other camps such as Vumbura Plains. Kwara is one of the best value camps in the Delta, and its concession is one of the most diverse in terms of habitat variation allowing a mixture of both dry and wet safari activities.
Great Wildebeest Migration in Tanzania and Kenya
The Great Wildebeest Migration in East Africa is possibly the most spectacular wildlife migrations in the world, with the length only being bettered by the Zebras in Botswana who travel to Nxai Pan. The wonderful thing about the Migration is that it can be seen in Tanzania all year round. From the calving season in the Ndutu Plains in February to the epic river crossings in Kogatende in August.
If you're thinking of visiting Kenya for the migration then July and August are your months to visit the Masai Mara. Whilst the migration is only in Kenya for a couple of months, in the Serengeti, Tanzania, the migration can be viewed all-year round. Kenya's Masai Mara is a wonder to behold though, with sweeping grassy plains and exceptional big cat game viewing, it is understandable why the crowds flock here. With camps as reasonably priced and luxurious as Kichwa Tembo, you really cannot go wrong with a safari in the Masai Mara. If you're looking for the ultimate luxury safari experience in the Mara for the migration then Angama Mara should definitely be on the bucket list. Situated on the Escarpment with stunning views across the Mara, you couldn't ask for more!
The Serengeti on the other hand is slightly harder to reach meaning it isn't as busy during the peak months, but it still provides the same excellent game viewing. For a tented experience, Nomad's Serengeti Safari Camp provides the perfect balance of luxury and authentic tented experience whilst Asilia's newly refurbished permanent camp Sayari is simply stunning and provides you with all of the extra amenities you could wish for.
One extra activity to add on your bucket list is a hot air balloon safari across either the Serengeti or the Masai Mara. Nothing quite compares to viewing the thousands of wildebeest from a bird's eye view!
The Skeleton Coast and Black Rhinos in Namibia
Not known for its animal density like East Africa, Namibia is a completely different wildlife location than what your average safari goer may be used to. Instead, of thousands of animals gathering in one area, Namibia is so vast and its habitats so harsh, that animals need to be specifically adapted to live here.
The Skeleton Coast is one of the harshest Coastal landscapes in the world and whilst there may not be a plethora of wildlife like you would see in Tanzania or Kenya, the animals here are spellbinding. With sandy Coastal Dunes buffeted by harsh winds, you will come across Cape Fur seal colonies as they use the coast for their annual breeding grounds and if you're lucky enough you may even see one of Namibia's famous desert lions preying on them.  And where there are lions, there are hyenas… Prowling the shores for scraps are the very timid and shy brown hyena. Rarely seen in other parts of Africa, the Skeleton Coast is one of the best places to find these elusive scavengers.
If the Skeleton Coast sounds like something that you would love to see (and why wouldn't it be?) then look no further than the Hoanib Skeleton Coast Camp. This fly-in camp is inaccessible by road and is made up of only seven tented rooms and one family unit. Very few camps in Africa combine the highest level of luxury within such an isolated environment which makes this camp so special.
A visit to Namibia would not be complete without ticking a desert black rhino off your bucket list. With Africa's poaching crisis at an all-time high, the chance to see rhinos is becoming slimmer by the day. Thankfully Namibia is safe-guarding this iconic species with twenty-four hour protection. The luxury tented Desert Rhino Camp is small, intimate and provides the best chance to see these magnificent creatures.
The main activity at Desert Rhino Camp is to explore the surrounding area and track desert black rhinos either by foot or in the vehicle (normally it's a mixture of both) and to observe and help record data of the animals. This way not only are you having the experience of a life-time, but you are helping towards the preservation of a species.
Marc Harris is Managing Director of Africa Odyssey. Africa Oydssey is run by a team of award-winning experts offering tailor-made African safari holidays.
If you would like to be a guest blogger on A Luxury Travel Blog in order to raise your profile, please contact us.