UNESCO declared Quito the first World Heritage city because of its city center. Quito preserves a large number of historical sites and artifacts that people can visit and view today.
Quito not only has its own unique artistic expression through a unique Baroque style, which means that indigenous people have adapted and reinterpreted the Baroque style brought by Spaniards during the colonial period. As a result, during the Royal Audience of Quito, the Quito School was developed as a significant and influential artistic movement.
Is a trip to Quito in your future plans and are you looking for things to do there?
If you're a visual learner, you might like to check out this hand-painted infographic from Illa Experience Hotel, the experiential place to stay in Ecuador's capital. It will guide you through Quito's attractions, showing you the main sites and attractions in each area of the historic center, including the UNESCO World Heritage area. Side one has the places to go in visual form.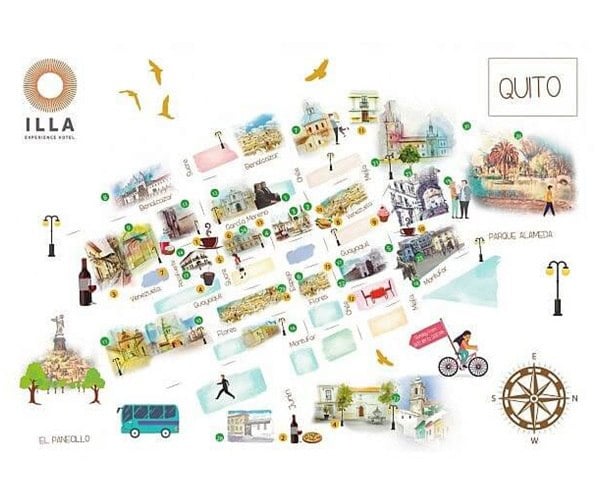 Hotel Illa offers a unique cultural experience for guests in Quito's warmest and most welcoming traditional neighborhood. Something beyond bricks and mortar, beds and breakfasts. For generations, San Marcos has been home to artists, writers and musicians. Its present-day charm owes much to the tight-knit community of residents. It's the perfect setting for our experience hotel.
All these experiences are lived out from the comforts of a stylishly-restored building dating back to 1700. The 10-room hotel showcases key periods in the capital's history, the rooms and suites on each floor decorated in Colonial, Republican and contemporary styles respectively.
Side 2 is the key, with the name and corresponding number for nearly 30 attractions, plus their picks for 16 restaurants and bars worth considering while on a sightseeing tour, all color-coded.
Attractions (color-coded green)
1. Centro Cultural Metropolitano
2. Iglesia del Sagrario
3. Palacio de Carondelet
4. Catedral Metropolitana
5. Plaza Huerto San Agustin
6. La casa de Azulejos
7. Iglesia de la Merced
8. Iglesia de San Francisco
9. Arco de la Reyna e Iglesia del Carmen Alto
10. Plaza de Santo Domingo
11. Arco de Santo Domingo
12. compania de Jesus Church
13. Palacio de la Moneda
14. Museo casa de Maria Augusta Urrutia
15. Museo casa de Antonio Jose de Sucre
16. Museo casa de Manuela Sáenz
17. Iglesia de San Agustin
18. Plaza del Teatro
19. La Guaragua
20. Iglesia de la Basílica del Voto Nacional
21.  Radio Tarqui
22. Leyenda de la Casa 1028
23. Iglesia de las Agustinas de la Encarnacion
24. Casa Manuela Cañizares
25. Teatro Ernesto Alban
26. Iglesia de Belen
27. Iglesia de San Marcos
28. Museo Muñoz Mariño y Huma Cafe
29. Teatro Bolivar
Bars and restaurants (color-coded orange)
1. Fray Francisco
2. La Bocanada
3. La Ronda (bar & restaurant)
4. Octaba de Corpus
5. Cafeteria Modelo
6. Restaurante y Cafeteria San Ignacio
7. Jugos de la Compania.
8. Sanduches de la Plaza Grande
9. Espumillas la Michelena
10. El En-Dulce
11. Casa de Higo
12. Los Chapiñeros
13. Cafetin Compañia
14. La Purisima
15. Los Sanduches Meneses
16. Palacio Arzobispal (patio de comidas)
Pick an easier-to-read physical copy up at the Illa Experience Hotel if you're staying in their lovely San Marcos neighborhood boutique hotel and explore the largest historic downtown in all of South America.
To get some more in-depth information on the attractions, check out this 126-page magazine with history and highlights from Quito Tourism. You can flip through it like it's paper, with a magazine-style layout.
Here are a few things to do in Quito that we would recommend from our several visits there:
1. The Panecillo
El Panecillo hillside Virgin Mary statue in Quito, Ecuador This hill, visible from the historic center of Quito, contains the Virgin of Legarda statue, taller than the Christ the Redeemer one in Rio and supposedly the largest aluminum sculpture in the world. The statue is the destination, but it has actually only been here since 1975 and the view back to the city is worth going for. Plus it's a good place to find Ecuadoran street food for sale and watch the foreign and domestic tourists mingle.
The name means "bread bun," supposedly because of the shape of the hill as the conquistadors saw it. Take it easy here and don't go bounding up staircases: you're at nearly 10,000 feet above sea level at the Panecillo viewpoint.
2. Quito's Plaza Grande
Nearly every Spanish Colonial city has a main plaza, what was the original center for government administration. The one in Quito, officially Plaza de Independencia, is especially grand. There are five primary buildings on the four sides: Carondelet Palace, the Metropolitan Cathedral, the Archbishop's Palace, the Municipal Palace, and the Plaza Grande Hotel.
Carondelet Palace, named after the baron who oversaw the original work, has housed most of Ecuador's leaders and all of them have worked out of offices here. It's open to the public though, so you can take a tour and get a great view of the plaza from the balcony.
3. La Compañía
This Baroque, neo-Classical and Churrigueresque gleaming gold church interior is the epitome of over-the-top Latin American colonial Catholicism. It's best to first soak in all the design elements, the natural lighting, and the symmetry of what took 160 years to complete. Then walk slowly to catch the details of the extensive paintings, carvings, and statues—all embued with symbolism and multiple meanings. It'll all make more sense if you go with a good guide.
4. San Francisco Plaza and Church in Quito
If you want to check out another impressive church of gold, with some even stranger sights inside, plan a visit to San Francisco Church and Convent, the oldest in the city. The Spanish started building it just a month after they took over and 100 years later, those who made the plans were long dead. One of the most interesting aspects is the integration of local symbols to tie in the sun god and other important aspects (like angels with indigenous features) to make the Catholic faith seem less radical and different.
If you don't want to go inside, it's worth strolling the plaza anyway and seeing it from the outside.
5. Casa del Alabado Museum
I've probably visited 100 museums in Latin America since I first started traveling to the region 20 years ago, but this is one of my favorites. It contains a selection of fully restored pre-Colombian art pieces from what is now South America, from the museum's collection of around 5,000 pieces. They date as far back as 7,000 B.C. and span the time up until the era of Spanish rule.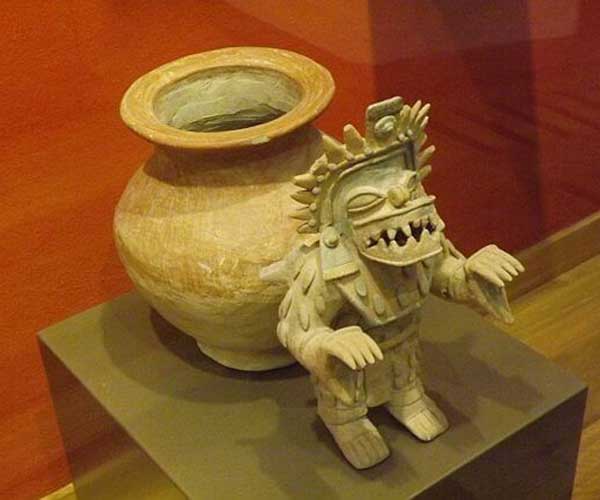 Most are pottery pieces or stone, but others are in textiles, woven reeds, or wood. It's a fascinating, well-curated exhibition with good lighting in a historic mission building and is a mere $6 for admission.
6. The shops of La Ronda
One of Quito's most interesting areas for shopping and dining is La Ronda, a cobblestone pedestrian street that has transformed over the last couple of decades to become a delightfully eclectic place to stroll. It's now one of the top things to do in Quito.
Many of the craftspeople who have shops here also have a workspace on site where you can see their process in action. These range from a tinsmith to a wooden toy maker to a chocolate maker, plus several artists' studios are in the mix as well.
Marcel Perkins is CEO at Latin Trails. Latin Trails is an incoming destination management company specialized in bespoke tours, with a focus on offering unique experiences throughout Ecuador, the Galapagos Islands, and Peru.
If you would like to be a guest blogger on A Luxury Travel Blog in order to raise your profile, please contact us.