Claimed by the Romans, this charming region of South-East France was christened 'La Provincia' by Caesar. The Romans are remembered for many things, not least the incredible network of roads they built. Today, whilst original Roman roads are few and far between, Provence is criss-crossed by some fabulous stretches of tarmac which lend themselves perfectly to traveling by bike! And what better way to explore this fabulous region? With the balmy sun warming your back and hypnotising mountain views ahead whilst the fragrant aroma of lush lavender encircles you, you'll wonder why you ever travelled any other way.
The best time to cycle in Provence
I'd recommend biking between May and October. Spring is in full bloom and you'll ride alongside spectacular fields of scarlet poppies. Late June and early July sees the landscape transform into a glorious purple haze as the region's famed lavender fields flourish. As the photographs depict, the hillsides really are awash with an amethyst coloured glaze.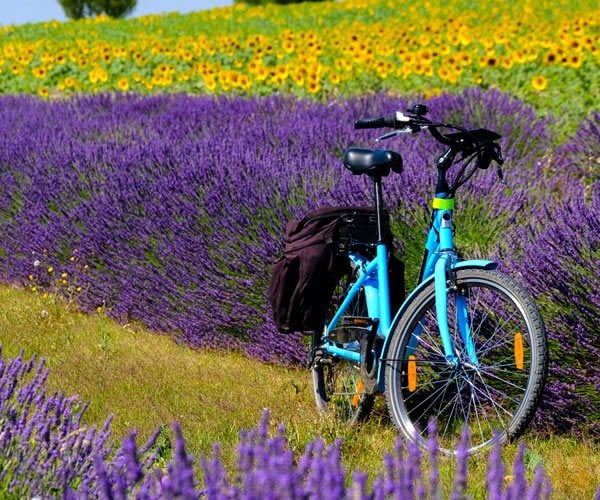 July and August are peak holiday months in Provence meaning there is always lots going on for you to enjoy. Pop into a local tourist office to find out about local fetes and festivals plus other goings on around which you might want to plan your travels. When biking during these months you will probably want to do the bulk of cycling during the early morning and late afternoon to avoid the full heat of midday. Aim to arrive somewhere convivial for lunch by 12pm and then enjoy a couple of hours relaxing before heading back out on the road.
September is an excellent option as the weather is generally still warm, and there will be no school holiday crowds. September sees a riot of colour in the vineyards and golden tinted hillsides. A sunset ride at this time of year is particularly magical.
Playing petanque in Provence
It's not just about covering the miles on a Provence cycling holiday. You'll be able to enjoy loads of opportunities to experience the cultures and activities unique to this region. One of my favourites of an evening is to play Petanque!
In many villages and towns you'll find locals gather beneath shade providing trees, armed with shiny metal boules to play a few games of Provence's prominent petanque. This friendly (albeit with a competitive edge) game has been played since the early 1800s.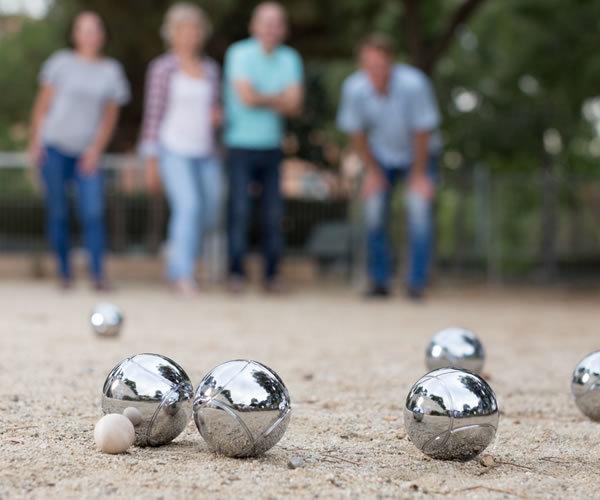 Games involve tossing a little wooden ball (the jack) about six metres down an uneven boulodrome. Players stand in a circle to launch their bigger, heavier boules as close to the target as possible – palms down and with a flick of the wrist. The game is growing increasingly popular with women who are proving particularly skilled at knocking enemy boules away.
Legend has it that Fanny, a waitress in northern Provence, promised to kiss the cheek of players who failed to score any points during a game. When the local mayor approached Fanny for his consolation prize (whom Fanny wasn't on best terms with), she presented her bare backside instead. Amused, the mayor kissed both cheeks and a new tradition was established. At many boulodromes today you'll find a carving or illustration of a scantily clad lass awaiting a kiss, should you happen to score nil points.
Where to ride in Provence
The road surfaces vary, from tough rough old stone to smooth as silk tarmac. Regardless of when or where you go, many routes are isolated so load up your backpack with fruit from roadside stalls and pâtés, jams, pastries and cheeses from the markets. Don't forget to toss in plenty of water too, as you could be miles from further supplies when needs require.
Provence's roads are ideal if you simply wish to breeze along on a bicycle. Rides such as along the banks of the Loire or the Nantes-Brest Canal. Although there are many more challenging routes for the keener cyclist due to the plentiful mountains. To name a few: Mont Ventoux, the Luberon, the Alpilles and Dentelles de Montmirail.
Be sure one of your cycling routes takes in the Abbaye Notre-Dame de Sénanque, near the beautiful hill town of Gordes. This is the abbey which appears on the majority of publications about Provence, due to its impeccably placed lavender field. Another must-ride in Provence is the stunning Gorge de la Nesque. A great route starting from the achingly pretty hill town of picturesque Venasque (also home to a superb local patisserie) and following the road signs to Sault.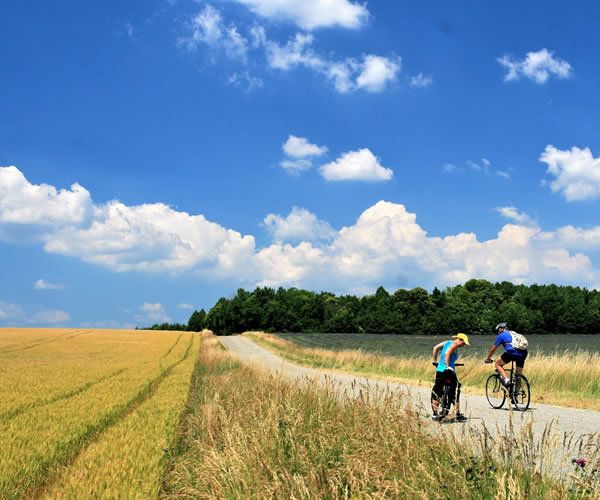 You can follow the region's rivers and deserted mountain roads to charming hill towns such as Roussillon, Menerbes, Oppede-le-Vieux, Bonnieux and Lacoste. Other towns to explore from the saddle are: Aix-en-Provence, Marseille, Toulon, La Ciotat, Aubagne and the birthplate of Nostradamus, St Remy de Provence.
Don't forget the delightful surrounding villages like Bandol, Le Castellet and Saint Cyr-sur-Mer. There are the historic towns of Orange, known for its Roman arena and triumphal arch, and Arles, famed for the winding streets that inspired Vincent van Gogh, which is close to the wetlands of the Camargue. Carpentras or Avignon are good places to base yourself for rides to stunning villages like Isle-sur-la-Sorgue and Fontaine de Vaucluse.
Bring some sort of satnav, but don't worry too much if you get lost – you may casually just discover one of the greatest cycle rides of your life. One recommended is from Methamis via the Cote du Javon to St-Saturnin-les-Apt. Follow the D5 and then the D943. The route back is even more stunning, with the gorge on your near side.
Vineyard tour to Châteauneuf du Pape
Why not build a detour into your itinerary to enjoy a day's tour of Châteauneuf du Pape, a small village famous for its famous French wine Appellation. The vineyards date back to the 14th century, a time when the Popes had become established in Avignon.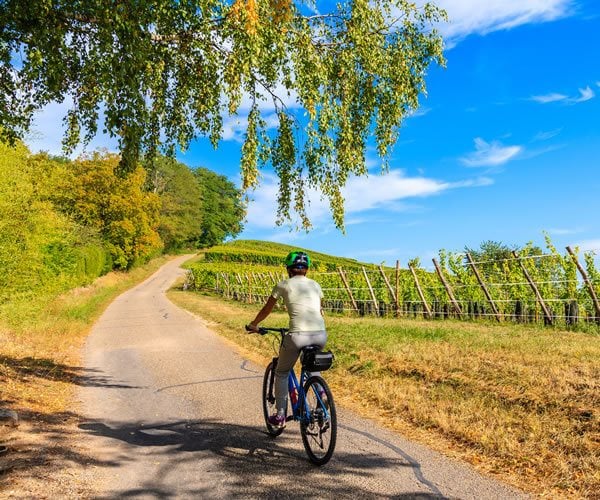 After visiting the village, you can drop into the museum of wine and learn all the secrets of the Châteauneuf du Pape wine. Naturally, ending with an obligatory wine tasting.
Cycling Mont Ventoux
The fabled Mont Ventoux, or the Giant of Provence is a kind of rite of passage to many cyclists, and it's not just the gladiators who find its temptation impossible to resist. We heard of a chap who spent 20 years dreaming of cycling it, 6 months to train and 2 hours grinding up.
Able to tick this huge achievement off his bucket list, he sobbed at the top. However, conquering the Ventoux should be approached with caution. Mont Ventoux will always have the last laugh!
By bike, Provence is undeniably a feast for all the senses. You'll ride through adorable sleepy villages, olive groves, vineyards and cherry orchards. Gentle routes may be interspersed with demanding terrain and altitudes. Chilled evenings can be spent sipping alfresco aperitifs whilst nibbling on cheese, olives and warm freshly baked bread. And for one last temptation, there will be no need to spend any of your holiday time hunting for a car parking space!
Su Stephens is Owner of Olives & Vines. Olives & Vines is a luxury holiday company based in the South of France offering stays at their beautifully designed holiday house and boutique hotel in Le Castellet.
If you would like to be a guest blogger on A Luxury Travel Blog in order to raise your profile, please contact us.