By
Steve Newman
on Jan 20, 2020 in
Africa
,
Asia
,
Cruises & Boat Travel
,
Ecuador
,
Egypt
,
Europe
,
Greece
,
Indonesia
,
Regions
,
South America
,
Speciality Travel
,
United Kingdom
,
Western Europe
,
Worldwide
The days of sail were thought to be over but they're coming back with a vengeance. More and more people want to be environmentally friendly when they take a cruise these days and you can't get much greener than a luxury sailing ship especially one that has been converted into a 5 star cruise liner.
With their teak-lined decks and billowing white sails, luxurious amenities, gourmet cuisine, exceptional service and with only 30 to 300 guests on board these vessels allow clients to soak up the ambience of almost owning their own private yacht. The real beauty of these ships however is that because the vessels are smaller than conventional cruise ships, they can call into ports untouched by larger craft. Stabilisers are installed as are engines for manoeuvring in port and keeping on schedule when the wind drops and for other safety factors.
Here are 9 cruise options to consider for your next luxury sailing adventure.
Nour el Nil
Sailing along the Nile has always had a luxurious feel to. It was especially loved by the Edwardians sailing on the traditional dahabiyas where they drank their gin and tonics as the sun went down. Nour el Nil reintroduced these boasts to the Nile and the colonial elegance is all around you with the company offering the longest sailing between Luxor and Aswan. They run four boats all built locally offering a mixture of tradition and luxury elegance.
El Nil is the third largest of Nour El Nil's dahabiyas, built in 2006; she includes an expansive top-deck, comfortable salon, and 10 rooms. Able to accommodate up to 20 guests.
SeaTrek Sailing Adventures
SeaTrek Sailing Adventures run seven to twelve-day cruises offering land and sea-based activities across the eastern part of Indonesia throughout the year. The company uses two wonderful vessels based on the traditional pinisi boat culture of the region.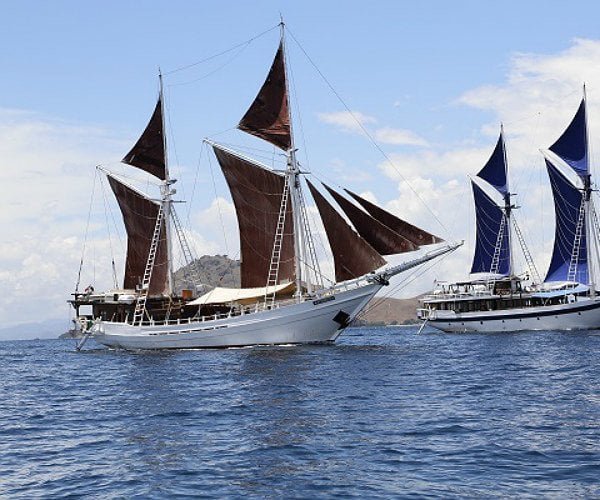 The two wooden ships Ombak Putih (24 Guests in 12 cabins) and Katharina (12 guests in 6 cabins) have both undergone major refits in rent years. The range of cruises available is simply amazing visiting Bali and Komodo and some of the lesser visited islands the large cruise ships cannot reach. All cabins are air-conditioned en-suite with both boats having dining areas, sundecks and a wide selection of Indonesian, Indian and Asian cuisine.
Steppes Travel
Steppes Travel offer a real gem of a cruise, after all if you want to visit the greatest spot for wildlife on the planet why not explore the Galapagos Islands under sail? The 172-foot-long square-rigged barquentine Mary Anne is one of the most romantic ways of cruising the archipelago.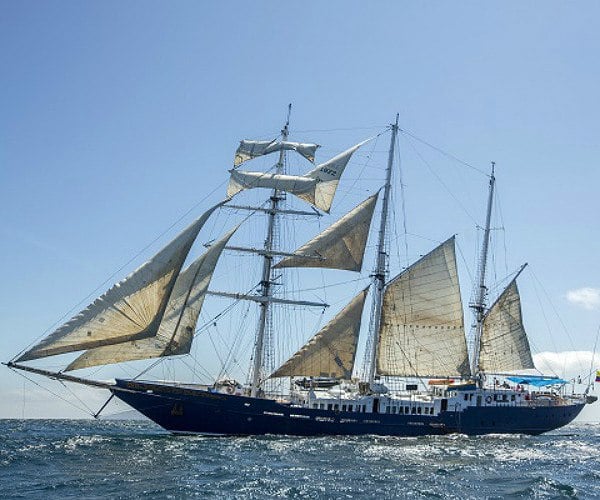 Originally designed to carry 28 passengers, she now only carries 16 to ensure that there is an abundance of communal space. She has a comfortable wooden panelled lounge with a small bar area, and there is an al fresco dining area and a canopied sun deck. While she does have to use engines to satisfy park rules, the crew do try to use sail whenever possible and that is when she comes into her own.
Star Clippers
Star Clippers has three ships in their fleet, and all are modern, high-tech, re-creations of the classic clipper sailing ships that dominated the oceans of the world in the 19th century. The three masted Star Flyer and Star Clipper carry 170 passengers whilst their sister, the five-masted Royal Clipper carries 227 with a crew of 106.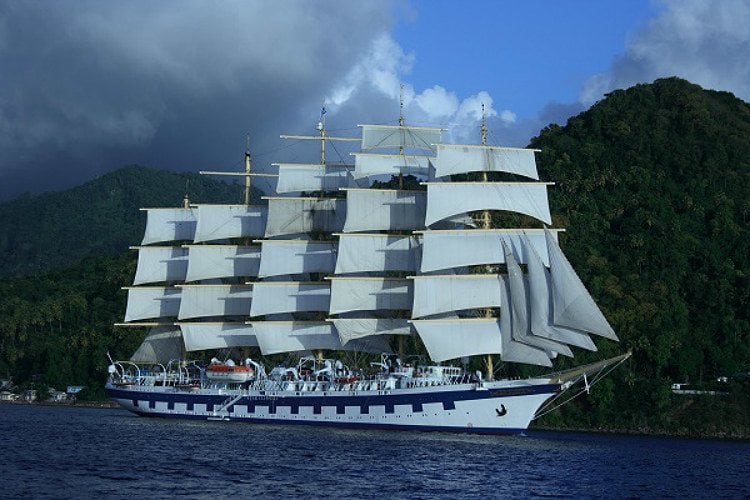 Each ship has sunbathing space on extensive teak decks, two plunge pools, an outdoor bar, a piano lounge, Thai massage, water sports equipment and an open seating dining room. The company sails in the Mediterranean, Caribbean, Asia the Far east and also offers transatlantic crossings.
Variety Cruises
MV Galileo is one of three sailing vessels operated by Variety Cruises in Costa Rica,Tahiti and Greece. The Galileo sails in the Greek islands throughput the season and is well known for her circumnavigation of the Peloponnese vesting all the major archaeological sites of ancient Greece. She also offers a late season circumnavigation of the Peloponnese visiting the major sites without the crowds and a special traverse of the Corinth Canal.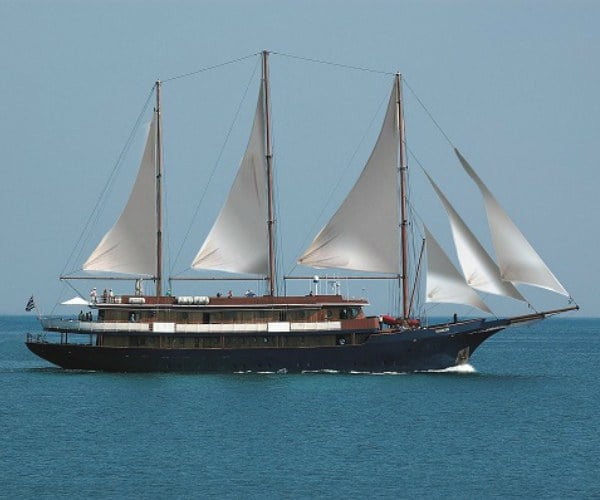 Comfortable inside with only 49 passengers her cabins are functional and well presented. The 18-member crew are extremely attentive the interior is well planned with nothing being too much trouble. She has a sun deck, and outside lounge bar at the stern on the middle deck.
Le Ponant
Le Ponant is the beautiful flagship of the Ponant line and offers French style six-star indulgence with all the modern trimmings. Her cuisine is French style with a welcoming and intimate environment. Sailings include Cuba to Bermuda, Ocean Cruises, Cape Verde and around Italy and Corsica.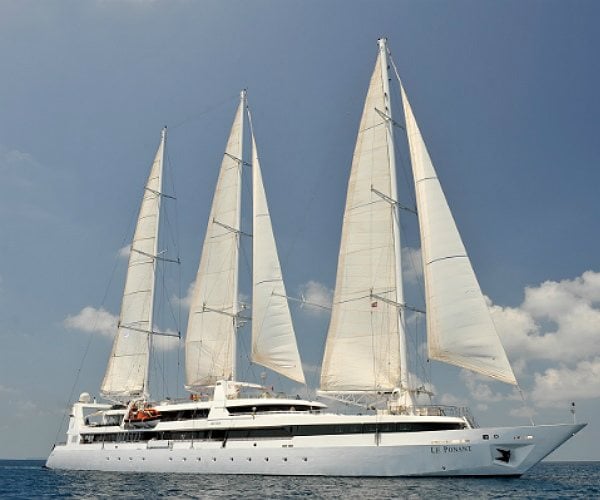 She has a large sundeck, 32 cabins all with portholes. The accommodation is tastefully decorated in blue and white with two comfortable lounges. She has a large sundeck, outdoor restaurant and easy access to swimming in the sea from her marina. Lunch is a buffet served on the terrace, with evening open dining in the refined restaurant.
Sea Cloud Cruises
Sea Cloud Cruises have two superbly fitted out five-star sailing ships in their fleet. The Sea Cloud (carrying 64 passengers and 60 crew) and Sea Cloud II (maximum of 94 passengers and 65 crew) are both windjammers where the sails are still set by hand by trained riggers but with some mechanical winches involved. Quite simply this is wonderful luxury with each boat having a lido deck with bar, restaurant with free seating and one sitting.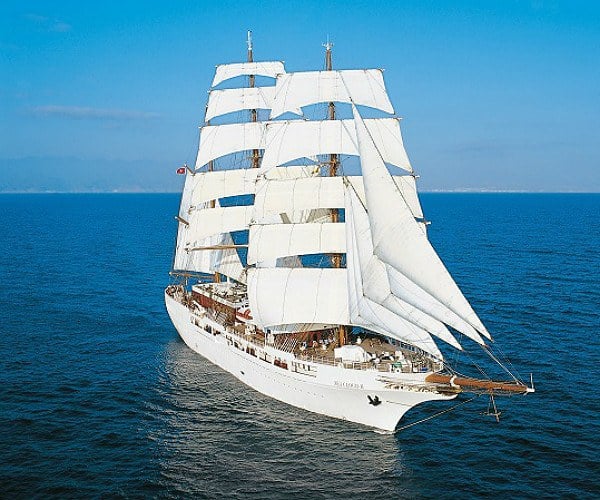 Sailing voyages cover the Mediterranean, Caribbean, Central America UK and Western
Europe with trans-Atlantic voyages are also on offer. In 2020, the new Sea Cloud Spirit will join the fleet.
Windstar
Windstar is considered a high-end cruise line and have three 148 to 342-guest small sailing ships in their fleet. These ships are very much a luxury yacht style with sails. Their flagship, Wind Surf sails with just 310 pampered guests in 154 total staterooms: 31 oceanview suites with his and her bathrooms, 2 Bridge Suites, and 123 deluxe oceanview staterooms.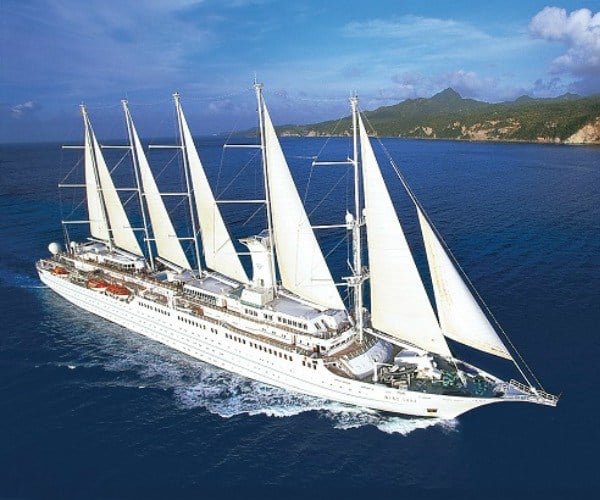 Their ships cruise all over Europe including the Baltic and the Med. In addition, the winter seasons are spent in the Caribbean, Costa Rica and Panama, and Tahiti. They are renowned for their service and luxury they offer to their guests.
St. Hilda's
St. Hilda Sea Adventures offers sailing holidays around the wild islands and remote anchorages of the Inner and Outer Hebrides. It's certainly cruising with a difference with a maximum of six guests per cruise you can enjoy hoisting the sails and eat fresh locally sourced food each night. The well-lit, roomy deck saloon is where everyone dines and socialises and where you can enjoy a convivial atmosphere whilst the cabins are warm and comfortable.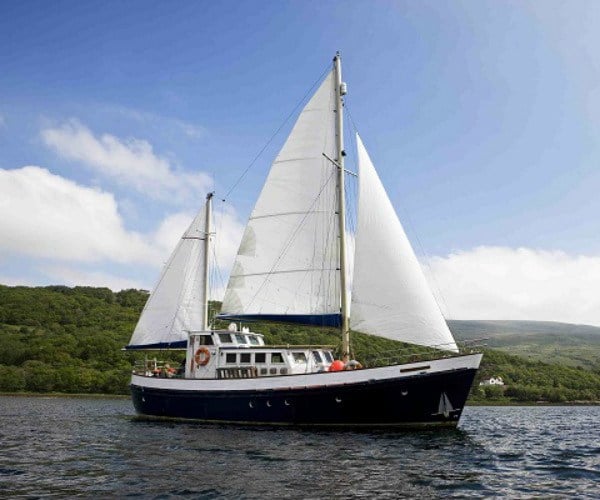 Built for twenty, the boat is very roomy. Extraordinary wildlife is everywhere from minke and occasional killer and humpback whales, dolphins, porpoises, basking sharks, otters to many species of rare sea birds, especially gannets, puffins and sea eagles.