By
Kristof Eyckmans
on Feb 03, 2020 in
Accommodation
,
Africa
,
Botswana
,
Camping
,
Hotels
,
Namibia
,
Regions
,
Resorts
,
Rwanda
,
South Africa
,
Tanzania
The ever growing safari market makes it difficult to find those hidden gems which are low key, intimate, yet tick all the boxes a discerning safari enthusiast is looking for. As a result, some of the big names in the industry have created what I would call boutique safari lodges which are the perfect answer for those who are looking to experience a true safari without having to deal with large crowds.
&Beyond Sandibe, Okavango Delta, Botswana
This amazing lodge is located in the Okavango Delta, which in itself is already a sort of boutique location in southern Africa. If there would be a design price for lodges, &Beyond Sandibe would win it, hands down. The main building with its beautiful wooden arches that span over several levels, the use of materials,… is in a league of its own. The rooms are equally impressive with private pools, oversized beds, and views over the delta. As it is an unfenced lodge, you might spot some wildlife in the camp, or at least find footprints in the morning when you walk to the main lodge for your breakfast.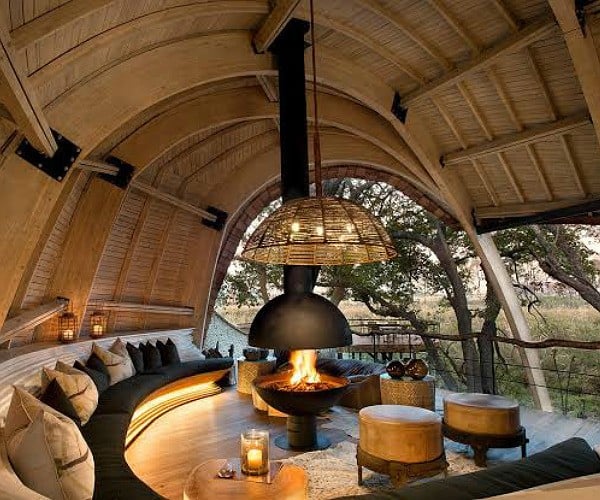 Talking about food, the culinary journey which you will enjoy here is one to remember. Never have I seen a place where they have a dedicated eggs benedict breakfast menu besides all the other choices of course. One would think these boutique lodges are not suitable for kids, though you couldn't be more mistake, as Sandibe (and other lodges of the &Beyond brand) have the WildChild program. It will make sure the kids, no matter their age, will have the best time ever while on safari. Something more lodges should do if you ask me, as they are our future and nothing better to find those new conservationists than to start teaching and showing them the wonders of our planet.
The Farmstead, Thornybush, South Africa
It's the smallest and most recent safari lodge from The Royal Portfolio. It is so boutique even Tripadvisor doesn't know it. Located a mere 10 minutes from its sister lodge, the Royal Malewane, it not only shares the same private game reserve but you can also use all the facilities of the bigger lodge. Specially the spa is something to consider. The Farmstead has only 3 farm suites and 1 farmhouse. The latter can accommodate 6 adults and 2 kids and comes with its own butler, private chef and game drive vehicle. Even though there's only a dozen guests at any given time, there is a gym and spa available at the main building, next to the restaurant, lounge and bar. The style of the property is eclectic and once again done by Liz, one of the owners of the Royal Portfolio.
Compared to the Royal Malewane it is more contemporary, though you will still find amazing antique doors next to modern art works and so on. Besides the amazing sundowners which you can enjoy on your game drives, my favorite experience is sitting around the fire on the deck in the evening, watching the stars listening to the sounds of the bush while enjoying a good glass of whatever you fancy. You might also be too full from all the delicious food which the chef prepares at the Farmstead, so that night cap is just the perfect way to end an equally perfect day at this little gem.
Hoanib Valley Camp, Namibia
Located in one of the most remote places, the Hoanib valley camp boosts 6 luxury tents which are like a little oasis is this dry and desolate landscape. But don't be fooled, there is plenty of stuff to see and do. Of course, there's the obvious luxury treatment which you'll experience as in any other Natural Selection property, though your initial attention will go to the sheer beauty of the surrounding area. And no need to rough it even though the civilized world is as close as a polar bear is to a tropical island.
Everything you need in this remote place is provided, even Wifi, in order to make sure you can share everything on social media with the rest of the world. People come over here to track some of the elusive animals like the desert adapted lion, rhino, giraffe and even elephant. While not easy to find, they are roaming around and the guides will do their best to find these amazing animals. Another highlight is having one of the cultural interactions with the local Herero people, also known as Ovaherero.
Magashi, Akagera, Rwanda
Rwanda is one of those countries that is fast becoming one of the hotspots for avid travelers. It has left its past behind and hospitality companies are rushing in to make sure they get their piece of the pie, cause even though it is a rather tiny landlocked country, it has plenty of highlights to offer. One of them is the Akagera National Park which is located less than 3 hours away from the capital city Kigali. Wilderness Safaris saw the potential of the park and constructed the Magashi Camp, in the north-eastern corner of the park. It comprises of 6 tents which all look out over Lake Rwanyakazinga. A lake which is perfectly suited to do boat safaris, but also a great place to spot some of the 520 bird species you'll be able to find over here.
The style of the camp pays homage to the traditional Rwandan culture, though with a modern twist. My favorite spot is the viewing deck which leads to the fire pit where you gather in the evening for your night cap, or just to admire the stars. If that's not your thing, you can opt to go on a night game drive to look for those nocturnal animals. With a good population of leopards you're chances of spotting one are quite high. Whatever you choose, you're going to have an amazing time.
Singita Faru Faru Lodge, Serengeti, Tanzania
Located in one of the best area's in Africa to see wildlife roaming freely, Singita Faru Faru is not only a treat for safari lovers, but also for those who enjoy pure luxury while being completely remote in the African bush. Bordering the famous Serengeti, Singita has its own private reserve, named Grumeti, in northern Tanzania. This allows them to offer a really exclusive experience where only their guests can enjoy the beautiful scenery which is home to countless animals. There are a 5 Singita properties to choose from (of which none will disappoint) and Faru Faru is surely among my favorites.
It has a wonderful contemporary design, yet still keeps the African style running through the whole lodge. The soft tones and colors turn everything into a perfect place to relax and wind down. There are only 9 suites so it will never feel crowded, nor does that mean there are less amenities. Two swimming pools, a gym, a spa, even a boutique and gallery, it's all here. One of the main attractions for me personally is the fact that children from all ages are welcome, which often isn't the case in smaller boutique lodges. Here, they even have a specific family suite and will tailor-made your activities and program in order to suit the whole family. I'm sure any family will make unforgettable memories here.
Do you know any other boutique safari lodges which deserve a spot in this list?