February tends to be a very popular time for family ski holidays in the UK, with the half-term holidays usually falling around the middle to end of the month. It's a time when families who love the outdoors head to the Alps with snow on most slopes pretty much guaranteed. As regular readers will know, our two teenage sons' usual preferred sport of choice is sailing but this winter they are very much looking forward to a school ski trip to Davos in Switzerland, free from the embarrassment of Mum and Dad.
With their sailing, they have always sworn by their Helly Hansen gear so, when it came to kitting them out for the slopes of Switzerland, it was an obvious choice for us. Helly Hansen's products always offer a reliable mix of comfort, functionality and style. And whilst Davos sits at 1,560 m (5,120 ft), the slopes of the resort reach more than double that height – 3,146 m (10,322 ft) at Schwarzhorn (Flüela) – so we needed to be confident that they would be assured with the warmth and comfort of a reputable brand.
Here's how we've kitted them out for the trip:
The jacket and pants
For our older son, James..
Garibaldi Jacket (Colour: 971 Quiet Shade)
Helly Hansen's insulated HELLY TECH® Professional Garibaldi Jacket is designed to protect skiers from the external elements with its waterproof and breathable Primaloft® insulion. It is an iconic ski jacket that's even used by professional skiers on the Canadian ski team.
It offers a relaxed fit and protection from even the harshest conditions thanks to its innovative H²Flow™, keeping the wearer dry, warm or cool depending on the conditions and intensity.
It even comes with Helly Hansen's innovative Life Pocket™, which helps keep smartphones alive for longer on colder days, and the Recco® advanced rescue system (a reflector that provides an electronic method of finding people buried in an avalanche).
Legendary Insulated Pant (Colour: 971 Quiet Shade)
This insulated version of Helly Hansen's best-selling Legendary Pant comes in a classic style and gives added warmth on cold days. They are fully waterproof and breathable, keeping skiers dry, warm and comfortable – a firm favourite for many years but now with Primaloft® insulation and mechanical venting to ensure exceptional thermal regulation.
For our younger son, Tom…
Straightline LIFALOFT™ Jacket (Colour: 971 Quiet Shade)
Another favourite used by the Canadian national ski team, this LIFALOFT™ insulated men's ski jacket features a longer silhouette, spacious pocket space, and double needle embossed stitching. It appears to be super warm without being bulky yet scores full marks on all the performance rankings (windproofness, waterproofness, breathability and durability).
Exclusive to Helly Hansen, LIFALOFT™ offers a great way to keep warm without feeling weighed down.
Legendary Insulated Pant (Colour: 597 Navy)
Tom will also be wearing the Legendary Insulated Pant. It comes in a choice of eight differ colours and he has opted for the navy version.
Layering
Anyone who's familiar with spending time in the outdoors in colder climates will recognise the importance of layering. With insulating base and mid-layers that provide wicking, warmth and protection from the wind, you're more likely to keep warm and have fun on the slopes if you're dressed appropriately.
For both boys…
HH LIFA® Merino 1/2 Zip (Colour: 990 Black)
This base layer has a 2-layer construction with flatlock seams, a 100% merino wool exterior that keeps you warm and the unique properties of technical LIFA® technology to keep you dry. It is Helly Hansen's warmest base layer and helps to keep sweat away from the skin so that it doesn't lead to chilling. The half-zip also allows the wearer to quickly cool down a little after a busy day on the slopes.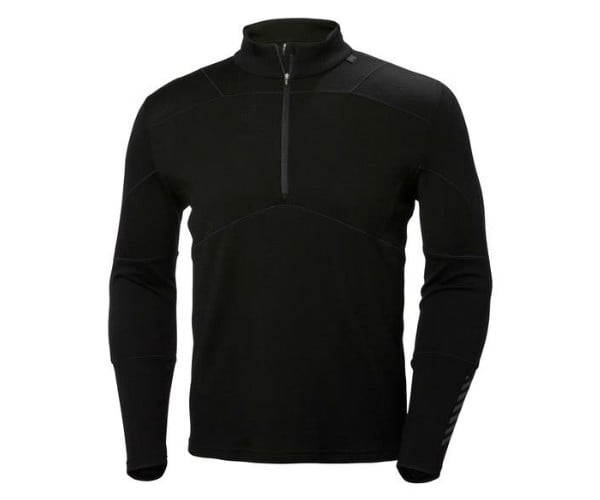 LIFALOFT™ Insulator Jacket (Colour: 964 Charcoal CA)
Unlike the base layer which provides the wicking and the outer jacket that provides protection from the elements, it's the mid-layer that actually provides much of the warmth. LIFALOFT™ is Helly Hansen's new technology for the winter season and serves as an amazing midlayer – super lightweight, amazingly insulated and not bulky at all. It took four years in development with the HH ski ambassador team and working very closely with the Primaloft® team to develop the perfect insulator.
To top it off
Growing up, I remember being told things like "80% of your heat is lost through your head" but apparently it's all a myth. More recent research published in the British Medical Journal suggests the figure is more like 7-10% of total body heat. So the layering described above is super-important but at the same time a 10% heat loss is not to be ignored so, when they're not wearing their helmets but want some additional warmth, our boys will be wearing Helly Hansen's Business Beanie.
They come in two shades – charcoal grey or black – with a classic look, and will offer that little bit of extra warmth and comfort if it's ever needed.
Once they're back from the ski trip, I'll provide a follow-up post that provides more of a first-hand account of how the boys got on with the new gear.
Disclosure: This post is sponsored by Helly Hansen.