A vacation is supposed to be a relaxing time when you disconnect from your routine and have a stress-free couple of days… or weeks. Cruises are a great way to spend your vacation since you don't have to worry about anything but being on time for the daily excursions and enjoying the activities included in your itinerary.
Once you have booked your cruise all you really need to do is to show up where the cruise starts, your excursions will be planned ahead of time and guided by a professional who will give you a more in-depth insight of the place you are visiting.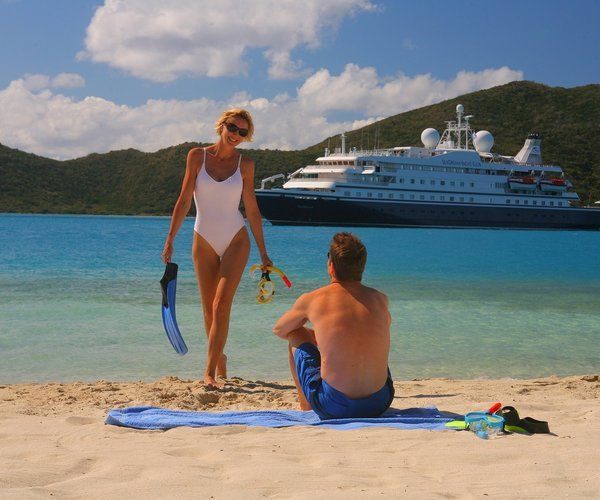 Accommodations can vary depending on the cruise; some cruises may include the basics, so you have some creature comforts while on your trip. Others may even have a gym and infinity pools. Some may have a capacity of 5400 passengers and others will only have up to 12 passengers on board.
Going to the Caribbean on your vacation is an incredible experience, but how does it compare to a Galapagos cruise?
Can you expect the same from a cruise in the Galapagos? Let's find out.
Personalized service
Although Caribbean cruises and Galapagos cruises offer impeccable service on board by experienced professionals, you must know that on board a Galapagos cruise, you won't feel like a needle in a haystack as you would aboard a cruise ship with another 1000 people. Since most Galapagos vessels have a capacity of 12-20 passengers, this guarantees that your experience extra special. Crew members will always be looking after you and your excursions will be remarkable as your guide will have time to clear any doubts and help you look for local wildlife. Although wildlife comes to you in the Galapagos, so you don't really need help on that part.
On-board activities
Caribbean mega cruises offer many activities onboard, like dance lessons, bingo games and other workshops. Additionally, coffee bars, restaurants, casinos and water slides are usually part of the cruise amenities.
On your Galapagos cruise, the swimming pool will be replaced by the ocean as snorkeling, kayaking and swimming with sea lions will be part of your daily activities. Bingo games and dance lessons will be replaced by exploring a new place in an inhabited island almost every day, walking on lava rocks, hiking to the top of an island or simply watching the untamed wildlife of the Galapagos around you.
Learning
Although the Caribbean is rich in colonial history, ancient cultures, and pirate stories, most cruises prefer to take their passengers to more popular sites like white sand beaches and port cities focusing more on activities like cocktails on the beach, water sports, and shopping.
Galapagos cruises offer a unique insight in the remarkable history of the Galapagos Islands, from a famous scientist who was fascinated by its wildlife, to the pirates and conquistadors who arrived in an archipelago without knowing it was one of the most beautiful secret jewels in the ocean, to the German families who fled from the war and had to survive in a hostile archipelago filled with what for them were strange creatures. During your Galapagos cruise, you will have a first-hand experience of the adventure of a lifetime, while at the same time getting to know some curious history and science facts to take home and share with your friends and family.
Of course, everyone has their preferences. Some might enjoy a mega-cruise in the Caribbean, packed with activities that are fun but familiar.
However, for those that prefer a cruise with outdoor activities like kayaking, snorkeling, meeting face to face with giant tortoises, swimming close to sea lions, sharks, rays, and marine iguanas, walking on lava flows, swimming at a pitch-black sand beach, all while learning about geology and biology… then a Galapagos cruise is definitely for you!
Carlos Beate is the Commercial Manager at Andando Tours. Andando Tours offers exclusive traveling experiences, specializing in sailing around the Galapagos Islands and overland along the magnificent Avenue of Volcanoes on the Ecuadorian Andes.
If you would like to be a guest blogger on A Luxury Travel Blog in order to raise your profile, please contact us.