Whether you celebrate it or hate it, in February we are all bombarded by Valentine's Day and all things love. For those celebrating special occasions in 2020: big anniversaries, birthdays and honeymoons, we think that few other countries do luxury romance like the tiny tropical country of Costa Rica. With verdant nature, stylish high-end hotel options and sweeping vistas of jungle, ocean and mountains, Costa Rica is perfect for a memorable couple's getaway.
Playa Cativo, Osa Peninsula
Blissfully remote and accessible only via a scenic boat ride across the Pacific Golfo Dulce, Playa Cativo is the ultimate escape for nature-loving couples. Situated in Costa Rica's picturesque and biodiverse Osa region in the southern Pacific, this chic lodge backs on to the Piedras Blancas National Park, known for being home to over 140 mammal species including all five of Costa Rica's wild cats. Offering a sweeping view of a palm-lined beach and the dolphins playfully leaping in the Gulf from the open-air dining terrace, Playa Cativo is the perfect luxury escape for those who seek immersion in Costa Rica's abundant tropical nature.
For couples celebrating special occasions, we recommend booking one of the lodge's exclusive Premium Plus Casitas. These exquisite stand-alone rooms feature a sophisticated private plunge pool and a spacious private terrace to enjoy the balmy climate in romantic seclusion. The plush accommodation, Pacific breezes, and luxurious complimentary amenities; coupled with a truly stunning restaurant menu of refined and innovative dishes made from organic local produce, makes Playa Cativo a treat for all the senses.
Kura Design Villas, Uvita
Without question, the space-age Kura Design Villas perched high in the hills of Uvita, have the most attractive and 'Instagram-able' infinity pool in all of Central America. Composed of clean lines, slate-grey edifices and angular design, the avant-garde Kura complex does stand out against its lush green backdrop. Offering an adults-only hideaway with just eight exclusive suites, this stylish resort and its stellar views towards the Marino Ballena National Park is an ideal getaway for couples seeking an attentive, but laid-back atmosphere with plenty of privacy.
Just a short shuttle ride away from some of the Pacific Coast's prettiest stretches of sand, Kura and Uvita feel a million miles away from the somewhat over-commercialised attractions of the better-known Manuel Antonio. The main attraction in the region is the 'Whale-Tail' of the Marino Ballena National Park, an oddly shaped spit of land shaped like a whale's tail where whales can be spotted on boat trips at the right time of year. Snorkelling and diving off the coast of Uvita, around Caño Island, is also something that will appeal to more active couples. Finish the day with a sparkling Pacific sunset and an elegant cocktail in hand on the private terrace of your sleek villa in the mountains.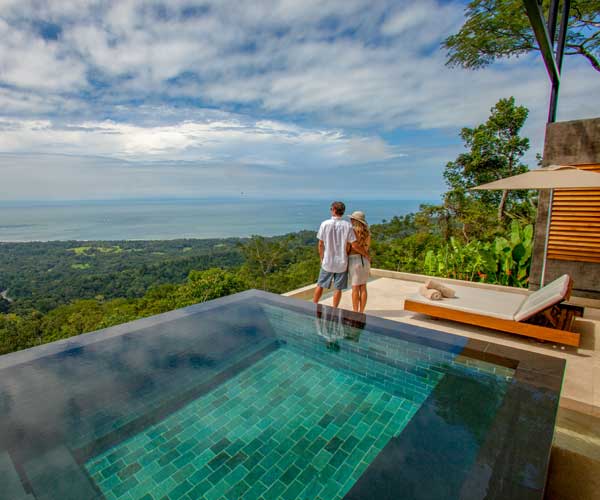 Nayara Springs
For travellers seeking an easy luxury hideaway for a romantic occasion, the Nayara Springs Resort in the Arenal region of Costa Rica is likely the best option. Ideally situated in a region where all of Costa Rica's famous adventure and nature activities can be enjoyed from a single base, alongside natural hot springs formed by the geo-thermal activities of the volcanic earth, this plush resort is a slice of tropical heaven on earth. Boasting a delightful full-service spa tucked away amongst carefully landscaped gardens and rainforest, several beautiful outdoor pools, and a multitude of cosy dining options where guests can enjoy romantic dinners – Nayara has all the facilities guests could hope for during a couple's escape.
Each tastefully designed and almost absurdly spacious Springs Villa provides guests with a spacious private deck with garden views, finished off with a large private plunge pool to lounge in during quiet moments. The stand-alone bungalows are ensconced in tropical vegetation so brilliantly that you could be forgiven for thinking your own casita was the only one in the resort. Guests of the adults-only Nayara Springs have full access to the restaurants and facilities of the hotel's family-friendly sister-property, Nayara Spa & Gardens, meaning that even for longer stays, this authentic Costa Rican retreat can offer plenty to keep visitors happy and entertained.
Casa Chameleon
A luxurious adults-only hotel on the beautiful Nicoya Peninsula, this romantic retreat enjoys spectacular views over the unspoiled beaches of Mal Pais and Santa Teresa. This is one of Costa Rica's best kept secrets – a preferred destination for nature lovers and couples seeking an exclusive hideaway. With its intimate setting, Hotel Casa Chameleon offers complete seclusion, relaxation, and one-of-a-kind personalised service that is the perfect fit for special holidays like honeymoons.  Extensive tropical landscaping and natural borders create perfect privacy, making each villa at the hotel a secluded piece of paradise that blends in perfectly with the jungle.
All of the private villas feature a stylish private plunge pool, luxurious king-size beds with fine linens, expansive balconies and spacious covered porches with lounge chairs and hammocks with a private outdoor dining area perfect for organising romantic candlelit meals. The villas have floor to ceiling glass doors that let nothing come between you and peaceful ocean breezes with amazing panoramic views.
Pacuare Lodge
The perfect fit for adventure-loving couples looking for a memorable retreat in Costa Rica, the remote Pacuare Lodge brings comfort, style and fun in bucket-loads. Situated on the banks of the roaring Pacuare River in Costa Rica's central transitional forest zone, this isolated lodge is best reached by taking part in a rafting expedition with the experienced guiding team. Whilst your belongings reach the lodge via a rough dirt road, guests can enjoy a scenic rafting tour into the lodge over Class II and III rapids. Rafting out at the end of your stay offers a longer, three-hour expedition through Class III and IV rapids and a stunning tropical canyon.
All meals are included at the lodge and the eco-friendly gourmet cuisine offered by the hotel kitchen is a real highlight of a stay here. Enjoy a romantic candlelit dinner on the restaurant deck or on a secluded treetop platform with the soft sounds of the Pacuare River whispering in the background. For a special occasion like an anniversary, honeymoon or birthday, we recommend booking a Linda Vista suite. These spacious cabins are closest to the riverfront and feature an ample terrace with cosy lounge chairs by an all-natural, spring-fed private plunge pool –  perfect for a memorable romantic getaway.
Simon Williams is Director of Humboldt Travel. Humboldt Travel is a luxury travel company specialising in tailor made holidays to Latin America.
If you would like to be a guest blogger on A Luxury Travel Blog in order to raise your profile, please contact us.