Singapore has become a popular holiday destination for many all around the world. Not only is it home to a beautiful culture, friendly faces, and delicious Singaporean cuisines, but it's also full of luxuries and relaxing getaways perfect for Muslim couples, families, and travellers looking to unwind. Complete with various world-class attractions, halal-friendly hotels, and access to hundreds of exotic and exciting towns and cities to explore, Singapore is truly a must-visit destination suitable for travellers of all ages.
Known for being such a small island, it may be surprising to hear just how much there is to do, and how many breathtaking places there are to visit. Apart from exploring the various must-see attractions, Singapore is also home to three amazing hotels which we feel will be the cherry on top of your city break. For those looking to unwind and forget about the world, we've got the perfect selection of hotels for you. If you're looking to relax, sit back and watch beautiful views go by as you indulge in the luxuries you desire, then keep reading and check out our favourite picks for your Singaporean getaway.
Fairmont Singapore
The beautiful Fairmont Singapore is perfect for those looking to be right in the heart of the city, yet still, have the chance to enjoy the luxuries and comfort you know you deserve. Set along a mall and the MRT station, enjoy easy access to all your shopping and exploring needs before swiftly making your way back to the hotel for some much-needed rest.
Each room at the Fairmont Singapore exudes sophistication and comfort, complete with your own private balcony where you can enjoy far-reaching views. Our favourite pick, the Fairmont Premier Room includes a king bed for comfortable nights in, a Nespresso, and a tropical rain shower. Topped off with a gorgeous marble-lined bath and luxurious Le Labo products, here you'll get the best of both worlds being so near to the city yet still able to indulge in the luxuries you require for the perfect holiday.
What we love most about the Fairmont Singapore is their available halal menu, and halal certified kitchen. There is also a selection of mosques nearby for Muslim guests looking to explore and pray. The elegant Willows Steam Spa is just another luxury waiting to tempt you with its luxurious spa treatments and facilities; the perfect way to unwind after a day on your feet.
Marina Mandarin
A multi-award-winning hotel, The Marina Mandarin is one of Singapore's finest hotels. Suitable for both business and leisure, this hotel is a must if you're looking for something extra special without being too far away from your everyday leisure or business needs.
Situated in the heart of downtown Singapore, enjoy shopping at the famous Marina Shopping Square Mall, hours of fun and entertainment at the Esplanade Park, and the Bujis Junction, home to several electric markets and various must-buys. The rooms at the Marina Mandarin hotel offers luxurious finishing touches, sophisticated designs, and the warmth of the friendly Asian hospitality. Our preferred room, the Executive Deluxe Marina bay view room provides you with gorgeous views of the Marina Bay, a private balcony to enjoy the views from, a welcome basket of fruits to sweeten up your arrival, a marble bathtub, an outdoor mineral pool to relax in, and a halal-certified halal kitchen offering scrumptious halal cuisines and Singaporean dishes.
All rooms at the Marina Mandarin are alcohol-free, making it another halal friendly getaway perfect for Muslim guests. With easy access to prayers, enjoy the opportunity to explore the stunning Singaporean mosques and their beautifully thought designs.
The Naumi
Another beautiful boutique hotel, The Naumi is the perfect retreat away from the busy city. Here you'll enjoy 73 elegantly designed rooms all fixed with the latest technology, facilities and amenities you'll need to enjoy a peaceful night in. There is also a selection of halal restaurants nearby ready to see to all your cravings, while various shopping options are just a short walk away.
The hotel comes with a rooftop infinity pool offering guests hours of relaxation and beautiful views, while fitness rooms are also ready to keep those that want to keep in shape and work out while on holiday. Just like our other two hotels mentioned, mosques are nearby for those looking to explore and pray, and with the warm and friendly staff ready to lend you a helping hand, finding the perfect mosque, restaurant, activity, or city destination will be as easy as it can be.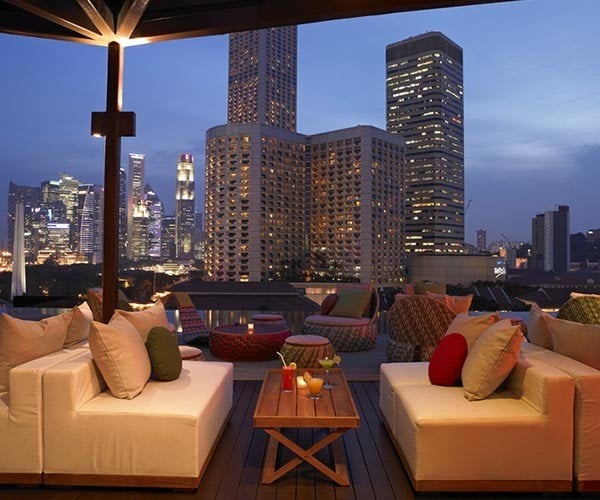 Wherever it is you decide to stay, we're sure your time in Singapore will be a fun and exciting one. With the city alone having so much to offer, and the country overflowing with must-visit tourist attractions and things to do, your agenda will be packed full of adventurous days out and about! Don't forget to choose a hotel close to the city centre to ensure you make the most of your time!
Nabeel Shariff is the Owner of Luxury Halal Travel. Luxury Halal Travel brings together some of the world's leading hotel brands to offer Muslim travellers incredible experiences whilst observing their Muslim faith.
If you would like to be a guest blogger on A Luxury Travel Blog in order to raise your profile, please contact us.