Forest Bathing is a hot travel trend for 2020, having been featured by Lonely Planet and Wanderlust, and even appeared on a two BBC TV programmes recently. It's also one that ticks plenty of boxes. It's sustainable, it taps into the demand for slow travel, and, as part of wellness travel, it's genuinely good for you! Based on the Japanese nature therapy, shinrin-yoku, forest bathing is all about immersing yourself in nature and its healing powers. Malawi still has an abundance of unspoilt natural areas and forests and so makes an ideal destination for forest bathing. Despite this being a relatively new activity, we've already identified no less than 9 places in Malawi that are perfect for forest bathing.
The aim is to use as many senses as possible to immerse yourself in your surroundings – listening, smelling and touching all that the forest around you has to offer. But this isn't just a new age gimmick – initial research discovered that it had a number of wellness benefits, reducing stress and improving memory, mood and wellbeing. This has been confirmed by recent studies by the Universities of Exeter and Edinburgh, as featured on the BBC's popular 'Trust Me I'm a Doctor' programme. So, for the good of your own health, take a look at our top places in Malawi to go forest bathing that cover highlands, reserves and even islands in Lake Malawi! Seeing as forest bathing should be practised regularly and not just carried out as a one-off activity, it's clear from the list below that this is something that can be undertaken throughout a tour of the Warm Heart of Africa!
Nyika Plateau
Nyika National Park is home to a unique and remote secret forest. A scenic drive from Chelinda Lodge through the afro-montane grassland to the south of the park will bring forest adventurers to the Southern-most stand of submontane Juniper forest in Africa. Spanning 9 hectares, the forest was the first area of the park to be classified as a reserve and is home to mature juniperus procera trees, some of which may be up to 1000 years old. Many of the trees stretch to an enormous 50m tall. Imagine then, walking amongst these humbling giants, their fleshy, berry-like cones can be found underfoot and when crushed release the perfume of gin.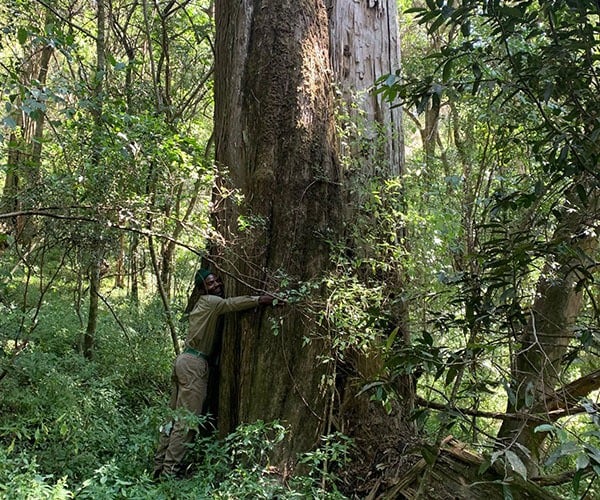 The forest is prime habitat for birdlife and is the nesting space for bar-tailed trogon and moustached tinkerbirds who serenade you while you explore. Those who tread quietly on the soft earthy floor may win a glimpse of the shy red forest duiker picking its way through the rich undergrowth. Within the forest's cool interior a glance upwards will bring into perspective beautiful epiphytic orchids that grow on the juniper trees. Sunbirds are regular visitors to the orchid flowers and can be seen in their exquisite metallic colour flitting between the trees. Owing to the high montane altitude and single road access, visiting the juniper forest is always a completely private experience and no set trails have been cut, allowing its visitors to follow natural game trails. The area remains almost entirely untouched and wild… the perfect environment for uninhibited forest bathing.
Manda Wilderness
Manda Wilderness is vast, stretching hundreds of kilometres across one of the most remote corners of Africa. Although it is part of Mozambique, it lies on the shores of Lake Malawi and is most often visited from Malawi. Nkwichi Lodge located on the beach of Lake Malawi in Manda, and responsible for the preservation of the wilderness, offers travellers a perfect base for an ultimate forest bathing experience. Uniquely undisturbed, the pristine miombo woodland is a lush, verdant wonderland filled with baobabs, ebony, fig and other tree species – amongst a treasure trove of biodiversity:  birds, insects & wandering wildlife such as zebra and duiker. This is one of Africa's last great, timeless forests and visitors can bathe themselves in its natural beauty to emerge reinvigorated and renewed. Perhaps best of all, the trees sweep right down to the shores of the lake and bathing in a freshwater paradise is just the stretch of a branch away.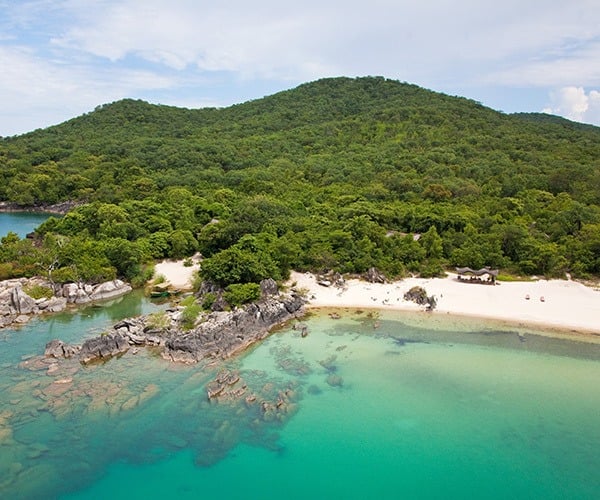 Forest bathing here can be enjoyed throughout the day – and night! Feel the cool dawn condensation underfoot as the sun's first rays pour golden light on the trunks, their reddish hue a first hint at the warmth of the day ahead. Explore meandering paths and trails, the swish-swash of elephant grass sweeping by whilst vervet monkeys chatter overhead. Discover clearings sprouting with ancient rock formations sparkling with quartzite and providing wide panoramas over the Rift Valley. Or find midday seclusion in the shade of a rock fig tree, its smooth, finger-like roots spilling down to the cool earth underneath. As the sun sets, submerge yourself amongst the silhouettes of baobabs under an incandescent sky and then bathe in moonlit glades as silvery shadows stretch through the trees. Fireflies, known locally as chimulimuli, mirror the twinkling of the stars overhead, whilst bush babies hop and scamper along the branches. For an even more immersive forest experience, a 'Star-Bed' is available for those who wish to sleep out under the trees.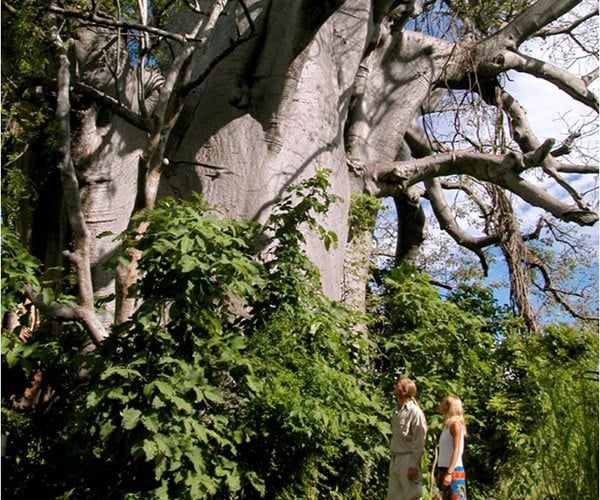 Viphya Plateau
The Viphya highlands run up the spine of north Malawi with peaks reaching 1800 metres (6000 feet) and landscapes of commercial forest, rolling grassland and indigenous woodland. Situated in the heart of the Southern Viphya Forest Reserve and adjacent to Luwawa Dam, Luwawa Forest Eco Lodge is ideally situated to provide forest bathing' to its guests. With the peace and tranquillity of the sweet-smelling pines and the raw beauty of the landscape and natural woodland, this is a wonderful location to immerse yourself deeply in the soothing atmosphere of the forest: its sounds, colours, textures, scents, wildlife and visual beauty.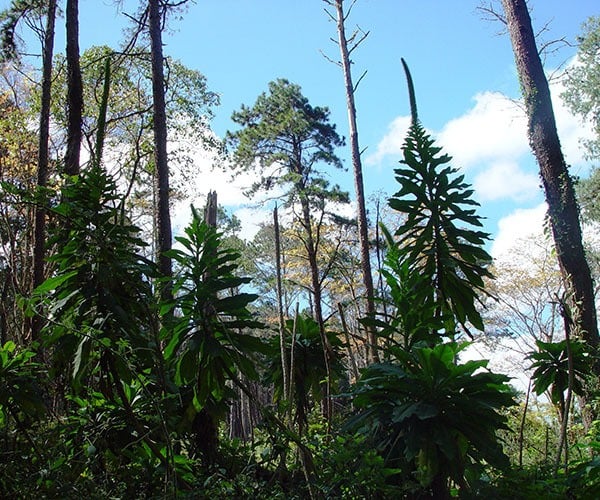 'Forest bath' is the literal translation of the original Japanese term 'shinrin yoku' and from this description emerges the idea of submersion; of allowing in the beauty of the forest atmosphere to wash over us and to absorb all that it can offer. In our fast moving and intensely demanding world, what can be more appealing than a slow meandering walk through Viphya's forests, taking time to absorb all that it offers both sensually and mentally. Stop for a while to observe, sit, and take in all the elements on offer: the foliage, the sounds of the birds and insects and the play of light on the forest floor.  Allow anxieties and troubles to float away as senses are opened to the joys that the forest can offer.  Meditate or simply sit and enjoy all that is there to be enjoyed. There are designated forest bathing areas but the lodge is surrounded by forest that offer many peaceful and beautiful locations to visit.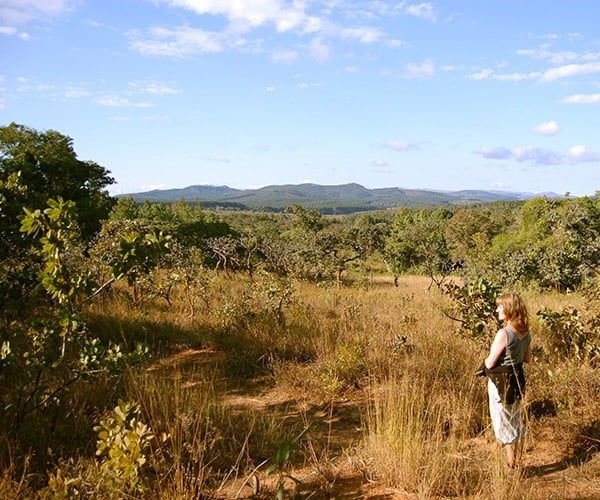 Nkhotakota Wildlife Reserve
Nkohtakota is an area of genuine wilderness on the Rift Valley escarpment. Covering 1800 sq km, this is one of Malawi's last unexploited wildernesses where a vast network of rivers weaves its way through wooded hills, nourishing the dense miombo forests that make up this unique ecosystem. The reserve is an ideal place to come and be at one with nature and explore the healing benefits of forest bathing. Leave your troubles at the door and soak up this tranquil beauty. Here you can watch the rivers flowing after the rainy season, feel the wind rustle through the leaves and hear the songs of the birds that inhabit the forest. It is always alive and full of energy, yet so calm and tranquil, away from the stress and noise pollution of the modern world.
Bua River Lodge is set right on the edge of the Bua River, even has rooms on islands in the river, and is a great place to enjoy forest bathing at its best. Each secluded unit is built right among the trees so you don't even have to leave your accommodation to get to the forest! You can sit on your private deck and let nature come to you. The detached, tented structures – with open sky showers – will make you feel fully immersed in the forest. Bathe deeply in its smells and sights and be part of the ongoing sounds of the wild. Join gentle, guided morning walks to immerse yourself deeper into this magnificent miombo forest, through shaded glens of dappled sunlight and open stretches of tall grasses. Each season is different and brings surprising delights, from butterflies, to fireflies, from rich, green, earthy fauna to the hazy, dry, rustling grasses.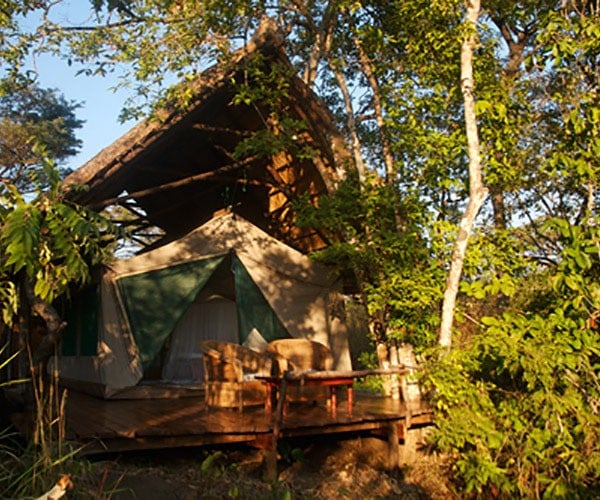 For those wary of the large game animals that live within Nkohtakota Reserve, that might make total relaxation more difficult, just outside the reserve, but still surrounded by forest lies Rafiki Safari Camp. They have a section of forest along the banks of the Bua River and one of its tributaries. Pathways have been cut through the forest, crossing the tributary at strategic places and bench seating is provided at scenic, tranquil points off the walkways between the forest and the river and in the forest.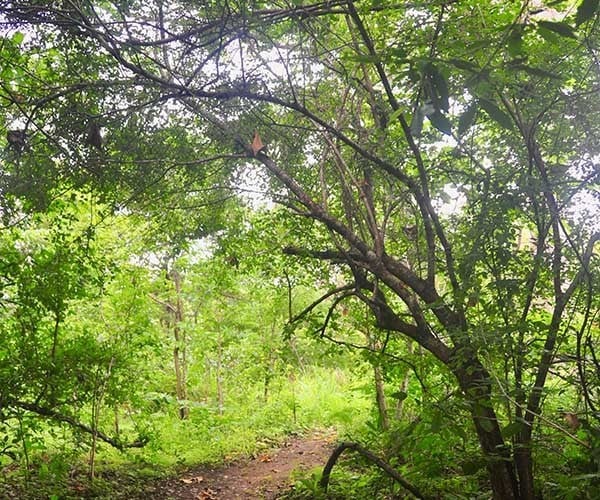 Trees are generally consistent with those found in miombo/brachystegia woodland together with riverine species. The walks are largely in dappled sunlight and, depending on the season, brightly coloured flowers and scents or interesting seed pods are evident. For those seeking interaction with fauna as well as flora, may see bushbuck, duiker, tortoise, terrapins or bush pig.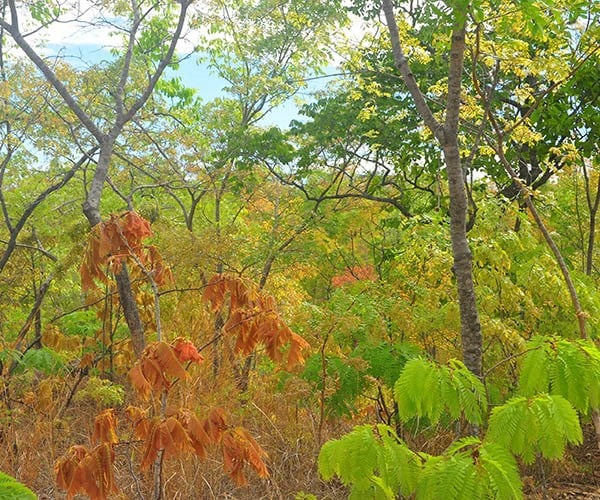 Nankoma Island
Nankoma is one of the three islands that make up the Marelli Archipelago, part of the protected Lake Malawi National Park but easily accessed just off shore from Senga Bay in central Malawi. On Nankoma, a wild paradise awaits where gigantic sycamore figs and baobab trees are the only skyscrapers and a Jurassic-like environment thrives. This hidden gem is home to an array of flora and fauna and provides a unique island-based forest-bathing experience! The naturally spectacular Nankoma Island can be circumnavigated with a leisurely meander along a breath-taking 2.4km trail. As you exit the paved paths of the unobtrusive Blue Zebra Island Lodge, nestled to one side of the island, you enter a dirt trail beyond the reach of WiFi or any other modern distractions. Unwind with the soothing sound of lake waves crashing through therapeutic birdsong and the rejuvenating buzz of nature. Hand-carved signs and natural landmarks guide you on a mindful exploration, with changing scenery and stunning views.
An impressive diversity can be experienced here, but to really take it all in you need to allow your senses to ignite. Take a deep breath of unpolluted air, embrace the freshness and feel the island rhythm with each step. Crunching leaves from monitor lizards scuttling away interrupt the calm sway of branches in the breeze; swooshing from birds taking flight; chattering of doves and bellowing of trumpeter hornbills. Rest under the ancient fig tree whose roots form natural stairways; indulge the fruits of the island: coconuts, mangos and the superfruit of Baobab trees; feel revived, in a space that takes you back to your roots, where people are insignificant in the presence of the natural world.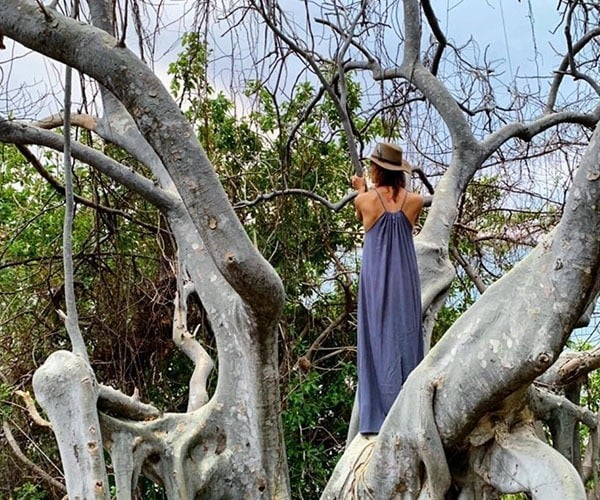 Dzalanyama Forest Reserve
On the border of Malawi and Mozambique, just 37 miles south-west of the bustling capital city of Lilongwe, Dzalanyama is nearly 1000 sq.km of forest and streams. Patches of evergreen woodland surrounded by a blanket of brachystegia overlook tumbling waterfalls and arching across pathways and roads. Nestled in the heart of the forest is a small lodge, Dzalanyama Forest House, and from here the doors are open to immersing yourself into Dzalanyama's forest healing.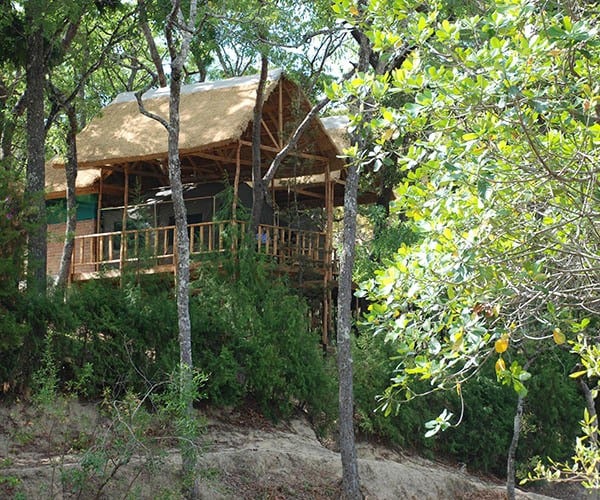 Feel the cool water of mountain streams, close your eyes and breathe in the fresh fallen leaves, open your ears to the myriad of birdlife around you and run your hands over the lichen coated bark of indigenous miombo woodland. Forest bathing at Dzalanyama also offers the opportunity to carry an indigenous sapling and plant it in area of your choice during your meander – ensuring that the forest will be around to be enjoyed for generations to come. Visitors are free to immerse themselves in the forest at any time but scheduled forest bathing and mindfulness retreats will shortly be added to the calendar of Dzalanyama Forest House.
Mumbo Island
Lake Malawi National Park was the world's first freshwater national park and is a UNESCO World Heritage Site. Whilst it's mostly the waters and the fish that draw the attention, the National Park also covers to some beautiful, uninhabited islands that make great, remote locations for forest bathing. At the southern part of the Lake, the tiny tree-covered island of Mumbo, just three kilometres in circumference, is crisscrossed with a network of paths, making it a perfect place to take a stroll though an untouched, indigenous forest.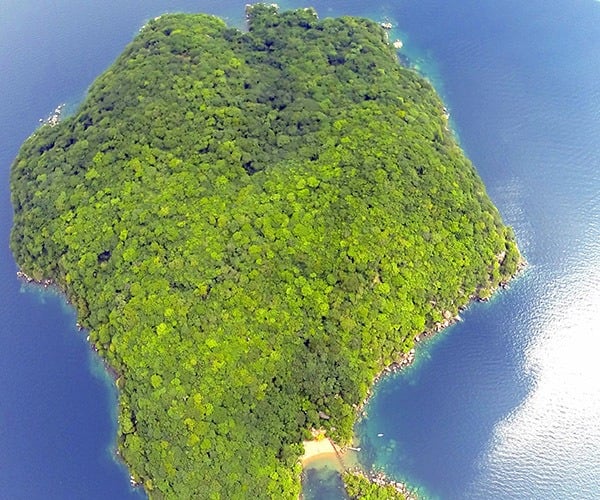 The forest canopy on Mumbo is made up of miombo woodland and has some beautiful specimens of ancient rock fig trees, growing over massive granite boulders, and pod mahogany trees with their beautiful seed pods. Almost all the walks lead to the most beautiful viewpoints over the lake. Perch high up on a sun-warmed boulder, in the shade of a huge tree and take time out to contemplate the simple things in life. Nature's abundance and beauty will restore the soul. After the summer rains in Malawi, the forest leaps into life: new green leaves shoot on all the trees after the very first rains, and as they continue, bulbs spring into bloom all over the island. In the final month of rain, an abundance of mushrooms also flourish in the shady forest. This is a beautiful time to visit the island.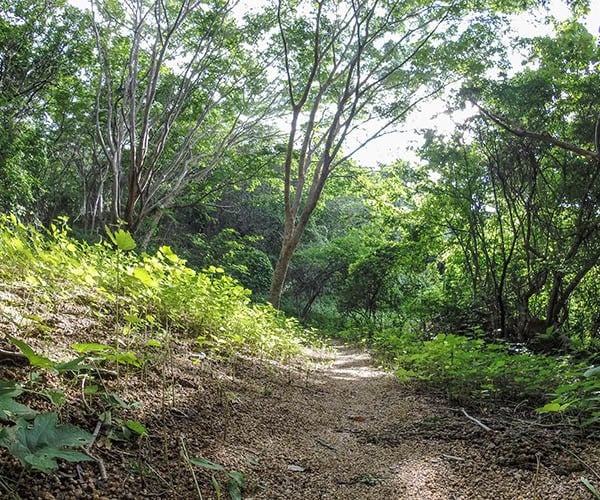 Mount Mulanje
The magnificent Mount Mulanje Massif is Malawi's 'Island in the Sky' – a towering forested massif that is home to the country's highest peak at 10,000 ft. Local lodge and tour operator, Africa WildTruck has identified particular areas perfect for forest bathing, bringing this 'activity' to the area for the first time. You can explore and breathe in the Mulanje mountain rainforest to contribute to your own well-being – a full de-stress proven to change the nervous system, reducing the stress hormone cortisol and boosting the immune system. Switch off from your usual work, phone, e-mail. Refresh your mind by reconnecting with nature at its most magnificent.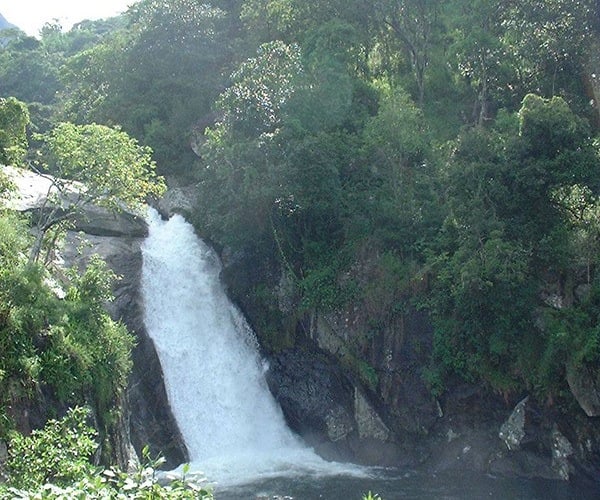 This is a quiet, remote environment with no interruptions. Listen to birds and other animals, touch Mulanje precious ferns, learn about medicinal plants of Malawi's forest. Find time to slow down and notice; look deep into nature's details through your senses. The activity is offered by Africa WildTruck early morning only for small groups and an ideal duration is 3-4 hours. Each session ends with a soothing and refreshing cup of Malawi tea in the forest. Returning guests are welcome to join again new sessions: Forest bathing should be seen as a practice, not a one-time event, so visitors are encouraged to go for repeat sessions.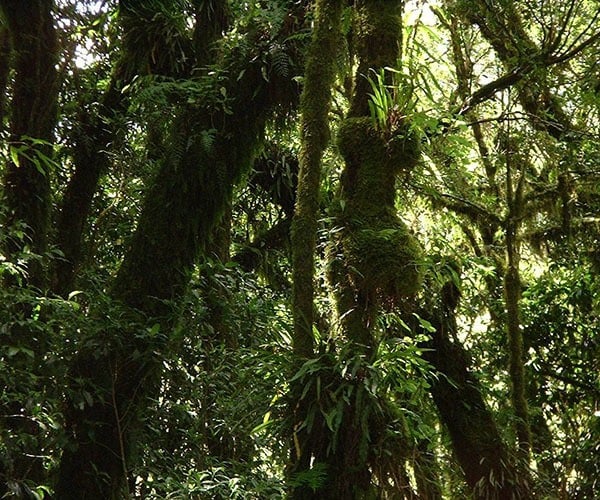 Lower Shire Valley
Fisherman's Rest lies on the Slopes of the Lower Shire Valley just south of Blantyre. A lodge that is heavily involved in projects to support local communities, they have also protected 50 acres of private woodland. This allows visitors to escape to rural Malawi to refocus, appreciate the simple things in life, support the local community and truly recharge.  Impressively perched on the edge of the Great Rift Valley, you can stay in a lodge surrounded by mature forest. After getting busy supporting local conservation activities, there is a great opportunity to simply bathe in the depths of the indigenous forest.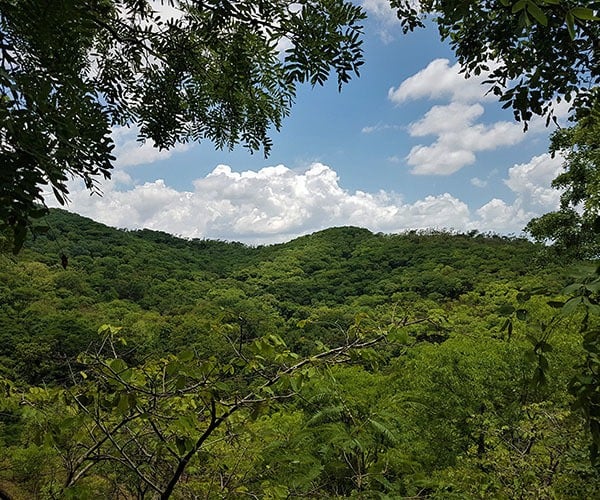 Experienced nature guides can help bring the forest alive even more by showing you how to make rope, medicine and toothbrushes from the trees! Or you can choose your own interaction – sit in a tree, stroll down a stream or just get lost deep in the forest.  Breath in the fresh air, and take the time to restore your health and well-being. A forest bathing experience here also helps support conservation work in Malawi, and provides you the opportunity to practically engage in conservation. Plant trees on mountains, make mosquito repellent, pound leaves to make tea, learn all about seed germination, or teach environmental lessons in schools.  Alternatively, days and nights spent in the simplicity of nature can be your focus. Get dressed up in the evening, not for fine dining, but for forest walks by moonlight.  Listen to the leaves rustle, crickets chirp, frogs croak and eagle owls hoot…this is Africa, and nature, at its best.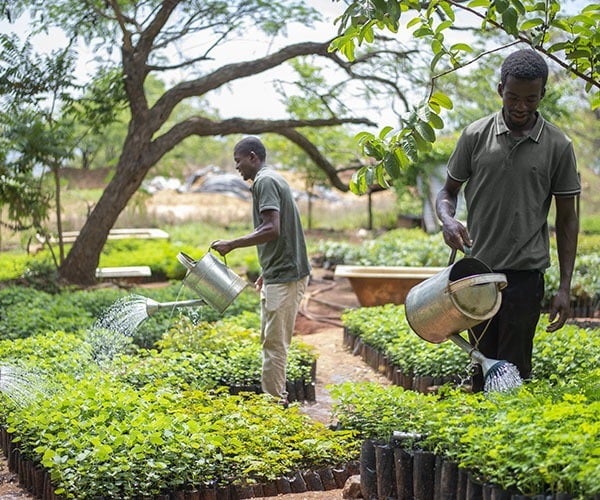 Kelly White is Director of the Malawi Travel Marketing Consortium. Malawi Travel Marketing Consortium aims to provide you with the best information to make Malawi your tourism destination.
If you would like to be a guest blogger on A Luxury Travel Blog in order to raise your profile, please contact us.