The mere mention of Provence conjures idyllic images of lavender fields bathed in evocative inspiring light. Whether you imagine the enchanting countryside clasping precarious hillside villages, or consider the cooler climes of medieval caves, Provence will not fail to delight. Here we offer ideas on things to do and places to visit in Provence from April to September!
April – Provence perched villages
Perched villages are one of the charming and popular sights in Provence. Originally built around the local medieval castle, the villages were located high up on rocky crags to defend a valley or peak from arch enemies, with often just one gateway for entry. Steep, narrow streets wind through the villages, each possessing a public fountain and small church, and nowadays shops selling abstract art, soap and ice-creams. Originally inhabited by peasants, today they're often chic second homes of the fashionable French.
Amongst the most beautiful is the tiny medieval town of Gordes, in the Luberon. The village's cobbled streets brimming with tall houses rise up to the castle. The French consider the medieval town of Les Baux-de-Provence to be another of the most coveted. April is an ideal time to visit as this stunning location gets packed in high season. In fact, more than 1.5 million people visit each year. Named so as a kind of aluminium ore called bauxite was discovered here. The little village apparently grows organically from a steep rock elevation. Some buildings actually delve into the rock itself. Two donkeys can pass on the main street, just. Haut-de-Cagnes is another of Provence's best-preserved perched villages. Steep, cobbled lanes lead into artists' workshops hidden behind stone archways. Within the medieval city walls is Renoir's home museum.
May – Return to Roman times
Nîmes is a Roman city with impressive remains and lies on the border between Provence and Languedoc-Roussillon. Visit the wonderfully preserved Les Arenes, a first-century Roman arena and the finest surviving Roman amphitheatre in the world. Two layers of tiered seats housed crowds of up to 20,000 who came to watch gladiators fight, and charioteers race their teams around the vast enclosed arena. Today it's the place for bullfighting and the Great Roman Games which take place throughout a weekend in May.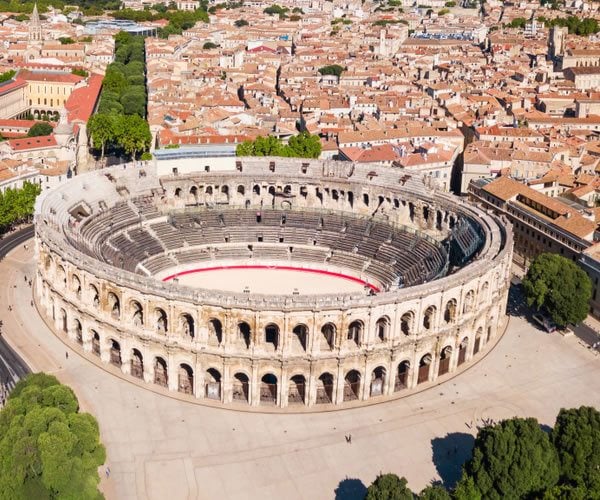 Over a three-day period, the re-enactment of the legendary ludi (public games) are bought to life in this Amphitheatre. Exactly as the inhabitants of Nîmes would have experienced them 2,000 years ago: the imperial court, a procession of Roman legionnaires, chariot racing, and gladiatorial combats. 500 re-enactors from France, Italy, Croatia, and Germany converge to participate in this unique event that has become the biggest historical re-enactment of ancient history in Europe. Each year focuses on a different topic, such as Caesar and the conquest of Rome.
Based on extensive scientific and historical research, archaeology enthusiasts work closely with historians. The re-enactors make their battledress with materials similar to those used in antiquity. In the Amphitheatre, the gladiators, Roman legionnaires, and Celtic fighters' combat techniques and battledress arenas as historically accurate as possible.
June – Treat yourself to truffle hunting
Delve behind the murky scenes of a global secretive business. French truffles, which are widely considered one of the world's most luxurious foods. Not only due to their pungent taste, but also due to their rarity in comparison to other ingredients. Their supply is unpredictable as they only grow in the wild. There have been numerous attempts to cultivate truffles on farms, to little avail. Although the regions of Burgundy and Dordogne are known for being the epicentres of truffle hunting in France, there are also Provençal truffle plantations.
Experts understand that winter is the time to brave the infamous mistral, chase truffle foraging dogs and sample the best truffle products at French markets. However, the summer truffle, harvested between June and August, is much cheaper. And this doesn't mean it's not as good. Some chefs won't even consider a summer truffle due to lacking the intense fragrancy of the winter variety. However, other chefs recognize its versatility, subtly enhancing flavours of dishes with shavings.
Learn how truffles are cultivated and dogs are trained. Then go digging with the professionals for the elusive 'black gold'. Tales of success and sabotage will accompany the sampling and identifying of different types of truffle treasure.
Originallyfemale pigs were used to dig up truffles. The truffle emits an odour akin to testosterone which female pigs eagerly seek out. Pigs were replaced with dogs though as the pigs were damaging the truffle beds in their haste to dig up the truffle. There was also the small issue of them eating their unearthed truffles! Dogs follow the scent and indicate the truffles whereabouts without digging or eating. Generally, it requires a large team to find a decent quantity of truffles which also drives up the price.
July – Experience black bulls, pink flamingos and white horses
There's nowhere else in the world like the endless, dreamy flatlands of the Camargue. Black bulls, white horses, pink flamingos, hawks and eagles inhabit the salt marshes, paddy fields and vineyards that fill the Rhone delta. And who knew France had real life cowboys? With the highest hill being only two metres high, it's an ideal location not only for horse-riding but also cycling and bird watching.
Calanques is a French national park in Provence and is known as France's Natural Wonder. Many people head directly to the Còte D'Azur when they arrive on the coast, typically Cannes, Nice or St Tropez. However, Le Còte Bleu (The Blue Coast) is a great alternative and just as beautiful, with stunning Calanques and little towns to explore. The Calanques are a series of inlets along the coast on either side of Marseille. Not the easiest place to get to, so  the best way to visit is by boat or bike.
Enjoy this unique natural environment from the comfort of an electrically powered bike. One route is from the South of Marseille to the Sormiou Calanque, located within the Calanques National Park. Cycle along the narrow, steep-walled inlets between limestone mountains and the Mediterranean Sea. Alternatively head off on a floating voyage to discover coves and hidden gems which are only accessibly by water. Naturally, making the obligatory stops for swimming and snorkelling opportunities.
August – Provencal lavender in full bloom
From June to August the sun-drenched fields of lavender are a prominent feature of Provence. Lavender's origins include scenting Tutankhamun's tomb, and Mary Magdalene anointing the feet of Jesus. This deliciously perfumed plant was brought to France around 600 BC by traders from the Îles d'Hyères near Toulon. However, it was the enthusiastic bathers, the Romans, who first learnt to extract the plant's essential oil and named the plant lavender from the Latin verb 'lavare', meaning 'to wash'.
The four types of wild lavender flourish under the Provençal dazzling sunny climate, which later seduced artists like Van Gogh and Matisse. Provence remains one of the world's largest lavender producers, and the essential oil and flowers are used to make beauty products and perfumed items. More recently, chefs have been seduced by lavender's subtle flavour and create dishes which capture the essence of this region.
Some say it is the sensual combination of aroma, nostalgia and flavour that makes lavender so innately French. Although traditionally used as an effective pain healer and emotive soother, recently scientists have begun testing the efficacy of lavender for treating cancer.
Drive through the rolling purple fields of fragrant flowers and stop to browse the lavender shops or wander through a traditional open-air Provençal market. Learn more about the wonders of lavender with a visit to the Lavender Museum in Coustellet. During the harvest season local farms give you a chance to watch over the distillation of lavender. Visit traditional Provençal villages such as Roussillon, home to the breath-taking Ochre Trail.
In August, don't miss the lavender-cutting championship in the fragrant fields surrounding the village of Sault. Although reserved for professional lavender cutters, there is also a scythe lavender-cutting contest for non-professionals. A truly beautiful way to celebrate the colour, fragrance and flavoursome flower of Provence.
September – Cool French culture
Think of the most jaw-dropping places you have ever visited, and then prepare to add this venue to your list. Carrières de Lumières is a digital art centre projecting fully immersive extraordinary multimedia light and sound exhibitions. Spectators find themselves totally immersed in the impressive illuminations projected onto all surfaces of the rock. Even the ground is completely covered, converting into a carpet full of colour.
Historically, the underground quarries in the heart of Alpilles, just outside the village of Les Baux de Provence, were dug to extract the white limestone for construction purposes. Economic competition from modern materials lead to their closure. Since 1976, large bright images have been projected onto the stone walls of the immense galleries dug in the rock of Val d'Enfer. The surface of the walls extends over 4,000 m2. The immaculate limestone walls of the high rooms and pillars serve as a magical screen to which slides of giant art is projected onto. This exhibition of works projected onto the gigantic rock walls of moving images and stirring soundtracks is renewed each year with different themes, from Viennese art to the Renaissance masters.
Within the old sandstone mining cave, the scale is simply astonishing, and the production can be viewed from wherever you look, making it a work of genius. Just to make this monumental digital art centre even more appealing, the cave remains the same temperature all year round.
So what's your favourite time of year to visit Provence? Let us know in the comments below!
Su Stephens is Owner of Olives & Vines. Olives & Vines is a luxury holiday company based in the South of France offering stays at their beautifully designed holiday house and boutique hotel in Le Castellet.
If you would like to be a guest blogger on A Luxury Travel Blog in order to raise your profile, please contact us.