Firstly, I hope everyone is staying safe and sane in the current climate. With Covid-19 sweeping the world, most peoples travel plans will have been put firmly on hold. Looking hopefully into the future though, lets look forward to 2021 when the world is hopefully in a happier state. The survival of independent safari lodges (and ones owned by bigger companies too!) are crucial to conservation efforts in safari Africa; here are some of the very best independent lodges which will need lots of safari-mad visitors once this pandemic is over.
Ikuka, Tanzania
Set on an escarpment in Ruaha National Park, Ikuka has one of the very best views in Tanzania. It is not the view which makes it so special though, although it does definitely add to the experience! Rooms are authentic and huge, food is fantastic and guiding is second to none in East Africa. What makes Ikuka so special though, is the sense of belonging guests experience from the moment they step into camp. Truly owner ran by a tight nit team of some of the most passionate individuals in the industry; Ikuka is both luxurious and offers a wholly enriching experience for its guests. It would be my number 1 independent safari lodge across the whole of Africa.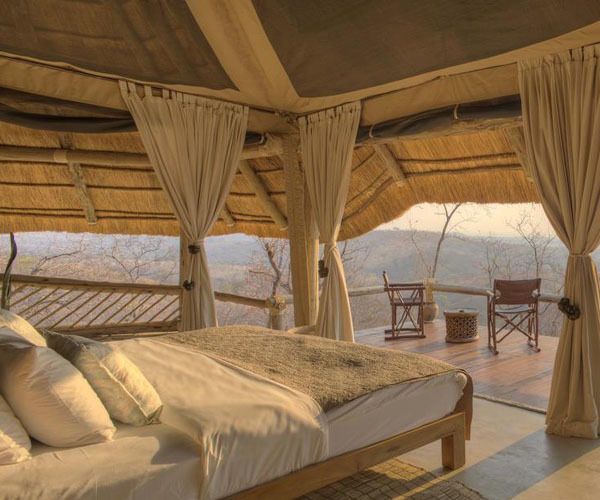 Beho Beho, Tanzania
In Ruaha's neighbouring park, the Selous Game Reserve, sits the beautiful Beho Beho lodge. The charming brick structure has seen a lot over the years, and the luxury and authenticity which exudes from these walls harks back to the good old days of safari romance. If you can tare yourself away from your private plunge pool, spend a night in their treehouse and soak in the beautiful starry sky, and the sounds of the night. Beho Beho is a real gem which I stand by as one of the best independent safari lodges out there for those who love amazing guiding and unparalleled luxury.
Chiawa, Zambia
As anyone who has been on safari will know, luxury comes in unexpected places! One of these places which sets the standard for authentic, safari luxury in Zambia is Chiawa Camp in the Lower Zambezi National Park. I love Zambia safaris, and Chiawa really captures the essence of what a safari in this wild country is all about; the wildlife, conservation and the talented people who will guide you to the most incredible sightings, sharing their unparalleled knowledge. Chiawa is one of the best Zambian safari lodges if you like a splash of luxury whilst enjoying first class adventure in the wild.
Tongabezi, Zambia
Tongabezi is the most dreamy of all Victoria Falls locations. Set with unbelievable views of the Zambezi river, it is a haven for families and honeymooners alike. Inside the lodge, you are greeted by wooden walkways and a safari magic which can only be achieved by lodges such as Tongabezi which have been in place for years, and have a chapter in the history of the safari world. The food is exquisite, the staff a delight, and the rooms wholly luxurious without modern day glamour which has been popping up around Africa of late. For a step back in time to one of the first luxury lodges in the region, Tongabezi is an ideal choice.
Serian, Kenya
Alex Walker has a few camps in Tanzania, but his flagship tented camp has always been in Kenya's Masai Mara. Alex does the authentic East Africa "mobile" camp so well, and staying at any of his sites offers a peak into life in a mobile safari camp which has been running for years. Stay here for a night, and you will for sure feel part of the family as Alex loves nothing more than exchanging safari stories around the campfire with a Gin and Tonic! The rooms themselves offer no superfluous luxury but just enough to have a more than comfortable tented stay; time it right, and you could wake up to the Great Wildebeest Migration just on the other side of your canvas!
Marc Harris is Managing Director of Africa Odyssey. Africa Oydssey is run by a team of award-winning experts offering tailor-made African safari holidays.
If you would like to be a guest blogger on A Luxury Travel Blog in order to raise your profile, please contact us.