Whether it's baking bread or putting paintbrush to paper, many of us are keeping busy at the moment by trying out new activities and rediscovering the excitement of acquiring new hobbies. Once lockdown ends, travellers looking to chase that thrill of learning a new skill should keep Austria's Saalfelden Leogang, Ötztal and Ski Juwel Alpbachtal Wildschönau high up on their holiday wish-lists.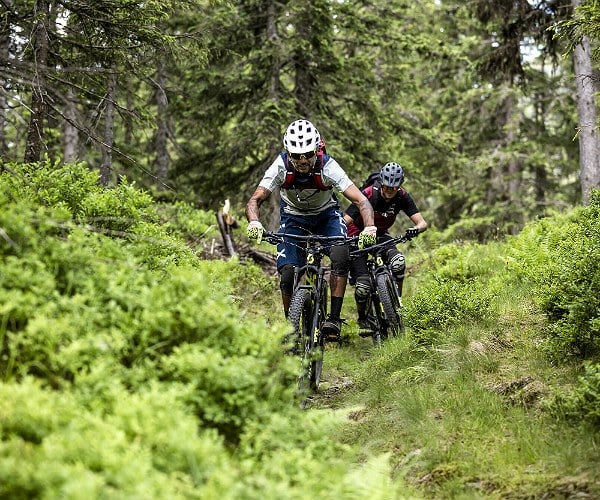 Strap on that helmet, lace up those boots: today we're wander(lust)ing into the Austrian mountains in search of new skills.
Mountain biking in Saalfelden Leogang
Saalfelden Leogang in SalzburgerLand is the destination for mountain biking. It's where professionals come to play, train and compete in events such as the UCI World Championships. It's therefore no surprise that this legendary bike region is home to some of the world's best schools, workshops and bike camps for beginners.
The Elements Outdoorsports Bike School has programmes designed for everyone from kids through to those looking to improve their freeriding and style skills. The Riders Playground – one of Europe's largest bike parks for beginners – is perfect for getting to grips with new mountain biking skills safely and securely, enhanced by a range of recently introduced features.
Once ready, holidaymakers can venture out onto the region's vast network of easy tours, drinking in the incredible alpine scenery – and a refreshing drink or two in one of Saalfelden Leogang's friendly mountain huts – before returning for an evening of fun and relaxation at a specially designed bike hotel.
Climbing in the Ötztal Valley
The sky is the limit in Ötztal. This Tyrolean valley is surrounded by 250 mountains on which visitors will find 19 climbing gardens, with a staggering total of 750 paths, eight via ferrata routes and a wealth of multi-pitch tours. The list of family- and beginner-friendly options is almost endless, and welcoming English-speaking instructors are always on hand to help holidaymakers learn the ropes and build their new skill.
Make note: just because these routes are for beginners, that doesn't make them any less exciting. The short, 450m Stuibenfall Via Ferrata is one of the area's easiest – and one of its most spectacular. Located at the 159m tall Stuiben Falls, climbers feel the spritz of cool water as they climb above the forest treetops, helped out by stepladders along the way. This route is great for children over the age of 10, as young thrill-seekers will love the extra (and optional!) tightrope walk over the roaring waterfall.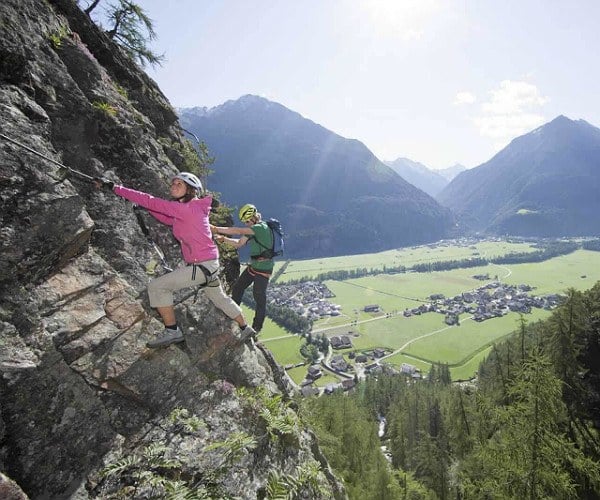 Skiing in Ski Juwel Alpbachtal Wildschönau
The Ski Juwel Alpbachtal Wildschönau is known as a winter destination that keeps people coming back. This group of picturesque villages in Austria's Tyrol delights in welcoming visitors – to both the region and to winter sports. Hitting the slopes for the first time here is often the start of a life-long love affair with skiing.
Located less than an hour away from Innsbruck airport, Ski Juwel is home to ten top-quality ski schools with friendly, supportive, English-fluent instructors leading group and private lessons for all ages. Of its 109km of slopes, 26km are easy, 54km medium. This ratio means that learners have plenty of long, wide and gentle pistes on which to try out their first turns, with even more ground to cover once confident and ready. 85% of the region's slopes are serviced by 410 snow canons, ensuring that, on the odd occasion when conditions don't completely play ball, the pistes are still pristine and a joy to ski.
First-time skiers can make their holiday even more magical with night-time skiing on weekends, when several slopes are illuminated by floodlights.