The best places to see wild dogs in Southern Africa
If you ask first-time safari-goers what they are most looking forward to seeing in the wild, their answers are inevitably very similar. Lions, elephants, giraffes, zebras, rhinos and "if we are lucky, the elusive leopard". Frankly, who can argue with that. It's like asking someone on their first trip to France what they want to see. It would be downright stupid not to expect to hear the Eiffel Tower, Champs-Elysées and Sacré Cœur from popping up.
When you ask more seasoned safari-goers what they are hoping to see, often the list is very different. It is true that the words "elusive" and "leopard" go together like "bread" and "butter" in safari circles, however, in the grand scheme of things leopards are not really that elusive. While it is always a treat to see leopard in the wild, for many regulars the ultimate predator sighting is a pack of wild dogs!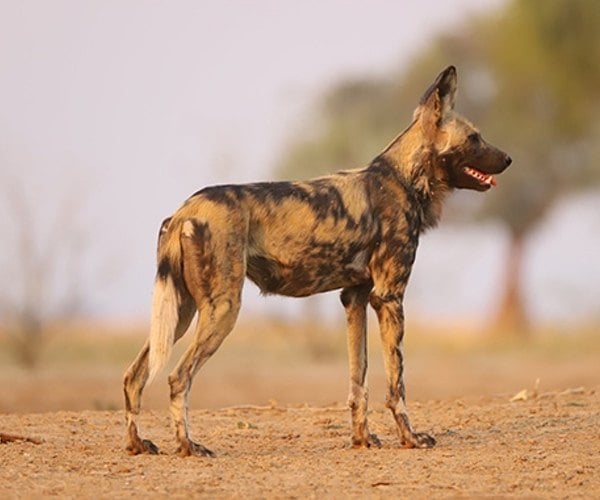 More than any other large predator in Africa, wild dogs need space. Their home territories are enormous, typically ranging from 200-700 km². As human populations grow they put pressure on wild dog ranges creating conflict and spreading canine diseases from domestic to wild dog populations making them one of the most endangered predator species in Africa. With such large territories to patrol and protect, other than when denning, the packs are always on the move making sighting anything but guaranteed. While it may be that nothing is guaranteed, there are definitely some places where the chances of seeing the dogs are greatly increased. Across southern Africa these are our favourite options.
Jamala Madikwe Safari Lodge, Madikwe Game Reserve, South Africa
The malaria-free Madikwe Game Reserve lies just over a four-hour drive from
Johannesburg
or a short 1-hour flight hop. The reserve is large enough to be home to an established, healthy pack of wild dogs, and yet compact enough to stand a very good chance of getting to see them.
One of the best places to base yourself is the wonderful Jamala Madikwe, which offers just 5 exquisite villas with private decks and plunge pools looking directly out into the African bush.
The real action though happens in the main lodge area, which has become famous for their "sofa safaris" thanks to the very active waterhole directly in front of the lodge. From here many guests have witnessed wild dogs coming down to drink and have even seen wild dog hunts!
Kwara Camp, Okavango Delta, Botswana 
The vast open landscape of northern Botswana, fed by the seasonal floodwaters of the Okavango Delta, are a magnet for huge numbers of animals. Where there are concentrations of animals predators are never far behind, and this area has become a wild dog hotspot.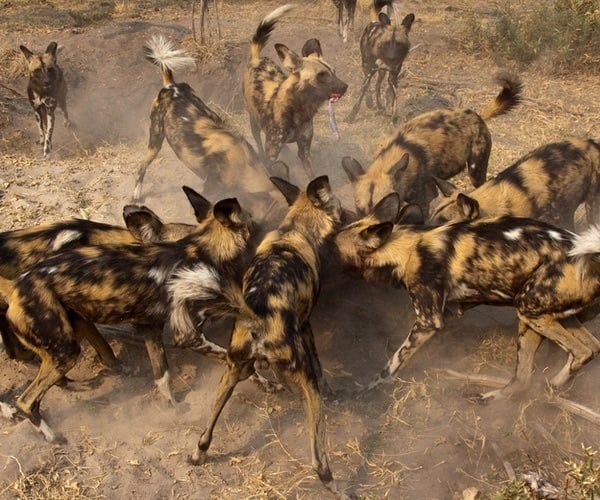 The gorgeous Kwara Camp completely refurbished in September 2019 is an ideal base from which to explore both the waterways of the delta and the surrounding game-rich plains. While not lounging in the comfort of the camp, out on safari passenger numbers are limited to just 4 per vehicle, ensuring an intimate experience. The area is home to at least three regular packs of wild dogs (including the Marsh pack which numbers 25 dogs) and it is not unusual for the dogs to even chase their prey through the camp!
Nyamatusi Camp, Mana Pools, Zimbabwe
The world-heritage site of Mana Pools is one of the most remote and wild areas of Zimbabwe and home to a thriving population of wild dogs. In 2018 David Attenborough presented an hour long programme on the "painted wolves" of Mana Pools, raising the area's status a prime wild dog destination.
The recently opened Nyamatusi Camp offers visitors a luxury escape amidst the dramatic scenery of this remote area. Each of the six luxury tented suites offers expansive decks with private plunge pools and uninterrupted views onto the mighty Zambezi and the great escarpment that rises on the river's far bank in Zambia. The wild dog encounters for guests at Nayamatusi are frequent and available not only when out in 4×4 safari vehicle, but for the lucky few the area also offers some of the best chances of encountering the dogs while on walking safaris!
Lion Camp, South Luangwa, Zambia
10 classic timber and canvas thatched suites in subtle classic safari style welcome guests to the luxury Lion Camp. The suites and main lodge are strung out along an oxbow river allowing guests to sit on their private deck and watch the action come to them! Two of the suites even have deck baths for the ultimate soak with a view!
While it is not unusual for guests at Lion Camp to see wild dogs from the camp, heading out into the national park provides bountiful opportunities. The Luangwa Valley is home to Zambia's largest population of wild dogs, estimated to currently number more than 350 individuals.  Safaris from camp are in both 4×4 safari vehicles and on foot  (Zambia is after all the "home of the walking safari") and chances of seeing wild dogs are some of the best in southern Africa.
Hopefully your next safari will bring with it the chance to see Africa's really "elusive" large predators, and if it does, count yourself very lucky indeed.
Warwick Blow is Owner of Safari In Style. Safari In Style uses more than 50 years of personal experience to create tailor-made unique journeys through Africa's finest safari destinations.
If you would like to be a guest blogger on A Luxury Travel Blog in order to raise your profile, please contact us.
Did you enjoy this article?
Receive similar content direct to your inbox.