As we wait in anticipation for the world to return to some normality, we must follow all the recommendations to stay safe and aid in tourism's recovery. We are here to support you by keeping our hopes up through optimism and motivation, and we do so by giving you the chance to plan your next trip with ease. We have selected five wonderful hotels for you to consider on your next trip – hotels that will give you the option to enjoy and appreciate nature and wildlife. Here are our top recommendations:
1. Hacienda La Danesa
Hacienda La Danesa is a charming country house, founded in 1870. Since then it has remained in the Olsen family, which has only recently decided to open their doors and invite guests into their home. To keep the atmosphere of their home and the privacy of guests, and to ensure the conservation of their property, Danesa allows a limited number of people to stay at one time. Only the hotel guests experience the true beauty of the house and its surroundings, as the general public is not allowed to enter the property. Its privacy is a real plus!
This place offers you the chance to enjoy your time in discreet luxury, while being surrounded by nature and peace. This provides you time away from life's hustles while giving you the opportunity to exclusively gaze upon the millions of magnificent stars that light up the sky at night.
Danesa is easily accessible, which makes it perfect for those who want to save time on the road. It is located in the coastal region of Naranjito and Bucay; only an hour away from Guayaquil International Airport. For an additional cost, you could even decide to arrive super stylish by a private chauffeur service or an adventurous train. Those who still want more adventure or want to enjoy the view from above, are also welcome to take an unforgettable helicopter ride from Guayaquil Airport.
Every morning you will have the chance to taste products that have been locally produced. Danesa produces around 1,200 liters of milk per day, and is therefore keen to offer their dairy products to guests at breakfast. The farm also works with teak plantations, raises beautiful horses, and grows fresh produce in the property's organic garden.
Last but not least, Danesa is the perfect candidate for those who seek comfort, peace and nature. In addition to the architecture, there are dozens of activities for guests to choose from. These include daily excursions to the Ruins of Ingapirca, Mercado de Guamote, the Devil's Nose Train and more!
2. Polylepis Lodge
Polylepis Lodge is a project that started more than 20 years ago. It was created to support the ecotourism industry while at the same time protecting the environment. The lodge is located between two unique ecosystems – the Polylepis forest and the Frailejones paramo – which allows guests to enjoy the natural fusion of two beautiful ecosystems.
In addition to its natural location, this establishment has facilities that provide all the services and comforts you could possibly need to make your stay an unforgettable experience.
Relax, dine, and enjoy nature! With fireplaces located around the lodge, you are more than welcome to rest in these cozy locations. The restaurant is located near water, making it the perfect place to calm your mind a bit. In terms of cuisine, the lodge serves an extensive variety of traditional dishes. Breakfast, lunch and dinner are all included in the booking so you can taste the delicious Locro de Papas or trout, which are both house specialties.
Having the opportunity to stay in this place is a lifetime experience that will allow you to escape your normal routine and to find serenity and peace in nature.
3. Hostería Finca Chamanapamba
Hostería Finca Chamanapamba is located in Baños de Agua Santa. The property stretches out onto mountains and valleys that border the Chamanapamba nature reserve and the Sangay National Park. This nature reserve is a protected area that has managed to preserve so much biodiversity. Guests are offered a variety of activities that are suitable for all ages and tastes. Activities range from taking part in extreme sports to enjoying spas or hot springs, making it appealing for everyone.
The inn offers cozy and unconventional cabins with a capacity of 1 to 5 people. The rooms are large with charming wooden decorations. They have huge windows, balconies and terraces which look out upon the waterfall and river, creating a feeling of tranquility and relaxation.
While staying here, make sure you visit Regine's Café Restaurant. With over 30 years of experience, it does not disappoint! Plus, its menu consists of a wide variety of German and international cuisine.
If you are a nature lover and want to travel to a place that offers the perfect balance between nature and outside world distractions, this is the destination for you.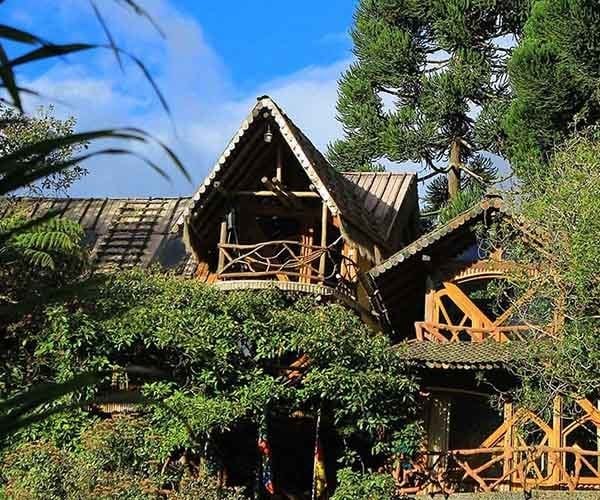 4. Illa Experience Hotel
Arriving in a neighborhood such as San Marcos at Quito's Old Town is an experience that will surprise you from the very start. The beauty of Illa is that you will find yourself within the main tourist attractions of the city, while also being able to witness and experience local life. Walking around the calm streets is delightful. Geraniums bloom in every balcony and in all possible shades of colours. Plus, neighbors are so kind and genuine that you may find yourself trying some of the best traditional plates offered during happy hour.
San Marcos extends from the Santa Catalina convent on Montúfar street´s up to the church and its plaza, all the way along Junin street´s. This district combines Quito's artistic expression, rich history, sense of community and idiosyncrasies perfectly. The buildings have a direct view of the Virgin of the Panecillo and the city lights, making it a majestic site.
Founded in 1580, architecture in San Marcos is mainly Republican and neo-classical. You will see beautiful facades painted in vivid colours.
San Marcos is like a book full of emotions. You will see many shops, museums, galleries, workshops, artisans, small daily markets and, most important of all, actual homes. Some of the shops have been run by the same family for generations, making it incredibly authentic. The streets are filled with sociable people: vendors selling local dishes, shopkeepers and children playing in the main square.
Visitors in San Marcos can spend an afternoon, or even a day, exploring the museums, art galleries and eccentric restaurants and cafes, while peeking through doors that lead to mysterious architectural secrets.
The Watercolor Museum
is located in San Marcos and houses a small collection of watercolors by Oswaldo Muñoz Mariño.  He was a well-traveled artist born in Riobamba. During his travels, he collected friendly bonds and connections with many well-known Latin American artists like Frida Kahlo, Diego Rivera, and García Marquez.
The Architecture Museum of Quito is underestimated, but it should definitely not be! Although the exterior is quite small and overlooked, the museum is an open doorway to history. Inside there are two floors of rooms dedicated to the history of local architecture, making it worthy of a visit.
Integration with the community
The family owning the Illa hotel bought a house in San Marcos some time before its restoration began. They became friends with the local residents in such a way that made them feel part of the San Marcos community. Therefore, before any restoration process started, the family asked for 'permission' from the residents which is something truly interesting and unheard of nowadays.
Being part of the San Marcos neighborhood allows guests to be part of a long history. Travelers relish what lies beyond the big wooden doors. There are surprises at every turn: a welcoming smile, a comfy chair, a bowl of apples, a coffee and tea service, friendly faces, fresh flowers, a garden, a serene pool, beautiful linen, local artwork, a hot shower and a cool drink. Guests can have a guided walk, a special tour, helpful staff, a great meal, and photogenic streets.
The Illa Experience Hotel is the first of its kind because it combines the neighborhood with the property, promoting interaction between the two in a culturally-immersive environment. Carefully curated 'experiences' are at the heart of a stay in this beautiful Illa house. Not only does the staff provide tours of the area, but they bring local artisans and iconic practices into the hotel each day for guests to enjoy. These may include a watercolor class on the Rooftop Bar, a tea tasting or a dance group performance in the lobby. There is no greater comfort for a traveler than to feel welcome, safe and happy when far from home.
5. Travesía Club Hotel
This hotel is located on the beach of Sta. Marianita, just 15 minutes from the city of Manta. Its beautiful and natural location allows guests to enjoy a 2-kilometer cove and a 4-kilometer long beach. Since it is located in the province of Manabí, you can enjoy an excellent climate and warm waters. Trust us, you will be counting Manabí as one of the best beaches!
For more privacy and comfort, the hotel has only 8 rooms. All of them are bright and comfortable. Their size allows them to have a private balcony with ocean views. In addition to the rooms, it has all the facilities you would expect a hotel of this caliber to have such as WIFI, a bar with tropical cocktails, swimming pool, BBQ area, massages, a laundry service, free parking, board games, direct access to the beach, a restaurant, a daily cleaning service and a resting area for all guests.
In the months between May and December, the weather gets windy. Do not see it as a disadvantage. It is the perfect opportunity to spend some time practicing or learning sports such as surfing which consists of sliding with a kite that is tied to a bar by means of four or five strings.
Hotel Cabañas La Travesía provides an airport shuttle service, tourist information service and luggage storage for extra comfort. This is to ensure that guests enjoy a relaxing space to disconnect and rejuvenate.
Marcel Perkins is CEO at Latin Trails. Latin Trails is an incoming destination management company specialized in bespoke tours, with a focus on offering unique experiences throughout Ecuador, the Galapagos Islands, and Peru.
If you would like to be a guest blogger on A Luxury Travel Blog in order to raise your profile, please contact us.