Home to the Malvern hills, copious country pubs, famous spring water and bursting with history there is no surprise that Malvern is a popular spot for people to visit each year. The town is located on the border of Worcestershire and Herefordshire, beneath the rolling hills which provide stunning panoramic views of the Wye Valley towards Welsh border on one side and the Cotswolds on the other. Malvern became a popular destination in Victorian times due to its healing spring water. The water was known for its healing properties, endorsed by Charles Darwin who was often seen in the area. As a result overtime several hydrotherapy centres and clinics have been created in the area. The water still hails visitors from miles around who visit the springs to collect the fresh spring water. There is no shortage of activities to do in Malvern, but here is my breakdown of the top 10, once post-COVID-19 restrictions are further lifted and normality returns.
Walking
There are hundreds of walking tracks to choose from scattered all over, suiting people of all ages and abilities. The Malvern Hills make up part of the 50 km long Worcestershire way, with the Worcestershire Beacon and North Hill as the two highest points on the hills. There are designated loop tracks navigating each hill, or if you fancy being a bit more adventurous there are plenty of secluded tracks tucked away. Parking is available at a number of locations including British Camp, were there are trails leading straight up to North Hill and the Beacon. Check online, or in local tourist offices for maps of the hill.
Cycling
Cycling is a popular sport in Malvern, with plenty of road cyclists and mountain bikes riding the roads and hills every day. There are over 56km of bridleways to choose from on the Malvern Hill and Commons, including three mountain biking routes which have been clearly labeled as part of a new campaign to encourage responsible mountain biking on the hills. There are trails of every length, difficulty and terrain all marked in the Malvern Hills map and guide which available in local tourist information centres, cafes and local bike shops.
Morgan Motor Museum
Home to the world's longest running production car, the Morgan Factory welcomes visitors and prospective Morgan owners five days a week to come and learn more about the history of the company and it's cars. Factory tours are conducted regularly throughout the day and take visitors on a 2 hour journey through each stage of the production line. Each group is escorted by a Morgan owner and enthusiast, and gets the opportunity to watch the skilled craftsmen create each part of the vehicle. The tour is intriguing, even for non-petrol heads, and culminates in a visit to the museum and shop with afternoon tea also available. Alternatively you can experience the Morgan from behind the wheel by booking a driving experience. It is recommended that you call ahead to avoid disappointment as tours are often fully booked and the factory is routinely closed several times throughout the year.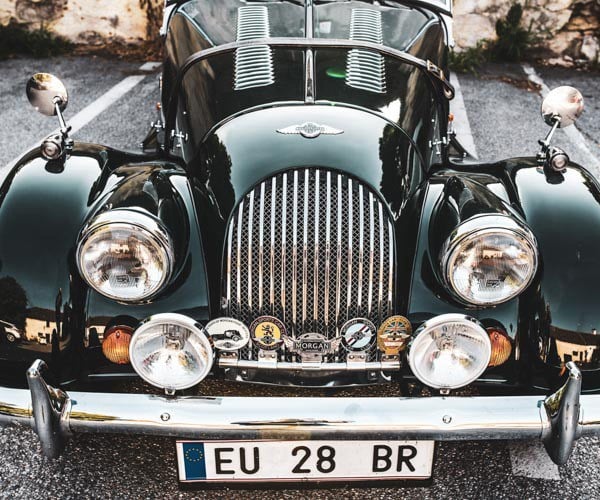 The Terrace on the Hill
Whether you are looking for lunch on a rainy day, a spot of afternoon tea, or a fine dining experience the Terrace on the Hill is the place to be. They are open Monday to Saturday, offering a pre-theatre dinner on weekdays and a superb seven course tasting menu on Friday and Saturday. The tasting menu is especially designed each week by the chef to showcase his passion for elegant and unfussy food. The taster experience is unsurprisingly very popular so they advise that you book well in advance to avoid missing out. The staff are friendly and welcoming, and attentively cater for your every need in the warm, relaxing atmosphere. They also have a sensational selection of cakes, which you can take away!
Sally's Place
This place is always busy no matter what time of year or day of the week it is. The pop-up cafe is conveniently located next to British Camp car park, so is perfect for walkers to grab a bite to eat and a refreshing drink after exploring the hills. They serve delicious bacon rolls, sausage baps, sandwiches and a selection of home-made cakes, along with a huge range of ice creams. Sally's Place is famous amongst locals for their rock cakes, so be sure to check them out. It is important to note that they only take cash, and the cafe closes at 5.30pm each day.
St Ann's Well Cafe
Nestled on the hills this small cosy cafe is a hidden gem. The walk up from Malvern, albeit short, is certainly steep and you quickly are rewarded with a lovely view extending over Malvern and a historical well. The cafe is vegan, vegetarian and gluten free, and serves sandwiches, cakes, cold drinks and tea – with free refills! There is outdoor seating on a beautiful terrace which is perfect for a sunny day and the cafe welcomes four-legged friends! They are open between 11.30 and 15.30 on weekdays, except Monday when they are closed, and 10.00-16.00 on weekends.
Malvern Theatres
In search of evening entertainment look no further than Malvern Theatres. There is an impressive range of drama, comedy, music, film and dance exhibited here along with world class touring productions and critically acclaimed theatrical and cinema productions. Check their website to see what's on, check show times and purchase tickets. There are two theatres and a cinema inside, equipt with the facilities to live screen productions from around the world. Additionally, Malvern Theatres has become a popular destination for pre and post West End productions, so keep your eyes peeled for the opportunity to catch one of these fantastic productions. There is a restaurant and bar within the theatre, however as it is situated in the middle of Malvern there are plenty of options available for drinks or food to suit any budget.
Little Malvern Priory
The Little Malvern Priory is a quaint little church in a tranquil setting bursting with history. Located at the southern end of Malvern, below British Camp, you can wander around the priory whilst taking in the quaint atmosphere. A small group of monks founded the priory in 1171 only to be destroyed by Henry VIII in the 1530s. Now little of the original Romanesque building remains adding to the mystery and charm of the place. For those more interested in the history also visit Little Malvern Court for a paid guided tour of the priory, church, court and gardens.
Mac & Jac's
Mac & Jac's is a delightful cafe located at the foot of the hills in Great Malvern. Enjoy fresh, healthy and delicious food in a rustic setting with a great atmosphere. They are open six days a week (excluding Mondays) serving breakfast, lunch and sweet treats. They also offer pre-theatre, by reservation only, which is perfect as it is just a two minute stroll away from Malvern Theatres.
Clive's Fruit Farm
Nestled between the Malvern Hills and the River Severn Clive's Fruit Farm offers an fun-filled family day out. There really is something here for everyone to enjoy; whether it's Pick-Your-Own, feeding the animals, collecting eggs, visiting the farm shop or the children's play area. Be sure to visit the cafe before you leave, open seven days a week, hosting a large range of locally sourced produce and an excellent ploughmans lunch! What's more, the entrance to the farm is free making it a no-brainer for your next day out with the kids.