From a casual stroll taking in the beauty of your surroundings to an epic adventurous trail that tests your stamina; nothing can beat Scotland when it comes to luxurious hikes – the dramatic landscapes will take your breath away.
Given the current climate and limitations on air travel, we are being encouraged to venture outdoors and explore more of what the UK has to offer. A fantastic way to indulge in the beauty of the UK is by foot through utilising some of the most incredible hiking trails scattered across our shores. So to start us off, we wanted to guide you to some of Scotland's most magical walks.
Loch hikes
Scotland is renowned for its lochs, and many have been made famous due to their attractions and well-known myths.
The Great Glen Way provides a scenic route from Fort William to Inverness including a visit to the mystical Loch Ness. This walking adventure is a total of 120 km in distance and can be completed within 7-8 days either self-guided or as a private tour.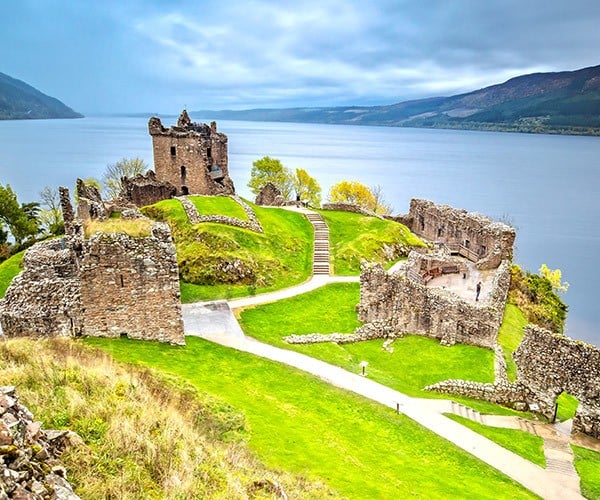 Throughout the route, you will come across a number of stops for restaurants serving local delicacies and there is plenty of accommodation on offer if you need to put your feet up. This journey takes you from coast to coast through glens and high mountain ranges, the perfect way to take in the beauty of Scotland.
For anyone who enjoys the sight of wildlife in their natural habitats, then Loch Lomond is for you. You may even get the chance to catch a glimpse of the infamous fallow deer; this hike is a great way to get back in touch with nature!
Coastal hikes
Head to the North of Scotland and you will come across the great Assynt coastline. The hike on offer here starts from an old grain mill and heads towards the unmissable and very rare, white sands of Achmelvich beach. The unique formation of the area makes it a popular route for walkers as does the famous Suilven Mountain that towers over the coastal scene at 731m high.
Achmelvich is not only known for its beauty but also for the diverse wildlife that can be seen on its shorelines, including seals, otters and white-tailed eagles.
Another coastal walk that is perfect for the history enthusiasts is St Magnus Way in Orkney. The total distance of this walk is 20km and tells the story of the life and death of St Magnus, Orkney's patron saint. Whilst on this walk you can discover the local Church and you if fancy laying on the sand, head to the Sand of Evie.
Island hikes
For hiking beginners there is a perfect one-day hike which is just a short ferry journey away from Stromness on the Island of Hoy.
The Old Man of Hoy is a formation of red sandstone that can be seen from some of Britain's highest sea cliffs. When standing on these cliffs on a clear day, you also have the incredible opportunity to view the entire stretch of Scotland's northern coast.
For adrenaline junkies, this next hike is packed with steep inclines and rocky routes. The hike is none other than the Summer Isles on the Isle of Eigg.
The highest point on the island of Eiggs reaches an astounding 393 metres tall. This island is known for its beautiful views and sights of the neighbouring islands can be seen such as Skye and Ardnamurchan.
Adventure-led hikes
The Scottish National Trail is a must do favourite that runs the length of Scotland. The hike consists of a 864 km trek from Kirk Yetholm to Cape Wrath and is referred to as a 'mission' for hiking lovers and the best way to capture the essence of Scotland. Visiting along the way parts of the River Tweed, the Union, Forth and Clyde Canals, the West Highland Way, the Rob Roy Way, and Cape Wrath Trail.
The trail starts off straight forward but progressively becomes more challenging as you head North. On route there are many sights to see and explore with the added option of accommodation, restaurants; a great way to discover the culture and heritage of the Scottish Towns.
Highland hikes
Lastly to the North of Glen Coe is the mountain Beinn a'Chrulaiste. Its bulky and rounded outline makes this magnificent feature stand out on your travels. There are a number of websites that have listed walking trials that enable you to really take in this enormous and truly spectacular sight.
One of the most celebrated highlands is Lochnagar which rises above one of Scotland's corries with an altitude of 1155m. Two routes that are by far the most popular with hiking experts are from Spittal of Glenmuick and the other is called 'The White Mounth Munros circuit'.
Carl O'Neill is the Sales and Marketing Director at The Kings Ferry Group. The Kings Ferry Group offers a VIP travel service, specialising in luxury coach and executive car hire.
If you would like to be a guest blogger on A Luxury Travel Blog in order to raise your profile, please contact us.