Paris – the city of love, the city of lights… and the fashion capital city of the world! Paris makes a cult and dream shopping destination for any fashion and style lover. From long established luxury houses to up and coming designer boutiques and flea markets, the French capital offers a plethora of options… and we love options! However, the choice can feel overwhelming and it may make it difficult to choose to design a shopping itinerary that fits your needs, especially if your time in the city is limited.
If you are trying to narrow down your shopping options, this list will give you a general idea of the shopping scene in Paris so you can choose wisely where to go. Happy shopping!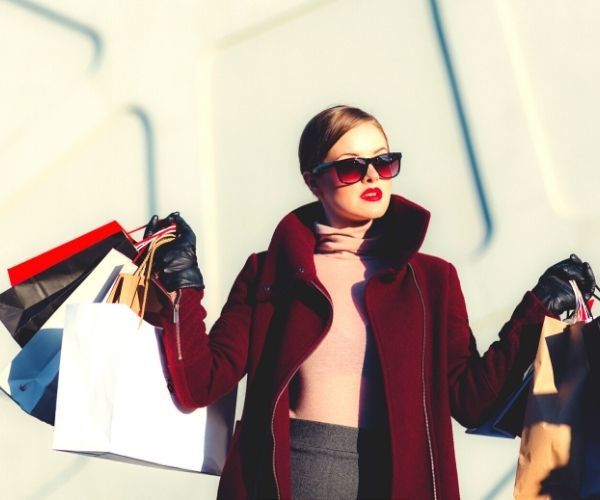 The best shopping areas in Paris
Les Champs-Élysées
The Champs-Élysées is one of the most iconic avenues in the world, and also the most famous shopping area in Paris. The avenue extends all the way from the Arc de Triomphe to Place de la Concorde and it's famous for offering a varied mix of iconic French luxury houses, shopping malls, and well-known international and prêt-à-porter brands such as Levi's, MAC Cosmetics, Disney Store, Louis Vuitton, Hugo Boss, Guerlain, Hermès, Swarovski, IKKS, Éric Bompard, Abercrombie & Fitch, Emilio Pucci, Celine, Gucci, Chanel, Jil Sander, Christian Dior, Emanuel Ungaro, Valentino, Malo, Marni, Nina Ricci, Montaigne Market, Chloé, Paul & Joe, Blumarine, Roberto Cavalli… and many more!
The shops along the Champs-Elysées are also famous for being open until later at night and also during Sundays and holidays when most other shops in the city take the day off. You can always rely on the Champs-Elysées for a good shopping session no matter the day of the week.
Le Triangle d'Or
Right by the Champs-Elysées you will find the so-called Golden Triangle area, which refers to the buildings located within the triangle formed by the avenues of Montaigne and George V together with the Champs-Elysées. As you can probably guess, the area takes its name from the vast amount of luxury shops it gathers, as well as top notch hotels and restaurants.
Both shopping and window shopping around le Triangle d'Or, mostly along the iconic Avenue Montaigne, make for a unique experience, especially during Christmas time when luxury houses go all in with their lights and decorations.
Rue Royale
This luxurious street is located between Place de la Concorde, Madeleine and Rue Saint-Honoré. Rue Royale is a busy street with a great view on the Église de la Madeleine and a mix of different types of shops: jewellery and watches, luxury fashion brands like Gucci, pastry shops like La Durée and Café Poushkine and high-end restaurants like Caviar Kaspia.
Also from Rue Royale you will find access to a more intimate, lesser-known street (or rather a passageway) great for luxury shopping in Paris – the Galerie Royale. This picturesque alley gathers smaller boutique style shops of traditional French brands.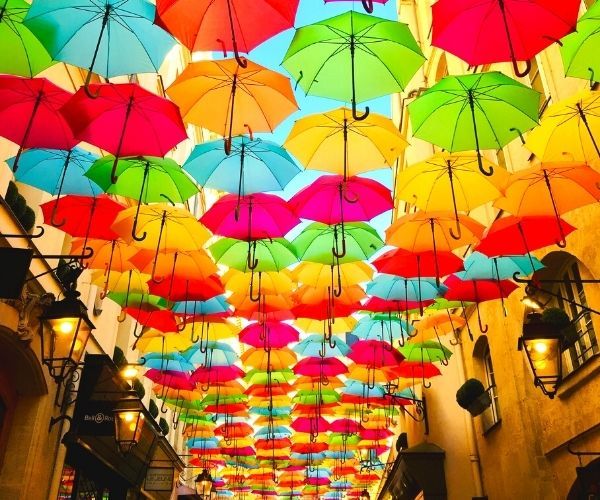 Rue Saint Honoré
Rue Saint-Honoré and Rue du Faubourg Saint Honoré are synonymous with exclusivity. The are holds a long history for fashion, having housed Coco Chanel's first ever boutique for instance, and also most of the biggest French houses ateliers (and most still operate there!).
In Rue Saint Honoré you will find the most prestigious brands such as Hermes, Chanel or Yves Saint Laurent. If you decide to shop around this area, make sure to take a coffee break at one of the terraces like the one of Castiglione and take the opportunity to practice Parisians' favourite activity – people watching! Saint Honoré is full of stylish and fashionable people, especially when Fashion Week takes place.
Continuing eastwards through Saint-Honoré, you will reach Place Vendôme, the paradise for high end jewellery. The most prestigious firms are located here, such as Cartier, Van Cleef, Bulgari, Chanel… this square also houses the exclusive Ritz Hotel.
Rue de Rivoli
Rue de Rivoli is an iconic street of Paris that extends from Place de la Concorde to Place de la Bastille. On the stretch from the Place de la Concorde to the Louvre Museum, you will find many souvenir shops for tourists which we don't really recommend… we'll reveal our favourite spot for souvenir shopping later in the next section!
On the side from the Louvre to further east you will find international high street brands such as Zara, H&M, Yves Rocher, Gap, The Body Shop and Mango. You will also find the famous BHV department store right by the City Hall and the shopping mall Les Halles is just one street from there as well. Right behind BHV the neighbourhood of Le Marais starts where you will find a good selection of thrift stores, lots of upcoming designer stores and galleries, and amazing restaurants.
Galeries LaFayette near Opéra Garnier
Two of the most famous department stores in Paris are located in this area: Galeries Lafayette and the Printemps department stores.
Galeries Lafayette are definitely worth a visit for many reasons – the building used to be a Palace and the spectacular glass dome won't leave anyone indifferent! Both the rooftops at Galeries Lafayette and Printemps are not to be missed either – you can access their terraces to enjoy extraordinary views of Paris, maybe with a glass of wine in hand at one of their restaurants, like Perruche.
Both department stores offer a great mix of high end and high street brands, both French and international, as well as decoration, gourmet food and… souvenirs! We highly recommend visiting the last floor of Galeries Lafayette for a good selection of high-quality Paris themed presents that you can bring home with you.
Last but not least, the Opéra district where these malls are located also offer a wide range of high street brands such as Mango, H&M, Zara, Apple, Benetton, Uniqlo and many more.
Le Marais
It is one of the oldest neighbourhoods in Paris, a maze of narrow, Medieval streets where you can find countless boutique stores for fashion, food, interiors and art shopping. Young up and coming designers gather in the north of Le Marais (NoMa) around rue de Turenne and rue Charlot. It's worth noting that the shops in Le Marais are open even on Sundays, which has led the area to become the place to be for locals to have brunch and go shopping in Paris.
Which Parisian street is your favourite for shopping?
Maria Pasca is the Communications & Marketing Director at My Private Paris. My Private Paris is an award-winning boutique travel agency that fully tailors high-end tours and experiences in Paris with the finest local guides.
If you would like to be a guest blogger on A Luxury Travel Blog in order to raise your profile, please contact us.