Short stay: New Hall Hotel and Spa, Sutton Coldfield, Birmingham, UK
New Hall is the romantic castle, complete with water lilies floating on the moat, where you have always wanted to stay. There are more coats of arms, griffins, stone fireplaces, Norman French mottoes, crenelated towers, timber beams, cupola topped by a weather vane and mullioned-windows than you can shake a jousting lance at. Rumour has it that Charles ll stayed a night at New Hall as he fled from Roundhead forces during the English Civil War.
New Hall is probably the oldest inhabited moated house in
England
. Though through the ages and wars, the castle's owners had an unfortunate habit of picking the wrong side. Not just for the Norman Conquest when William the Conqueror had owner Edwin of Mercia executed but also the for War of the Roses and the Civil War too. No surprise then that the ghost of a dandy cavalier in black velvet suit – and rocking an extravagant neck ruff – is allegedly said to walk the passages.
New Hall was spruced up for a visit from an ageing, limping and obese Henry Vlll. But today New Hall Hotel – with some four-poster beds, a recent lighter make-over and historic tapestries lovingly cared for by Hand Picked Hotels – probably looks better than it ever has.
The welcome
This may be a medieval moated castle but there is plenty of parking just a couple of minutes walk away. After a welcoming check-in you are guided to your room or suite. Help is given with luggage. Planning permission would not be given for a lift in such a historic listed building.
Ask for a tour of a castle that for over a millennium has celebrated the Great British custom of adding on extensions.
The room
Dawn on the second floor, named after a water lily, has dual aspect views through rose-mullioned windows over the moat. Although restful Arcadian scenes on the tall curtains add to a sense of a more restful bygone age there is a contemporary balance and harmony to the dark-wood furnishings. A four poster, without the drapes and canopy, as well as neutral toned walls and carpet, create a light ambience.
In a spacious room, two comfortable armchairs wait. Gold gilded frames feature pastel sunny watercolours of aristocratic country houses from yesteryear.
The bathroom
When it comes to bathrooms, New Hall Hotel draws a line under Tudor and Stuart authenticity. There is instant hot-water, a large bath and power-shower, plenty of mirrors, white fluffy towels, heated towel rails and ample light.
Horrible History odours are banished with generous provision of Hand Picked's collection of toiletries.
Facilities
Henry Vlll would have knighted the sommelier and given the chef the freedom of the kingdom. In these more restrained times, the AA have awarded two coveted rosettes to the wood-panelled and refined Bridge Restaurant.
The Modern British cuisine is lighter and more delicately presented than the fare served to Henry Vlll, though sourcing is still regal: Yorkshire cod fillet served with a butter bean cassoulet, a creamy pork fillet contrasting with garlic mash and black pudding, corn-fed chicken supreme. Carnivorous Henry would have struggled with the concept but vegetarians savour the roasted cauliflower, curried carrots and saffron risotto.
Between his fifth and sixth wives, history does not record whether Henry Vlll arrived at New Hall with a plus one. If he did, she would surely have wished for a calming spa, to escape the intrigue of the Henrician court. There is a deep tranquility to a spa that uses Comfort Zone products for therapies, facials and deep tissue massages. The facilities also include a well-equipped gym and a tennis court.
A nine-hole pitch and putt course threads its way through the grounds, ideal for both beginners and golfers wanting to sharpen their short game.
Location
Seven miles north-east of Birmingham, New Hall Hotel and Spa is an idyllic rural retreat for those who have business in the city. In the past Kylie Minogue and other celebs have been spotted around the bar.
Other nice touches
Guests are given a map for local walks, including a sun-dappled woodland trail through blackberries, holly, rhododendron, saplings, firs and oaks. The grounds are a leafy glade in Warwickshire, 26 acres of pasture, gardens and woodland where Henry Vlll may have hunted boar on his visit.
Formal geometric gardens and spectacularly sharp topiary are a Renaissance take on Gardener's World. Walk out from the lounge to stand on the rear bridge over the moat and time-travel back to another age.
The cost
Prices start from £225 per night, per room, including breakfast.
The best bit
To stay at New Hall is to walk through more than a millennium of history. Portions of the house have their origins in Anglo Saxon times.
Mullioned windows contain Renaissance craftsmen's Flemish glass work from the 16th century. While there is also a 17th century fireplace with a carved oak overprice.
The final verdict
Worth splashing out for one of the suites or feature rooms, each one named after a water lily, to feel like royalty, and to be gently woken by the babbling of seven springs feeding the moat.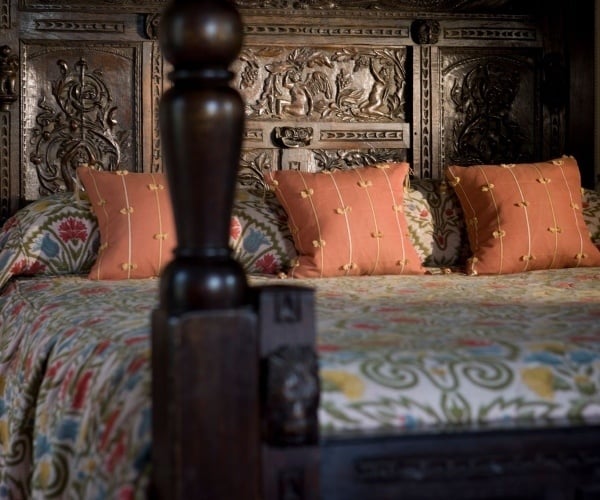 Looking down on an early morning mist shimmering over the water-lilies on the moat is an unforgettable experience.
Did you enjoy this article?
Receive similar content direct to your inbox.