Xigera: A sneak peek at one of Africa's most anticipated lodges
Victoria can't help but come alive when she speaks of Xigera: "My whole family love the bush and wilderness and have been going on safari for the last 25 years… it's been a lifelong dream and vision of my family to have our own lodge under the ethos and DNA of a Red Carnation Hotel property and try and create something
truly special."
Victoria Tollman is the Director of Red Carnation Hotels and her enthusiasm is contagious. Judging by the initial sneak preview of this lodge in
Botswana
, set to open in Q4 2020
truly special
is an apt description. Xigera has for decades welcomed visitors and in 2018 closed, paving the way for new ownership and a new look under the Red Carnation Hotels brand. "All our years of experience in hospitality have gone into Xigera… our love and passion for Africa, hospitality, service, design, food, and giving our guests the best of the magic and authenticity from having the best wildlife, bush and water experience in the Okavanga", adds Victoria.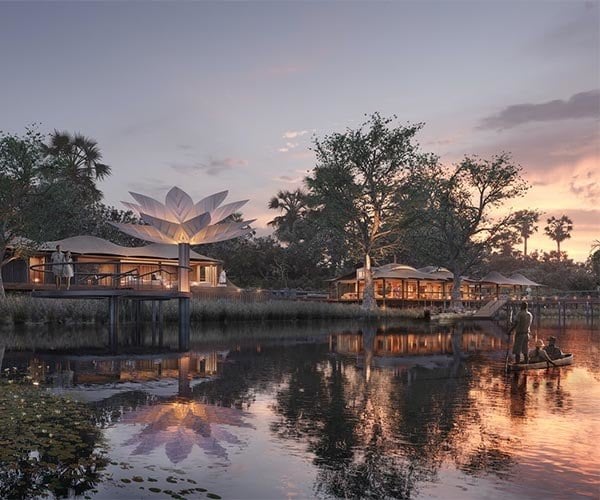 Here are five highlights of this highly anticipated lodge:
Location
Situated in the heart of 15,000 square kilometres of one of the world's most incredible ecosystems, Xigera's prime Okavango location will always be its crowning glory. The annual flooding of the Delta from rainfall 1600kms away in neighbouring Angola creates a dramatic transformation of Botswana's desert into water-wonderland – a spectacle that David Attenborough rightfully calls one of 'nature's great events.' The lodge sits on the western side of the Moremi Game Reserve and in this wild setting, the lodge will sleep a maximum of 24 guests in 12 exclusive and private units – all designed to luxuriously profile the 1000th Natural Wonder of the World.
Experiences
Unlike the highly structured programmes of most lodges, Xigera offers a different model with a completely personalized experience where guests, rather than the lodge, decide on what they'd like to do and when they'd like to do it. Xigera's unique mokoros will provide a rare opportunity to observe not only the wildlife around but also below. This refreshing and flexible approach to safari allows guests to pick from a variety of experiences, such as regular game drives, picnics in the bush, water exploration by traditional mokoro and motorboat, 'Feet-in-the-water' sundowners, walking safaris, in-season catch-and-release fishing, photographic safaris and workshops, private yoga sessions, helicopter excursions to explore the Okavango Delta and much more.
Spa
The three pillars of restoring, calming, and purifying stand at the heart of Xigera's wellness offering. In addition to the spa treatment rooms, Xigera's wellness pavilion will encompass a relaxing reception area, yoga deck for sunrise and sunset yoga as well as meditation, and a state-of-the-art Technogym-appointed fitness centre. It will also feature a swimming pool overlooking the river and deck for guests to find total serenity, allowing them to soak up the African sun while encircled by sounds of the bush." In addition to using only the purest products from Tata Harper, similar to all Red Carnation Hotels Xigera will feature its own B|Africa product line formulated from the very best quality African indigenous plant extracts. The lodge will also feature guest practitioners during different times of the year, with the intent of focusing on mindfulness, wellness, and holistic healing.
Design
Xigera's design was conceptualized by Toni Tollman, Philip Fourie, and Anton de Kock, who have undertaken a unique collaboration with the
Cape Town
-based Southern Guild. The result of this partnership is the creation of a gallery of bespoke works commissioned exclusively for the property by several exciting young African artists. Guests will therefore return from exploring the beauty of the wilderness and step into extraordinary spaces that are carefully curated and inspired by the surroundings. Highlights will include "human-sized woven nests resting on decks for guests to nestle in, to a life-changing sleep-out under the stars in a three-storey steel baobab tree located 1km from the camp", with the
pièce de résistance
being a "totemic firepit sculpture by blacksmith artist Conrad Hicks holding the fire as a boma centerpiece."
Sustainability
Xigera's design has made sure to take full advantage of a commodity in no short demand – the glorious African sunshine. An impressive Energy Centre will supply an astounding 95% minimum of the lodge's energy needs, thus saving an inordinate amount of diesel extensive tons of carbon emissions. It is a sophisticated solar hybrid power system powered by a 400kW Tesla plant. Thermodynamic geysers will provide the hot water, and SolarView tinted glass to reduce air-conditioning needs. Water will be purified using a Reverse Osmosis process, providing glass-bottled still and sparkling water.
The pandemic has proved a challenge to the progress of the lodge but hasn't dampened spirits. "We have had a skeleton team based there under the brilliant leadership of Mike and Marian Myers and Quest Maundo, who have managed to keep progressing and advancing but more slowly and keeping up the morale and good spirits of our team!" In the midst of one of the most challenging times for the safari and travel industry, the anticipation of this special lodge certainly brings a much-needed measure of hope – the rebirth of a lodge quite unlike anything else. Before official photographs have even been released, it's clear that Xigera will be giving fresh definition to its mantra 'there's nothing like it.'
Did you enjoy this article?
Receive similar content direct to your inbox.